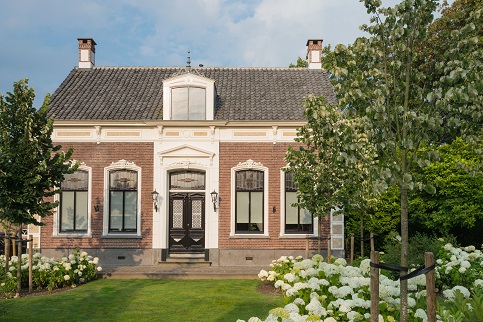 Resale Home: Benefits And Drawbacks
Published on January 20, 2021
When you begin your search for a new home, you generally have two options: purchase a resale home or build a new one. Although both have their respective benefits and drawbacks, your criteria should be of the utmost importance when deciding whether to purchase a resale or new construction. To determine the best option for your homebuying needs, here's how resale homes compare to new builds.
Resale Home, Defined
So, what is a resale home? One that was previously owned. These homes may come with traditional layouts and reside in mature neighborhoods that have character and charm. Since every homebuyer has different criteria for finding the home of their dreams, they should weigh their lifestyle preferences and financial needs to determine the right choice.
Buying A New Construction Home Vs. Resale Home
A new construction home is a property where the buyer is the first person to inhabit the home after construction is finished. New construction homes are tailored to the buyer's budget and needs. On top of reflecting their owner's tastes and financial situation, newly built houses usually showcase "green" features. These homes often include energy-efficient building materials and technology upgrades such as learning thermostats. These types of additions are becoming more frequently integrated into new buildings based on buyer demand.
When a homebuyer purchases a new construction home, they know exactly what they're getting. Everything is brand new, so there is a less likely chance that you will need to repair a leaky roof or broken pipe. Whereas with a resale home, you may have to do some initial repairs as well as more maintenance depending on the age of the home. However, you may be interested or enjoy the renovation process. If the concept of extra work on your part does not sway you either way, there are other significant differences that could point you in the right direction. In particular, the style of the home and the age of the neighborhood can be the deciding factors for a new owner.
Apply for a mortgage today!
Apply online for expert recommendations with real interest rates and payments.
Start Your Application
The Benefits Of A Resale Home
Over time, housing styles can change. If you favor the aesthetics of the past or prefer a house with history to it, you may be more drawn to a resale home. In general, these homes tend to be in neighborhoods with greater character and charm. Many people choose their ideal house based on its location. If you're someone set on a particular community or area outside of the suburbs, a resale home might be your best bet.
Although the advantages of buying a resale home will vary based on your personal preferences, state, or neighborhood, there are other benefits worth taking into consideration.
Opportunities for home improvement. Buying a resale may create more opportunities for home improvements. Resale homes come with a variety of features that you may want to make your own. From updating an outdated kitchen to repainting every room throughout the home, you and your family can decide how to customize your property to make it exactly what you want.
Usually less expensive than new construction. According to the National Association of Home Builders, lumber prices have risen 130% since April 2020. With the increase in lumber prices, new construction home prices continue to rise. So, to avoid the new construction costs, choosing a resale home might be the more affordable option.
Lower property taxes in some states. New homes usually have higher property taxes than comparable homes in the same neighborhood. However, it's important to note that sometimes new homes don't have accurate property tax estimates since the estimate might have been completed before the home was fully built.
More traditional home layouts. Some resale homes may come with more traditional home layouts and features like simple rooflines and symmetrically spaced windows. If you love the home designs of the past, a resale home might be the way to go.
Often more room to negotiate on purchase price. Because the seller usually has acquired equity over the life of the home, there is sometimes room for negotiation in the price. With a new home, on the other hand, the construction loan is based on the appraised value, which the build must pay off. Therefore, it leaves little wiggle room in the price. Another financial impediment with a new construction home is that it might be hard to stay within budget when you're building your dream home. When you enter the design center and see all the features available, it might be hard to pick and choose what you need.
The Drawbacks Of A Resale Home
While there are many advantages to buying a resale home, there are still drawbacks to be aware of during your search. For starters, a resale home might not be exactly what you bargained for initially. In addition to not having all of the features you desire, you may never really know the condition of the home you're purchasing until you're living in it, despite having a home inspection. It is to be expected that you may have a few surprises throughout your ownership of the home. Here are a few other drawbacks worth considering.
More maintenance: Depending on your home's age and condition, you will most likely need to do repairs in the years to come and perhaps sooner than you expect. For example, if your home's roof is reaching its expiration date, you may have to replace your roof completely. With a new home, you may not have to worry about the initial costly upkeep.
More potential health hazards: With a resale home, you and your family need to be aware of health hazards such as lead paint and asbestos. For example, if your home was built before 1980, there's a chance the builder used materials that contained asbestos. Some common building materials affected by this include siding, shingles and HVAC duct insulation. In contrast, you might not need to worry about some of these hazards with a new construction home.
No home or builder's warranty: Many builders will include a range of home warranties. Some of these warranties can include a short-term full-structure warranty or a longer-term exterior warranty. While it's possible that the seller of a resale home will include a few home warranties with the sale to make it more appealing, this is not guaranteed. Instead, you might need to purchase home warranties on your own.
Not customizable: With a new construction home, you can design the layout, pick room colors, choose countertops, and more. Everything in the home is completely customizable. Whereas with a resale home, everything comes as-is.
Less modern technology and safety features: Many new homes come with modern technology and safety features, including automated lighting, advanced alarms, nest cameras and smart locks. These features aren't expected to come with a resale home, though you might be able to install them for an additional cost later on.
Less energy-efficient: Most newer construction homes take advantage of current innovations in energy-efficient building materials. Chances are, if you buy a new construction home, your home was built with the intention to use less energy. Some of the energy-efficient features you might find in a newly constructed home are LED lighting, smart thermostats, or dual flush toilets. In contrast, resale homes may lack these features. If you're interested in those types of add-ons, you'll have to install them after purchasing the house.
The Bottom Line
A resale home was owned previously and thus has all the preferences of the previous occupant. Its sense of character and the features it showcases are building blocks for you to then make into your own as the new buyer. Surrounded by mature trees and in an established neighborhood, the resale home has a lot to offer to the hands-on individual. However, it can also be less energy-efficient, with possibly higher utility bills as a result, and lack the technological upgrades that you may find in new-construction homes. Furthermore, you may find that reworking a home is less desirable than designing it from the ground up. It all depends on the customizations you desire and your financial situation.
If you're deciding between new construction and a resale home, check out our guides to finding and buying the perfect house.
Apply for a mortgage today!
Apply online for expert recommendations with real interest rates and payments.
Start Your Application