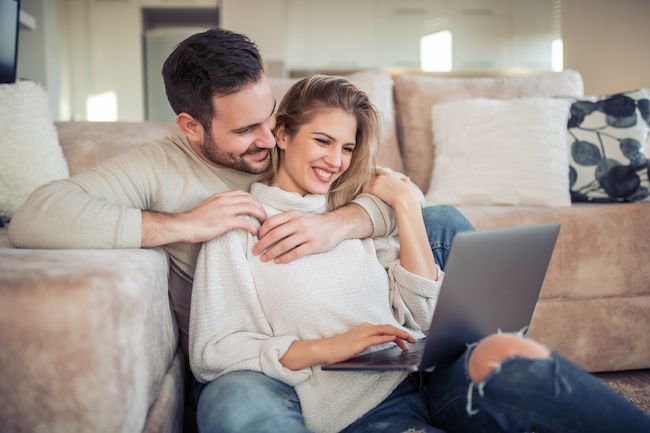 Purchase With The Power Of RateShield™ Approval
Published on September 24, 2019
Buying a home can be both exciting and stressful. On the one hand, you get to shop for the place where you and your family will get to live and play for the next several years – or potentially decades – of your lives. But before you can do that, how do you know what you can afford? Should you hurry to find a home before interest rates go up?
You should be able to shop and put in offers on homes with the confidence that you've been approved and know exactly what you can afford. To that end, Quicken Loans has something we call the Power Buying Process™. The goal of this offering is to give home buyers, their real estate agents and the sellers they're making the offer to the confidence that you're qualified for your mortgage approval.
Beyond giving you the ability to make a stronger offer, our RateShield™ Approval* allows you to lock the current market interest rates for up to 90 days while you look for a home, which gives you more certainty as you go through the process. If rates go down by the time you sign your purchase agreement, we'll drop your rate to the lower one.
If you're looking to buy a home, having a solid approval gives you a real advantage on par with that of a cash buyer. But before we go any further, let's touch on the basics.
What Sets Our Process Apart?
When you shop for a home, you'll want to know how much you can reasonably afford. In order to help you with this, other lenders will give you something called a preapproval. The idea is that the lender checks out your qualifications and says, "You can afford this much."
This is great, but there are different standards for what a preapproval entails. Sometimes lenders verify your income, assets or both. Sometimes they just pull your credit and do a verbal verification.
Many times, it's hard for sellers and even your real estate agent to know how trustworthy your preapproval is. That's important, because you don't want your transaction falling apart when it gets in front of an underwriter, and neither does the seller.
With the Power Buying Process, we have three levels of approval so that everyone involved in the transaction knows what they're getting.
Prequalified Approval
With a Prequalified Approval, your credit report is pulled, with your permission. This gives us a chance to see your three-digit FICO® Score as well as any existing revolving and installment debt payments you have.
You also verbally give us your income information and any savings you might want to use to help you get your home. Based on this information, a debt-to-income (DTI) calculation is done to determine what you can afford.
While a Prequalified Approval could give you a good idea of what you can afford, it may not necessarily mean anything to sellers or real estate agents because nothing has been formally checked other than credit.
To really give yourself the confidence you need in a real estate transaction, it's best to move forward with a Verified Approval.
Verified Approval
In a Verified Approval, your credit has already been pulled for the Prequalified Approval, but it's taken a step further when we verify your income and assets.
The process is pretty straightforward. You share documentation with us, including items like your W-2s, tax returns, pay stubs and bank statements. A Home Loan Expert will be able to go over exactly what we need in your situation.
Once we have this information from you, we promise to review it within 24 hours.§ If everything checks out, you'll receive your Verified Approval Letter.
When you receive a Verified Approval, you should have the confidence that your loan will be approved and you'll be able to close on your new home. If you don't close by no fault of your own after our analysis of your qualifications, we'll give you $1,000.**
RateShield Approval
A Verified Approval should take the qualification uncertainty out of things, but rates are also a concern for anyone in the market for a mortgage. Traditionally, you haven't been able to lock your interest rate before you sign a purchase agreement. So if rates went up while you shopped, you were out of luck.
Enter the RateShield Approval.
Available on 30-year conventional, FHA and VA loans, a RateShield Approval offers all the qualification certainty of a Verified Approval along with the comfort of knowing that your interest rate is locked.
The key feature of a RateShield Approval is the fact that you have up to 90 days to shop for a home with a locked interest rate. If rates have gone down by the time you send us your purchase agreement, we'll lower your rate to the current market interest rate one time. If they've gone up, you keep the rate you locked at the beginning of the process. It's a win-win.
A RateShield Approval also provides payment certainty. Once you lock your interest rate, your monthly payment won't increase.
Finally, because everything is verified, giving you and the seller a high level of confidence that your loan will close, your offer has the strength it would have if you were a cash buyer. This can be a big advantage in a competitive market like the one we currently have.
If you're ready to check out the Power Buying Process from Rocket Mortgage® by Quicken Loans and even lock your rate while you shop, you can get started online or give one of our Home Loan Experts a call at (800) 785-4788.

Looking for a real estate agent?
Visit Rocket Homes Real Estate LLC to get connected with an experienced agent in your area.
Find an Agent
*RateShield Approval locks your initial interest rate for up to 90 days on 30-year conventional, FHA and VA fixed-rate purchase loan products. Your exact interest rate will depend on the date you lock your rate. Once you submit your signed purchase agreement, we'll compare your rate to our published rates for that date and re-lock your interest rate at the lower of the two rates for an additional 40 to 60 days. Additional conditions or exclusions may apply.
**Verified Approval within 24 hours of receipt of all requested documentation. Participation in the Verified Approval program is based on an underwriter's comprehensive analysis of your credit, income, employment status, debt, property, insurance, appraisal and a satisfactory title report/search. If new information materially changes the underwriting decision resulting in a denial of your credit request, if the loan fails to close for a reason outside of Quicken Loans' control, or if you no longer want to proceed with the loan, your participation in the program will be discontinued. If your eligibility in the program does not change and your mortgage loan does not close, you will receive $1,000. This offer does not apply to new purchase loans submitted to Quicken Loans through a mortgage broker. Additional conditions or exclusions may apply. Verified Approval within 24 hours of receipt of all requested documentation.