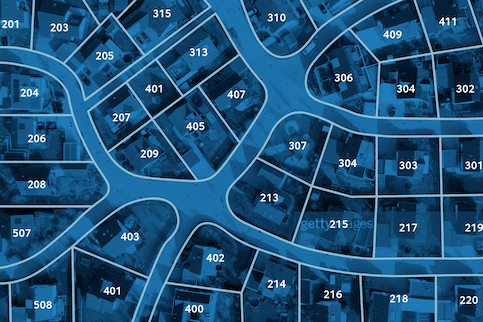 What Is A Plat Map? + What You Should Know
Published on July 19, 2022
You might be scratching your head thinking, what is a plat map? A plat map is used to show you the high-level features and layout of a piece of land. It includes important information not only about your property but nearby properties as well. If you've recently purchased a new home on a large parcel of land, it's convenient to know what exists outside your front door.
Keep reading to understand what plat maps can be used for, how to read them and what makes them different from other land maps.
Table Of Contents
What Can You Find On A Plat Map?
What Are Plat Maps Used For?
A plat map can be used to learn more information about your property, including the shape and size. It's a single plan view diagram that shows property lines and how they're placed against other nearby properties.
You'll need a copy of a plat map to get the correct measurements and other important information to develop, merge or subdivide a piece of land.
As a property owner, you may not be the only one looking at a plat map of your area. There are many professionals who use plat maps in their work, including:
Real estate agents
Land and property developers
Gas and oil companies
There are plenty of situations in which a professional may need to use a plat map for their work. A real estate agent can use a plat map to get to know a piece of land they're selling, for example. A gas company may also need a plat map to better understand an area they service.
Types Of Plat Maps
Below are a few types of plat maps you may come across, whether you're looking at your own property or using it as a reference guide.
Plat of a subdivision: Used when a landowner divides a piece of land into small parcels
Amending plat: Used to make minor corrections to a preexisting map
Vacating plat: Used to legally cancel an existing plat map
Short plat: Used to divide a piece of land into multiple parcels of land, usually to sell
Plat of consolidation: Used when several parcels of land are combined into one large parcel
Discuss with a professional or a local government representative to determine which type of plat map is best for your situation.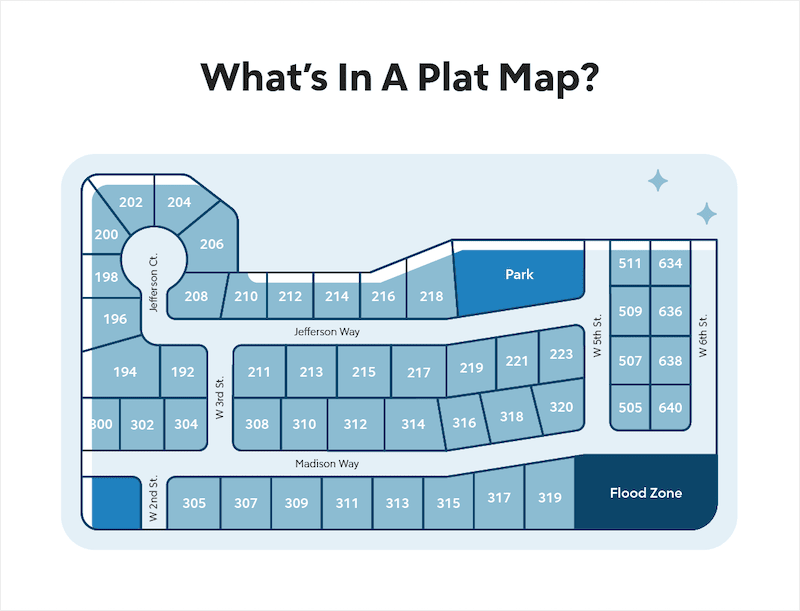 There's a lot of useful information you can find on a plat map, including:
Property lines
Tract orientation
Boundary locations
Flood zones
Monuments
Public utilities
Easements
Parcel dimensions
How To Read A Plat Map
Before dissecting a plat map, it's important to know what the various symbols and numbers on the map represent.
First, you may notice features like street names, public utilities, easements and, most importantly, a map legend. The legend will help you understand what the lines, shapes and abbreviations mean.
Around the border of each parcel or lot of land, you'll find a number. This is the property's street number. The parcel number is the underlined number within the parcel area. The builder's lot number is the number that isn't underlined.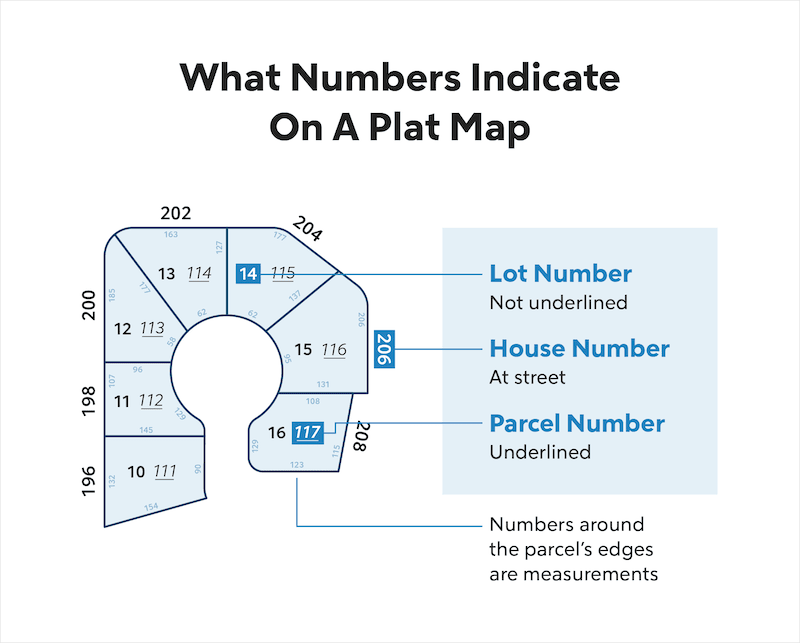 Your plat map may include dimensions for the parcel. You can also use the map legend to see the dimensions of individual lots.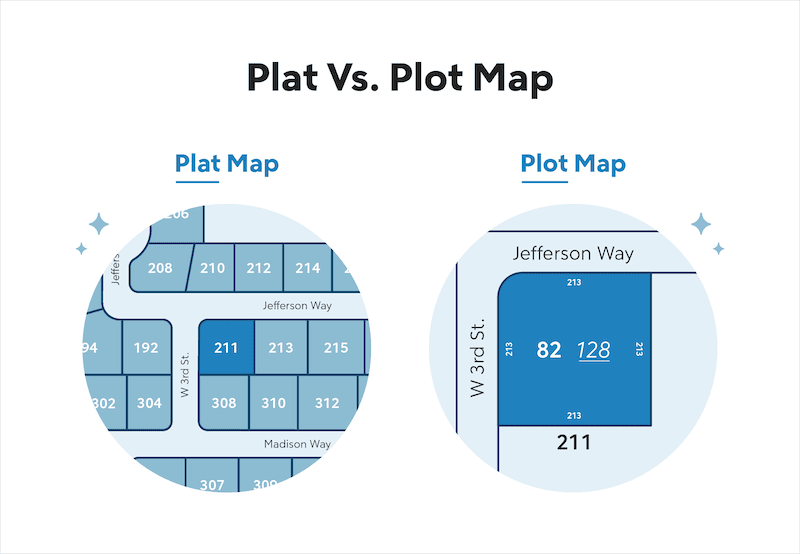 Although they visually look similar, plat and plot maps have notable differences. A plat map shows how an area or neighborhood is divided into various lots or parcels of land. It'll show property lines as well as features like streets, utilities and flood zones.
A plot map only shows a singular piece of land. It points out existing structures on the land and other features. When you buy a new home, it's possible to receive both maps.
Plat Map FAQ
Here are some answers to commonly asked questions about plat maps.
What Is The Difference Between A Plat And A Survey Map?
You may see "plat" and "survey" used interchangeably, but there are several differences between the two. A plat map shows more than just one parcel of land. Typically, they show a whole development. On the other hand, a survey map only shows a limited number of lots.
Plat maps are usually recorded at a courthouse for public use. For a land survey, the owner of the land hires a professional to map out the property.
How Do I Find The Dimensions Of My Property?
Before looking at a plat map, you should know your lot number. This can be found on the property deed or on the county assessor's website.
Your plat map may include the dimensions of individual parcels or lots. If not, find the map's legend. The legend should include a scale that represents the ratio of the distance on the map to the distance on the piece of land. Locate your lot number and use a ruler to measure out the lot dimensions. Compare the ruler's measurements with the scale to get an accurate reading of your property dimensions.
How Do I Get A Plat Map Of My Property?
A plat map of your property should be available to you through your local government website, typically on a "Maps" or "Property and Buildings" page. If you're moving to a preexisting neighborhood or previously developed land, there should be a plat map on file.
Not all plat maps are measured accurately, so it may be in your best interest to hire a professional to measure your lot. For more helpful information on home buying and home loans, check out the Quicken Loans® Learning Center.
Take the first step toward buying a house.
Get approved to see what you qualify for.
Start My Approval