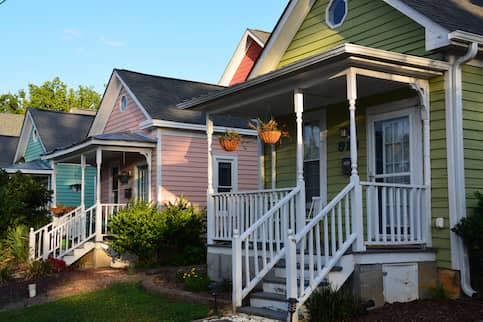 What Is The NMLS?
Published on August 23, 2022
Buying a home is a big financial commitment. And if you're like most buyers, you'll need a mortgage loan to finance the purchase of your residence. You want to make sure, then, that the mortgage loan officer working with you has received the training necessary to guide you to the best home loan available.
How can you do this? You can check a loan officer's NMLS number to make sure they have completed all required continuing education classes and passed all licensing exams.
Apply for a mortgage today!
Apply online for expert recommendations with real interest rates and payments.
Start Your Application
What Does NMLS Stand For?
The Nationwide Mortgage Licensing System – or NMLS – is an online database listing mortgage loan originators who are licensed to originate loans in at least one state. Loan originators must take at least 8 hours of continuing education each year to maintain their licenses.
This is a positive step: It wasn't too long ago that there was no central database listing licensed mortgage originators. Congress passed the Secure and Fair Enforcement for Mortgage Licensing Act – better known as the SAFE Act – in 2008. This act created the NMLS and required that mortgage loan originators be licensed.
To earn their licenses today, mortgage loan originators must complete 20 hours of mortgage-lending education. They must also pass a national mortgage test and allow state agencies to review their credit report. Loan officers must also complete an FBI criminal background check.
How Does The National Mortgage Licensing System Work?
Each mortgage loan originator or mortgage lender – such as Rocket Mortgage® – receives an identification number after the NMLS approves their applications. Consumers can then look up these numbers to make sure that the loan officers they are considering working with are licensed and up to date on their education requirements.
Any new bit of licensing information for a loan originator or mortgage company is filed through the NMLS. When mortgage loan officers renew their licenses, that information is listed in the NMLS. If they move to a new mortgage brokerage, the change is listed in the NMLS.
Nearly 640,000 companies and individuals use the NMLS each year to manage their business licensing requirements and registrations.
What Is An NMLS License?
What does it mean if a mortgage loan originator has an NMLS license?
An NMLS license means that a mortgage originator has taken the courses necessary and passed the required exam to originate mortgage loans in at least one state.
The license proves that the originator meets all state and national requirements to maintain a license, and that the originator has kept up to date with continuing education requirements.
Some states have more stringent requirements for mortgage loan originators. Make sure to check your state's requirements when searching for a mortgage loan officer.
How Does An NMLS Search Benefit Home Buyers?
When searching for a mortgage loan officer, it's important to do a search of the NMLS to make sure the officers you are considering are licensed to do business in your state.
A quick search of the NMLS can protect you from getting scammed by someone who claims to be a mortgage loan officer but is not actually qualified to originate loans in your state.
Fortunately, finding out if a loan officer is licensed is a simple task. First, visit the NMLS Consumer Access website. Once there, you can enter a loan officer's NMLS ID, license number or name. By clicking "SEARCH" after entering this information, you'll get a list of the states in which the loan officer is licensed to do business. You can also find information on when the loan officer must renew his or her license and whether any agencies have filed regulatory actions against the loan officer.
The Bottom Line: Searching The NMLS Can Give Future Homeowners Peace Of Mind
Working with the right loan officer can ease much of the stress of applying for a mortgage loan. That's why it's so important to make sure to search the NMLS. You want to work with a loan officer who is licensed to do business in your state and is updated on the continuing education requirements of closing a loan. If you are ready to buy a home, you can start the mortgage process with us.
Apply for a mortgage today!
Apply online for expert recommendations with real interest rates and payments.
Start Your Application