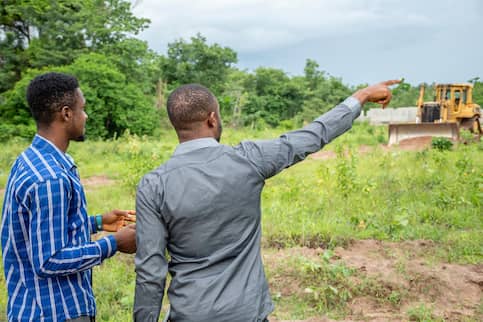 Do You Need A Land Real Estate Agent?
Published on May 10, 2023
When purchasing a house that's already been built, many home buyers choose to enlist the help of a real estate agent. A skilled real estate agent can provide resources and guidance that makes the complex home buying process much easier. But what if you're looking to buy land and build a home from the ground up? Having a land real estate agent to assist you with the land buying process can also be quite helpful.
What Is A Land Real Estate Agent?
A land real estate agent — sometimes also referred to as a land specialist or land consultant — is a real estate professional who is both knowledgeable and experienced in helping their clients buy land to build on. Such agents have specialized expertise in aiding buyers through the process of locating and comparing vacant land sites that fit their unique needs. Some land real estate agents may even have specific specialties. For example, they may only work with clients who want to buy land that is for industrial use or is located in a rural area.
It's also important to note the similarities and differences between what traditional real estate agents do and what land real estate agents do. Both types of agents are licensed professionals who assist clients in real estate transactions. However, a traditional real estate agent's scope of work focuses on helping buyers and sellers carry out transactions for already-built homes. On the other hand, a land real estate agent specializes in helping clients buy and sell land. Their expertise includes knowledge of the many factors that come with buying or selling a plot of land, including property type, location, price range and zoning.
Whether you choose a real estate agent or REALTOR® to be your land agent, you'll want to choose a professional with the proper accreditation. For example, a REALTORⓇ who is an Accredited Land Consultant (ALC) is considered the most experienced, trusted and knowledgeable expert in all segments of land. While this accreditation isn't necessary to have in a land professional, choosing one with an abundance of knowledge, experience and professionalism can make for an optimal land buying experience.
See What You Qualify For
Congratulations! Based on the information you have provided, you are eligible to continue your home loan process online with Rocket Mortgage.
If a sign-in page does not automatically pop up in a new tab, click here
Do You Need A REALTORⓇ To Buy Land?
The sole difference between a REALTORⓇ and a real estate agent is that a REALTORⓇ is a member of the National Association of REALTORS® (NAR). As a member of a widely respected organization, a REALTORⓇ is held to higher standards and ethics.
With that being said, you may be wondering: do I need a REALTORⓇ to buy land? While you are legally allowed to buy land on your own, having the expertise of a real estate agent or REALTORⓇ who specializes in land sales can heighten your chances of finding the right property for your needs. Some of which could include:
Purchasing land as an investment property
Finding a property to build a house
Buying land to start an agricultural business
Developing condominiums or other types of communities
Reasons To Hire A Land Real Estate Agent
There are many reasons to consider hiring a land real estate agent to help you through the process of buying land.
They'll Know What Kind Of Land You Need
A land real estate agent is well-informed on different types of land and can help you choose the type you'll need for your specific circumstances. They can assist you in finding many types of land, including but not limited to:
Ranch land: A land agent can educate you on a ranch's land and operations, as well as help you find the best ranch properties for sale that fit your needs.
Rural land: A land professional can help you understand what water and sewage options are available to you. Wells, septic tanks and municipal water systems are a few possibilities for rural lands.
Commercial land: When it comes to buying commercial property, a land agent can help you understand zoning laws, research potential properties and negotiate terms.
They'll Have Local Expertise
Land real estate agents are often experts on the local land market and may be able to provide you access to properties that aren't yet on the market. Such a wealth of local expertise includes having extensive knowledge of:
Zoning ordinances: Zoning laws control how land can be developed and what purposes the zoned land can serve. Understanding these local laws help you know what can and can't be done with your purchased property.
Local service providers: Your land agent can connect you to local service providers like property surveyors, inspectors and lenders.
They Can Help You Save Money
Land real estate agents can also help you save money during the land-buying process — which is what savvy buyers hope to do. There are many ways they do so, but two main ways are:
Using their familiarity with sellers to offer extra support during negotiation, ensuring that you don't overpay.
Using their local connections to help you find a mortgage lender that meets your land-buying and property-building needs.
How Can A Land Real Estate Agent Help You?
With the right land real estate agent by your side, you're likely to receive practical help in many ways. Land agents often help their clients by:
Touring properties
Handling property transactions
Being a reliable source on specific subjects, like local mineral rights
Finding land loan options via connections to local lenders
Questions To Ask A Land Real Estate Agent
To find out if a particular land real estate agent is right for you and your land purchasing needs, it's important to ask the right questions. Consider asking the following:
How long have you and your brokerage specialized in land real estate?
Do you know sellers with land to sell in the areas I'm interested in?
What kinds of properties have you helped buyers purchase?
Along with asking such questions, you can also do thorough research to determine if a certain land real estate agent is right for you. Consider looking online for credentials, testimonials and online reviews that can help you decide whether an agent has the qualifications and expertise that you're looking for.
The Bottom Line
While it's true that buying land can be a stressful experience, hiring a trusted professional like a land real estate agent can make the process much more pleasant! An agent who specializes in land transactions can provide you with the knowledge and resources you need to purchase the perfect plot of land for you. Not to mention, you stand to save time, money and needless worry.
Visit our friends over at Rocket HomesSM to find a real estate agent that'll lighten your load as you embark on your land purchasing journey!
Looking for the right place to build?
Find the perfect plot for your new house on Rocket Homes.
View Land Listings