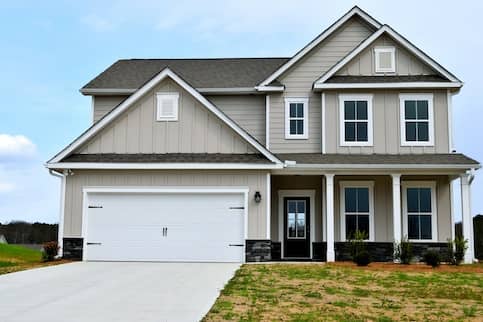 Is Now A Good Time To Buy A House Or Should You Wait?
Published on September 06, 2023
Existing home sales are down over 16% from last year, as of July 2023, according to the National Association of REALTOR®s (NAR). With existing home sale prices less than 2% higher than they were this time last year, you might be asking yourself, "Is now a good time to buy a house?'" Whether or not now is the right time to wade into a house purchase is based on your unique situation. For some, it's the perfect time to buy. But for others, it's not an ideal.
Apply for a mortgage today!
Apply online for expert recommendations with real interest rates and payments.
Start Your Application
Is Right Now A Good Time To Buy A House?
If you've been watching the housing market, you've likely noticed some trends. Each has an impact on your decision to purchase a home.
Interest Rate Increases
After a period of historically low interest rates, the Federal Reserve has increased interest rates. Throughout 2022 and early 2023, mortgage interest rates continued to climb. As of August 2023, mortgage rates for a 30-year fixed-rate mortgage were at 7.23%, based on data from the Federal Reserve.
Higher interest rates can make it more challenging for many homeowners to fit a mortgage payment into their budget. That's because a higher rate could raise your cost to borrow by thousands or even tens of thousands of dollars over the life of the loan.
Limited Housing Stock
The country has seen a housing shortage come to light. With a relatively small housing inventory, there tends to be more buyers looking for houses than there are houses available.
Some of the factors contributing to the limited housing stock include high labor costs and expensive building materials. Additionally, millions of people are making lifestyle changes that require specific types of homes in locations with a limited supply.
Even if new house construction is dramatically increased, it could take some time for supply to catch up to demand.
Generational Turnover
Baby boomers represented the largest group of home buyers last year. In addition to baby boomers buying a new place to call home, many are choosing to settle into their current home for the long term – whether to keep their lower interest rate or because their current home meets all of their needs. As more Americans choose to stay at home for longer, the trend contributes to the housing shortage for younger buyers.
Increase In Cash Buyers
Cash buyers make the housing market exceptionally competitive. In April 2023, around 30% of home purchases were made with cash. The relatively high percentage of cash buyers makes it more difficult for other homebuyers to compete. In some cases, a cash buyer can spark a bidding war that drives the price of the house upward.
Are You Ready To Buy A House?
Buying a home is a major financial decision. It's not one that you can make entirely by looking at the outside market conditions. In fact, it's a good idea to primarily consider your own financial situation when purchasing a home above the market conditions.
If you are ready to buy a home, then it's time to move forward even in a competitive market. Let's explore how you can determine you are ready to make a home purchase.
Financially Stability
You need to be financially prepared to buy a house. To help determine if you are, look at how much money you'll need to buy a house.
You'll need to factor in a down payment, closing costs, home inspection and appraisal costs and monthly mortgage payments. Keep in mind, the more you can put down, the lower your monthly payments will be. While 20% down is not required, it will allow you to avoid paying mortgage insurance. If possible, put your savings on automatic as you work toward your goal of saving for a house.
Credit Score And Credit History
Typically, you'll need a minimum credit score of 620 to qualify for a conventional mortgage with as little as 3% down. However, you could still qualify for an FHA with as little as 3.5% down if you have a minimum credit score of 580. You might qualify for an FHA loan with as little as 500 credits score, but you'll be required to put at least 10% down.
Debt To Income (DTI) Ratio
When it comes to your debt-to-income ratio (DTI), you'll want to have a DTI of 50% or less to qualify for most mortgages. Your DTI shows lenders what percentage of your income goes toward your bills and debt repayment. Therefore, the lower your DTI, the more favorable loan terms you may receive.
Local Housing Market
Home buyers may want to monitor local housing market conditions before determining whether it's the right time to buy. Keeping close tabs on the housing inventory will aid you in assessing if you're a buyer's market or a seller's market. Ideally, you'll want to be in a buyer's market. But it's still possible to buy in a seller's market.
Reasons You Should Buy A House Now
Moving forward with a home purchase can be the right move for some. Here are a few reasons why you might decide to move forward soon.
You Need A House
It may be a good time for personal reasons. Your family may be growing, or your career or lifestyle are changing. These are great reasons to buy a house, no matter what the market is like.
Home Prices Aren't Dropping Any Time Soon
Home prices and interest rates might be high now. But even if the demand drops slightly, it would need to take a big dip for the supply of homes to catch up to the overall demand. With this in mind, it's unlikely that housing prices will drop in the near future.
Rentals Are Also Expensive
The monthly cost of renting a place to call home isn't necessarily cheaper. If you are prepared for the hidden costs of homeownership and prefer to put your funds into a property that builds equity over time, then it might make more sense to buy rather than rent.
You May Be Able To Sell Later
A hot housing market means that the home you purchase now could be worth more later. If housing prices continue to rise, you might be able to sell your home for a profit later on.
Of course, you can't count on your home gaining value. But in a hot housing market, it's more likely you may see your home equity grow.
Apply for a mortgage today!
Apply online for expert recommendations with real interest rates and payments.
Start Your Application
Reasons You Should Wait To Buy A House
The current housing market is making home buying more difficult and expensive right now for many buyers. Here's when buying a home might not make sense.
The Real Estate Market Overheated
A very hot seller's market may price you out of being able to afford a home. If home values are too high and the competition too steep, it might make sense to wait. That's especially true if you see that buyers might be forced to make their offer more attractive by waiving contingencies or putting in an all-cash offer. For buyers who are unable to do the same, it could take time to win a bidding war on a property.
You Can Improve Your Financial Situation
If your finances aren't ready for a home purchase, then it's a good idea to wait on this major expense. Review your credit score and, if needed, take steps to improve it by making on-time payments and paying down high-interest debt. Consider building up an emergency fund with several months' worth of expenses to act as a cushion during your house search.
Small changes can make a big difference to your financial outlook. Many lenders may reward a more solid financial situation with better loan terms.
You're Not Ready To Commit
If you aren't ready to commit to a house for the long-term, that's okay! You aren't under any obligation to purchase a house. In general, it's a good idea to plan on living in the house for at least 5 – 10 years, and remember, most mortgages can be up to a 30-year commitment.
Take some time to understand the deep reasons behind your desire to purchase a home. For some, the freedom of renting makes more sense as they build their career, explore different places to settle and focus on other financial goals.
Apply for a mortgage today!
Apply online for expert recommendations with real interest rates and payments.
Start Your Application
FAQs About Whether It's A Good Time To Buy A House
You may have questions about buying a house. We have answers to common ones.
Should I wait until next year to buy a house?
Your financial situation is the most important factor when determining whether to purchase a home. If your finances are in a good position and you are ready to commit to a home purchase, then it might make sense to move forward.
Do housing prices drop if there's a recession?
In some recessions, housing prices will drop. However, home prices don't always decline during a recession.
Am I ready to buy a house?
You might be ready to buy a house if you have a solid amount of emergency savings, a reliable income and a good credit score. Additionally, a home purchase usually makes the most sense for buyers who plan to stay in the place for at least 5 – 10 years.
The Bottom Line
A home purchase is a big financial commitment. It's important to make sure your finances are ready to handle the costs that come along with a home purchase. But for many, homeownership is the right step for their finances and their lifestyle. If you have decided it's a good time for you to purchase a home, then start the application process.