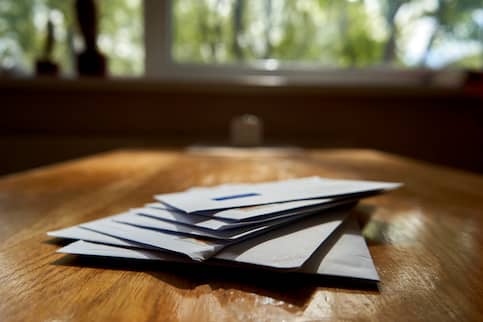 How To Get Your VA Award Letter
Published on March 21, 2023
If you're a disabled veteran, you may be aware of the many benefits you qualify for through the Department of Veterans Affairs (VA). However, many veterans are unaware they may qualify for reduced, VA-backed loans and property tax breaks because of their disability.
By presenting your benefit letter with the rest of your VA loan documentation, you'll also be exempt from paying the VA funding fee on your VA home purchase or mortgage refinance. Even better, your compensation benefit can count toward your qualifying income during the mortgage process. In this article, we'll walk through how to find your Benefit Summary Letter, what it is and why your letter matters.
What Is A VA Disability Letter?
To qualify for VA loan benefits, you'll need to show your VA Benefit Summary Letter, also referred to as an award letter or VA disability letter. The letter, which comes from the Department of Veterans Affairs, outlines your level of disability and the dollar amount of your monthly benefits.
If you or another veteran are receiving disability and want to qualify for a reduced VA loan, you must supply your Home Loan Expert with your award letter.
How To Get A Copy Of Your VA Award Letter
You should receive your VA award letter after submitting a disability claim to the VA. But if you don't receive it (or didn't hold on to it), you're certainly not out of luck. Here are the best ways to access the document you'll need for a home purchase or refinance.
Log In To eBenefits
The easiest way to find your VA letter is to create an account on eBenefits and download the documents you'll need. eBenefits is an online platform that helps active-duty service members, veterans and military families access and manage their VA-related benefits.
Create an account: To register for eBenefits, you need a DoD Self-Service logon. As long as you're registered in the Defense Enrollment Eligibility Reporting System, you're eligible for DS login credentials. If you have trouble logging in to your existing account or need help registering a new one, you can read through the VA's eBenefits support topics.
Update your profile:

Once you're signed in, the VA may ask you to review your personal information, such as your home address, before you can download your award letter.

Download a copy of your award letter:

You can save a copy of the letter on your computer or print it out for your records.
Call The VA's Information Line
If you need help navigating the eBenefits web portal or can't download your award letter, try calling a VA representative at 800-MyVA411.
Speak With Your Local VA Office
You can call your regional VA office to have someone walk you through the process. In fact, your local office may be able to mail you a physical copy of your benefit letter if you can't access your account information online.
How To Submit
A Claim For A VA Benefit Letter
If you have not yet applied for disability and are looking to take advantage of your VA loan benefits, you'll need to get approval from the VA beforehand.
Create an account: To access your approval, create an eBenefits account and print the award letter application.
Gather documentation:

Next, you'll gather the necessary documentation to fill out your application. Most of these forms are readily available online and can be printed at home, including:
3 years of tax returns

Two

recent bank statements

Two

recent pay stubs

Two

recent Social Security awards letters
Fill out your application: Next, you'll fill out your application via the eBenefits account. You can either print and fill out a paper application or

complete your entire application for disability benefits electronically.

Submit your application:

Turn in the application and any required documents to your local regional office or submit it online. Having all the documents upfront can help the VA review your application quickly and limit delays.
If you are already receiving benefits and need a copy of your award letter, go to eBenefits to download all your documents and approvals. If you prefer speaking to someone, call the regional VA office near you, and they can help.
What Your VA Disability Letter Will Include
Award letters inform veterans on the status of their VA claim. Your letter should be sent from the Department of Veterans Affairs and include the following information:
Your entitlement amount or monthly income you will receive as a benefit.

Your payment start date or the date each award amount listed in your letter goes into effect.

The reason you are receiving service-related compensation, including any changes or updates from a previous disability claim.

Your disability rating, which is a percentage that represents the severity of a service-connected condition. The VA uses disability ratings to determine the total compensation veterans should receive monthly and their eligibility for certain benefits.
Why VA Disability Award Letters Matter
Even if you're already receiving disability benefits from the VA, it's a good idea to understand the ins and outs of your VA Benefit Summary Letter – especially in the event that you disagree with the VA's final verdict. You may feel your disability rating underestimates the magnitude of your condition, or you may discover you're entitled to other benefits.
Understanding your letter and having a copy in hand is a great first step if you plan on applying for a home loan, refinancing your VA loan or using a VA loan to refinance your current mortgage. Having the documents on hand will set you up for a smoother loan application process.
VA Award Letter:
Frequently Asked Questions
Still not sure where you stand with your award letter? These frequently asked questions can help guide you toward your next step.
What happens if my award letter gets denied?
If the VA rejects your claim for an award letter or provides an unsatisfactory disability rating, you may be able to file an appeal if you believe you are owed additional benefits.
Your award letter should pinpoint the steps you need to take if you suspect you aren't being properly compensated or have other objections. The letter should also identify the best person to contact with your questions or concerns. You may want to speak with a legal expert to ensure you file your appeal correctly.
When do you get your VA award letter?
The VA generates an award letter once it has evaluated a veteran's claim for military service-related disability benefits. The length of time it takes for the VA to decide on your disability claim can depend on several variables, including the complexity of your claim. As of 2022, the average response time is 110 days.
Can I view my VA disability letter online?
The VA provides online access to view, save and download VA award letters. To access your letter online, visit the VA's benefit letters page. You'll either create an account or sign in to your existing profile.
The Bottom Line: Make The Most Of Your Service-Related Benefits
Knowing what your award letter is and where to find it will help ensure you have access to all the benefits you earned through your service. When it comes to home buying or refinancing, these benefits also include saving thousands of dollars by avoiding the VA funding fee.
Already have a copy of your VA award letter and want to get started on a VA home loan? Start your mortgage application online today.
See What You Qualify For
You can get a real, customizable mortgage solution based on your unique financial situation.
Get Started