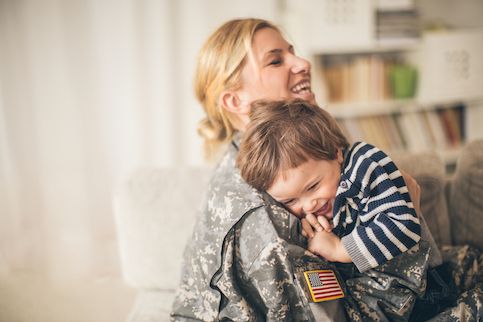 How Do I Get A Copy Of My DD-214 For My VA Loan?
Published on August 21, 2019
The VA loan is a wonderful benefit for our eligible active-duty service members, reservists, veterans and surviving spouses of those who passed in the line of duty or as a result of a service-connected disability. America's heroes can get a home loan with no money down, and VA mortgage rates are some of the best available.
However, before getting a VA home loan, you have to have a Certificate of Eligibility (COE). In order to get that, you have to provide your military discharge documents (commonly a DD 214) so that the VA can verify your eligibility.
As a top VA lender, Quicken Loans is committed to helping each eligible client take advantage of the VA benefits to which they're rightfully entitled. If necessary, we work directly with the VA on behalf of our clients. However, we thought we would take this post to go over the normal processes for retrieving a copy of your discharge documents if you don't have them already. We'll also review the general eligibility requirements for getting a VA loan.
How Can I Get a Copy of My DD 214?
There are several ways to retrieve your discharge documents if you don't have them.
Work with Your Lender
If you're working with a lender who does VA loans like Quicken Loans, you should be able to work with them to get access to the records you need to prove your eligibility, if you can give them some information and/or documentation about your time in service.
If you're looking to get a mortgage, this may be the best way to get an expedited request.
If you need your discharge records for the purpose of medical or other benefits, here are some other ways to get your records that you might find helpful.
Make a Request Online
The easiest way to get your documentation, including your DD 214, is to make a request through the milConnect website. If you don't already have an account, you'll need to make one that gives you premium access. Although this service is free, premium in this case means that you've gone through some additional security steps to verify your identity.
Once you've registered or signed in with your existing account, under the correspondence/documentation tab, select defense personnel records information (DPRIS). From there, go to the personnel file tab and click request my personnel file. You'll fill out a form that includes a document index section. Check the box for your DD 214 or discharge documents before sending the request.
You'll receive an email that your request is being processed and another one when they're ready for viewing and download. The VA has a full breakdown of the process.
Access Documents Through Mail or Fax
You can also get your DD 214 through mail or fax by completing form SF 180. This form can be faxed to (314) 801-9195 or sent to the following address:
National Personnel Records Center
1 Archives Drive
St. Louis, MO 63138
The government says requests for a DD 214 typically take 10 business days to process. They respond via U.S. mail.
You may also be able to request your documentation through your state or county veterans agency.
What Do I Do If I Lost My DD 214?
If you lost your DD 214 at some point, you can follow any of the processes above to get another copy.
Who's Eligible to Get a VA Loan?
Aside from documentation, there are also minimum service time requirements in order to be eligible for a home loan through the VA. You have to be eligible as an active-duty service member, reservist, veteran or surviving spouse. Minimum service time depends on your service status and the time frame in which you served.
If you happen to be on active duty at this point in time, you need 90 continuous days of service to qualify. If you're a veteran, the service length necessary depends on when you served. The VA has a table showing minimum service lengths based on service dates.
If you're a reservist who was called into active-duty service at any point, the active-duty rules in effect at the time of your service apply. If you were in active service for a length of time shorter than that or were never called into active duty, you can still qualify if you have at least 6 credible years of service in the reserves at any point in time. Those 6 years in the reserves don't need to be consecutive.
A surviving spouse is defined as someone whose spouse passed in the line of duty or as a result of a service-connected disability. There are some special requirements to qualify as a surviving spouse.
If you're interested in a VA loan, you can apply online or give us a call at (800) 785-4788 to speak with one of our Home Loan Experts.
Guide to VA Loans
Discover a more affordable loan option for United States Veterans, Service Members and spouses.
Read the Guide to VA Loans