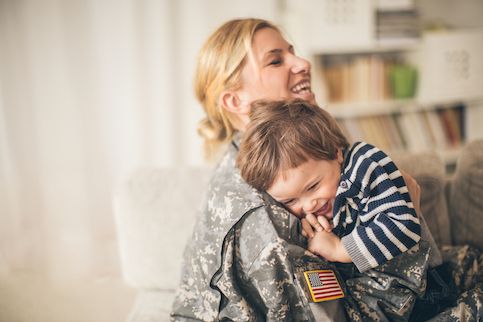 How To Get A DD214 For A VA Loan
Published on January 19, 2022
The VA home loan is one of the most valuable benefits available to eligible service members, veterans, reservists, and surviving spouses. With it, those who served and sacrificed have access to a home mortgage with no money down, relaxed credit requirements and competitive interest rates.
However, there is a process to qualify for this military benefit. You need a Certificate of Eligibility first, which requires your military discharge papers. Commonly referred to as a DD214 Form, this document is the gateway to your VA loan.
Here's how to get DD214 and begin your home buying journey.
What Is A DD214?
A DD214, also known as a Certificate of Release or Discharge From Active Duty, is a document that essentially proves your military service. It includes a wide range of information, such as the date you entered active duty, military education, decorations, job specialties and details of separation.
Because of this, it is vital for veterans looking to borrow a VA loan. With a DD Form 214, your lender can obtain your Certificate of Eligibility (COE) and verify your eligibility for the home loan.
How To Get A Copy Of A DD214
There is more than one way to obtain a copy of your discharge documents, such as:
Work With Your Lender
You may already know a mortgage lender who does VA loans. They can potentially request a DD214 on your behalf. All you would need to do is provide them with documentation and information about your service.
This can be a useful way to expedite your request, especially if you are interested in a mortgage. But it isn't the only way. You may want to consider alternatives if you need the DD214 for other purposes, like benefits or medical needs.
Make An Online DD214 Request
One of the simplest ways to get your DD214 is to request it online at the milConnect website, a self-service website for Department of Defense (DOD) affiliates and beneficiaries.
You will have to create an account that gives you premium access if it is your first time using the site, though. Premium access is free; it just means you've taken additional steps to verify your identity.
Once you sign in, you can follow these steps to request a DD214:
Navigate to the Correspondence/Documentation tab
Select Defense Personnel Records Information (DPRIS)
Navigate to the Personnel File tab
Select Request My Personnel File
Fill out the form (Choose DD214 in the Document Index section)
Click Create and Send Request once you finish the form
You will receive an email notifying you that your request is being processed. Another will be sent when the documents are ready for viewing and download. The VA lays out the process on its site.
Request A DD214 By Mail
Not everyone is tech-savvy or needs their DD214 for a loan. In that case, you can also request your discharge documents by mailing or faxing a completed SF 180 form. Alternatively known as a Request Pertaining to Military Records, you can either fax it to (314) 801-9195 or send it to the National Personnel Records Center's (NPRC) mailing address:
National Personnel Records Center
Military Personnel Records
1 Archives Drive
St. Louis, MO 63138
It may be possible to write a letter requesting a DD214 in place of the form as well.
The government claims it takes around 10 business days to process a DD214 and does so via U.S. mail. This can be done at either your request, through your state, or through your county veterans agency.
Go In Person
You may have the opportunity to request a copy of your DD214 in person at the NPRC. Going this route may require you to provide some documentation of your identity and military service.
The best practice is to contact the National Archives before visiting. That way, you ensure you understand all requirements to access the necessary documents.
Contact Your Local Veterans Agency
Your state or county veterans agency may be able to help you acquire a copy of your DD214.
You can consult this list of state Veterans Affairs offices to find one near you. Or, you can try to locate your local veterans services office by searching this National Association of County Veterans Service Officers database. You can use the map feature to select your state or input your county into the search boxes underneath.
Hire A Research Company
The NPRC provides veterans and next of kin with copies of service records free of charge. But, depending on the NPRC's workload, you may have to wait weeks or months before you receive anything. If you need a quicker turnaround, you may want to consider hiring an independent researcher.
Once you authorize a qualified researcher to act as your agent, they will go to the record center to personally retrieve any documents. However, don't hire a researcher for something you can do for free, like faxing a request.
You can start by consulting the National Archives and Records Administration's (NARA) list of independent researchers.
How To Get A Copy Of A Deceased Relative's DD214
A deceased's next of kin – such as an unmarried surviving spouse, parent, sibling or child – can obtain a copy of their relative's DD214 through any of the above processes.
In some cases, you may need a copy of a deceased individual's DD214, but you're not next of kin. In that situation, you can order a copy of the veteran's military records from the National Archives. However, this only applies if the individual was discharged over 62 years ago.
FAQs About Requesting A DD214
Here are some answers to common questions about DD214 forms that can help you understand the requesting process.
Can you get a VA loan without a DD214?
The only VA loan that doesn't require a DD214 is the VA Streamline Refinance (VA IRRRL). That's because you'll already have a VA loan before you refinance.
How long does it take to get a DD214?
The timeline varies depending on the method you choose. However, it generally takes several weeks to several months.
The National Archives claim that most requests get addressed with 10 days – around 92% of the time. But older records or ones that require reconstruction may require upwards of 6 months.
What is the fastest way to get a DD214?
The National Archives can expedite a DD214 in a few days. However, only under specific emergency scenarios, such as for a funeral or burial.
You, or a qualified individual such as researcher, can also retrieve your DD214 immediately if you go to the NPRC in person.
Can I get my DD214 for free?
You can obtain your DD214 for free by using the online request process above or going through the National Archives directly, either online, by mail or by fax.
Most basic requests come without charge as long as the discharge date is less than 62 years ago.
What do I do if I lose my DD214?
If you ever lose your DD214, you can use any of the processes above to replace it.
The Bottom Line
After a career of service to your country, you deserve access to a home loan that works for you. A DD214 is a vital steppingstone in the mortgage application process to benefit from the perks of a VA loan. With it, you can enjoy competitively low interest rates, no required mortgage insurance, no down payment and limited closing costs.
If you're eligible for a VA loan, consider applying online with Rocket Mortgage®.
Find A Mortgage Today and Lock In Your Rate!
Get matched with a lender that will work for your financial situation.
Get Started