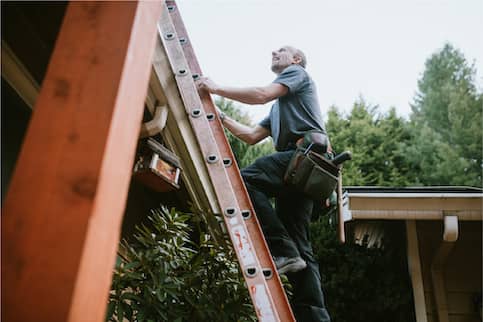 Does Home Insurance Cover Roof Leaks And Replacement?
Published on September 15, 2021
Homeowners insurance policies often cover roof leaks and other roof damage if the damage is from a sudden event or act of nature. This type of insurance helps cover the costs of home repairs or replacing parts of your home.
However, there are certain types of roof damage that home insurance providers may not cover. Before filing a roof damage insurance claim, it's best to determine whether your homeowners insurance covers roof leaks.
What Kind Of Roof Damage Is Covered By Insurance?
Many homeowners insurance policies include dwelling coverage, which is meant to cover damage to your home's structure.
If your roof is damaged by fire, wind, hail or falling debris like trees, your dwelling coverage may help cover the cost of repairs. In the event that your home's contents are damaged as well, personal property coverage can also help repair or replace these items.
Does Homeowners Insurance Cover Roof Leaks?
Roof leaks caused by covered perils are typically included in homeowners insurance coverage. A peril is defined as an act of nature that damages your home or its contents, like a hailstorm, strong winds or a fire. This is where your insurance company covers losses and damage repair from the unexpected weather damage.
It's important to note that some home insurance policies exclude coverage for wind or hail damage. Check with your insurer to know what's covered by your home insurance.
Does Homeowners Insurance Cover Roof Replacement?
Fortunately, most homeowners insurance policies do cover the cost of roof replacement if it's damaged by covered perils.
However, if the damage from nature only takes a few shingles off your roof, the insurance company may label the damage as cosmetic. This means that it would be your responsibility to cover the cost of repairing the damage.
Your insurer can also claim that the cause of the damage was from lack of maintenance or wear and tear, which would also leave you to foot the bill.
What Roof Damage Is Not Covered By Insurance?
When the cause of roof damage is not a covered peril, then the cost of repairing the damage is not covered by insurance. Perils that are not covered include roof damage from general wear and tear or lack of maintenance.
Mold, pests or birds, wet rot, errors made by a contractor or construction worker as well as improper code materials are examples of perils that aren't covered by homeowners insurance. Improper code materials are violations of building or plumbing guidelines established by licensed contractors.
In some cases, a homeowners insurance policy specifically excludes covering the repair of roof damage, more so in HO-8 insurance policies. The significance of HO-8 home insurance is that it is often used to insure older or high-risk homes which are more likely to encounter roof damage from weather like hail and wind or falling objects like trees and power lines.
Apply for a mortgage today!
Apply online for expert recommendations with real interest rates and payments.
Start Your Application
What To Do If Your Roof Is Leaking
If your roof is leaking, this is where a homeowners insurance policy with dwelling coverage comes in handy. Your roof may need to be repaired or entirely replaced, so home insurance can help offset the hefty costs that come with roof damage.
Before repairs, however, steps must be taken as soon as you discover a leak.
Find the source. Once you notice that your roof is leaking, like from water damage or a dripping ceiling, start looking for the source of the leak in your attic or crawl space underneath your roof. If you don't have access to either of these locations, try scoping out the damage from outside your home. To prevent further damage, ask a roofer or contractor to climb onto the roof to investigate if the leak still can't be found.
Capture water damage. Documenting the extent of the damage to your home is a necessary precursor to filing a homeowners insurance claim. If you can locate the source of the leak, make sure to take a picture of it and the roof damage.
Do damage control. For a temporary solution until repairs are made, use buckets to catch water from leaky ceilings and move items out of the way to prevent further damage. Using fans to dry the area as much as possible can also help prevent mold. If the damage has created standing water, it's a good idea to use a wet vacuum or mop up the water.
Contact your insurance provider. Once the above steps are taken, contact your insurance provider and communicate with an agent to submit the roof claim. This will help you get an estimate for how much the repairs or replacement will cost and how much your insurance provider will cover.
How To Find A Roof Leak
To find the source of the roof leak, the first place to go if you have access is your attic. Going up to your attic on a rainy day is preferable since water reflects light and you can use your flashlight to identify where the water is leaking through. Make sure to mark the area so you can come back to it.
If you don't have access to your attic or you're still unable to find the source of the leak, there are plenty of other places to check such as the shingles, gutters, gaskets around pipes, downspouts or ridge caps. It also helps to check the flashing, dormer valleys and boots – the rubber seals around electric and plumbing vent pipes, exhaust fan flashing and air vents.
If you can't locate damage on the roof, such as cracks in the chimney base or near vent pipes, you should try examining the home from the inside. Homeowners with attic access should go up with a flashlight to look for evidence of roof leaks like water stains, black marks or mold.
How Much Does A Roof Leak Cost To Fix?
The cost of roof repair depends on the extent of the damage. For minor repairs, the cost ranges from $150 – $400.1 Moderate repairs like fixing and sealing fixtures, replacing shingles and flashing can range from $400 – $1,200.
Major repairs, like repairing the roof's outer layer, and replacing damaged wood in other parts of the home, like outer walls, can range between $1,200 – $3,500. This can also include replacing the shingles in a 10-by-10-foot section of the roof, since one roofing square is 100 square feet.2
Homeowners typically spend $300 – $1,200 on a roof repair in total, creating an average expenditure of $650 – $850 for each step in roof-related repair.
Costs above $3,500 for roof repairs are possible, but at that point you may just consider replacing your roof entirely. Roof replacement can cost over $7,500, but it does give you a fresh start.
How To File A Homeowners Insurance Claim For Roof Damage
Once you've identified damage to your roof and done the appropriate damage control, you should consider submitting a homeowners insurance claim to help cover the cost of repairs if they aren't covered by your policy.
Document the damage. The first step in filing a claim is taking photos of the damage as well as the source if you can find it. This way you'll be able to present evidence to the insurance agent helping you file your claim.
Weigh your options. If the number of claims in the past 3 years has been more than one, your insurance provider may not insure your home. Consequently, if the damage doesn't exceed your deductible, it may not be in your best interest to file the claim. If the claim doesn't result in a payout, your insurance provider may raise your home insurance rate. If you prefer to handle the situation on your own, consider contacting a roofing contractor to get their estimate for repairs.
Contact your insurance provider. If you do decide to move forward with the claim, your provider will put you in contact with an insurance agent who can send a claims adjuster to assess the damage to your home. Once the adjuster estimates the cost of repairs, they will communicate with your insurance provider to determine the final payout.
Protecting Your Roof From Future Damage
Working to protect your home can help you save more money in the long run, especially when it comes to your roof.
There are plenty of ways to protect your roof from wear and tear, like cleaning your gutters regularly, removing debris from your roof following major storms and trimming tree branches that hang over or touch your roof. Be sure to check for damage immediately after intense weather like storms, ice or hail.
The right homeowners insurance policy can protect you from life's unexpected events and ultimately protect your home for generations to come.
Apply for a mortgage today!
Apply online for expert recommendations with real interest rates and payments.
Start Your Application