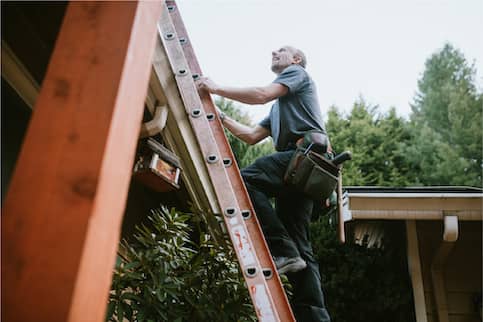 Does Homeowners Insurance Cover Roof Leaks?
Published on August 23, 2023
As a homeowner, you likely know that your home insurance policy covers many things. But the question you might be asking yourself is, "Does homeowners insurance cover roof leaks?" The short answer is, sometimes. But we will explore if and when homeowners insurance covers roof leaks below.
Will Home Insurance Cover Your Leaky Roof?
Homeowners' insurance will likely cover a roof leak caused by an accident or storm that damages the structure of your home. Leaks caused by normal wear and tear or poor roof maintenance are unlikely to be covered.
But the exact coverage you have for roof leaks varies based on the perils covered in your homeowners' insurance policy. A peril is defined as an event that causes damage to your home or its contents, like a hailstorm, strong winds, a fire or a break-in. This is where your insurance company covers losses and damage repair from the unexpected damage.
When the cause of roof damage is not a covered peril, then the cost of repairing the damage is not covered by insurance. Perils that are usually not covered include the following:
General wear and tear
Lack of maintenance
Neglect
Bad workmanship
Does Homeowners Insurance Cover Water Damage From A Leaking Roof?
Whether or not water damage is covered in your home depends on the specifics of your homeowners' insurance policy. For most policies, coverage comes down to the source of the leak.
In general, roof leaks caused by damage from a weather event are covered. But water damage resulting from a poorly maintained roof usually isn't covered.
Will Insurance Cover A Roof Replacement?
Most homeowners insurance policies will cover the cost of replacing a roof after damage from a weather event. But some insurance policies don't cover wind or hail damage.
In some cases, the insurance policy will only cover the actual cash value of the roof. With that, the insurer will only pay a portion of the costs of replacing your roof. But other insurance policies will cover the replacement costs.
For example, let's say that the actual cash value of your roof is just 15% of the replacement cost value. If the insurance company only covers the cash value of your roof replacement, then the insurance company will kick in $1,500 to help pay for a $10,000 roof replacement. But if the insurer covers the roof replacement costs, they'll pay the full $10,000 bill.
What To Do If Your Roof Leaks
If your roof springs a leak, taking action can help you resolve the issue as soon as possible. Here's a step by step guide on what to do when your roof leaks.
1. Identify The Source Of The Leak
Once you notice that your roof is leaking, like from water damage or a dripping ceiling, start looking for the source of the leak in your attic or crawl space underneath your roof. If you don't have access to either of these locations, try scoping out the damage from outside your home.
To prevent further damage, ask a roofer or contractor to climb onto the roof to investigate if the leak still can't be found.
2. Document The Damage
Documenting the extent of the damage to your home is a necessary precursor to filing a homeowners insurance claim. If you can locate the source of the leak, make sure to take a picture of it and the roof damage.
3. Find A Temporary Solution
For a temporary solution until repairs are made, use buckets to catch water from leaky ceilings and move items out of the way to prevent further damage. Using fans to dry the area as much as possible can also help prevent mold.
If the damage has created standing water, it's a good idea to use a wet vacuum or mop up the water.
4. Contact Your Insurance Company
Once the above steps are taken, contact your insurance provider and communicate the issue. This will help you get an estimate for how much the repairs or replacement will cost and how much your insurance provider will cover.
5. Weigh Your Options
If the number of claims in the past 3 years has been more than one, your insurance provider may not insure your home. Consequently, if the damage doesn't exceed your deductible, it may not be in your best interest to file the claim. If the claim doesn't result in a payout, your insurance provider may raise your home insurance rate. If you prefer to handle the situation on your own, consider contacting a roofing contractor to get their estimate for repairs.
6. File An Insurance Claim
Finally, it's time to file an insurance claim. Be prepared to provide documentation of the issue to the insurance agent. You might have to answer several questions before the claim is finalized. The sooner you can file the claim, the sooner the insurance company can pay the claim.
Ready to refinance?
See recommended refinance options and customize them to fit your budget.
Get Started
When To File A Claim For Damage From A Leaking Roof
Filing an insurance claim isn't always the right solution for your roof leak.
According to Angi, the average cost of roof repairs ranges from $379 to $1,795. Start by taking a look at your deductible. If the cost of repairs is less than your deductible, then filing a claim doesn't make sense. Another reason to forgo a claim is if the roof is leaking due to old age. Most insurance companies won't help you repair your roof due to normal wear and tear.
For example, let's say your insurance policy has a deductible of $500. If you get a repair quote for $400, then it makes sense to skip an insurance claim. But if the repair costs are going to be $5,000, then filing a claim could make sense if the damage was caused by a covered weather event.
Another solution for covering water damage costs is a home warranty. If you have an affordable home warranty in place, this might cover the repair costs.
How To Prevent Roof Leaks
Every homeowner would prefer to avoid the hassle of a roof leak altogether. Here are some ways to prevent this inconvenience through regular home maintenance:
Clean your gutters regularly.
Check for roof damage after a storm.
Have your roof inspected regularly.
The Bottom Line
The right homeowners insurance policy can provide the protection you want for water damage. But if you are facing major home repairs, like a roof replacement, you may want to apply for a personal loan through Rocket LoansSM.
Find A Mortgage Today and Lock In Your Rate!
Get matched with a lender that will work for your financial situation.
Get Started