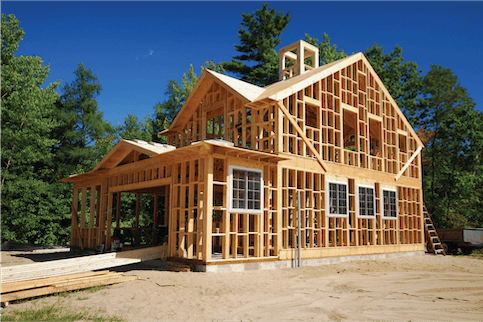 The Cost To Frame A House In 2023
Published on July 19, 2023
The frame of your house is the backbone for constructing the rest of your home. The average cost to frame a house ranges from $7 – $16 per square foot1 or $11,200 – $48,0003 for homes between 1,600 and 3,000 square feet. The average size of a home is 2,200 square feet as of 2023, which would cost $15,400 – $35,2003 to frame. With increases in prices of housing materials and rising inflation, the costs may vary or increase.
Framing is crucial when you're building a new house or adding something new to your existing home. House framing establishes a structural outline for your home. For a new home, this includes building stick frames for what will be its walls with empty spaces outlining windows and doors. The frame provides a foundation for your home which will uphold your walls, doors, windows and roof.
Because framing projects vary by size, complexity, materials and other factors, it's difficult to estimate the cost to frame a house. Learning about the different cost factors can help you make a more accurate estimate for your budget.
Check out our guide below to learn more about house framing costs.
House Framing Cost Per Square Foot
Your house frame is the costliest part of building a new house. The price you pay is determined by labor and materials required.
While the cost of framing a house ranges from $7 – $16 per square foot, it will vary depending on the materials needed and the cost of local labor.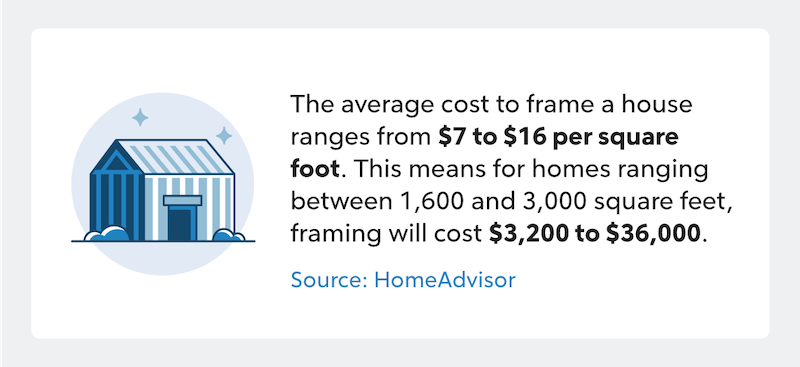 We were unable to determine the home price you can afford with the numbers you entered. Try adjusting your numbers to see what you can afford.
Please enter an annual income amount (cannot exceed 7 digits).
This is your income before taxes. Include income from any co-borrowers.
Please enter a monthly debt amount (cannot exceed 7 digits).
Include all required minimum monthly debt payments.
Please enter a down payment amount (cannot exceed 7 digits).
We will figure out the best down payment and additional closing costs.
Please enter a valid zip code.
If you don't have a home picked out yet, your best guess is fine.
I
mportant House Framing Cost Factors
The cost for framing a house is dependent on a number of factors. For example, if you use steel to create your frame over lumber, it's going to be more expensive. If your house is larger, then the labor needed to construct the frame will cost more.
Here are the factors that you need to consider when estimating the cost to frame a house.
House Square Footage
The square footage of your home frame is the largest cost variable for framing a house. The larger your home, the more expensive it will be to build a frame. Take a look at the chart below to get a feel for the cost range based on the size of your project.
| | |
| --- | --- |
| Size Of Home | Price Range |
| 1,500 square feet | $10,500 – $24,0003 |
| 2,000 square feet | $14,000 – $32,0003 |
| 2,500 square feet | $17,500 – $40,0003 |
| 3000 square feet | $21,000 – $48,0003 |
Home Complexity
Home designs with an abundance of roof lines, corners, extra slopes and extra valleys are going to be more expensive than a single-family home with a basic design. This is because these more complex add-ons require more materials and take more time to build.
Commercial And Residential Framing Costs
Commercial framing is more expensive on average than residential framing. Commercial projects typically use steel and are more complex, while residential projects use timber and are simpler.
Since commercial projects are run on tighter deadlines with stricter regulations, workers require more skill to finish the job on time. This causes commercial projects to cost more.
Home Sheathing
Home sheathing is the protective barrier attached to your frame that strengthens insulation and provides a base for your home's siding. Exterior sheathing increases the cost for framing your home by $2 to $8 per square foot1. If house wraps are used to protect the sheathing, it may also increase your framing costs by $0.50 to $1 per square foot.1
Materials Used
The two materials primarily used in house framings are lumber and steel. While lumber prices are usually lower, current economic factors are impacting its price and availability. Overall, lumber is generally cheaper and easier to work with, however, steel is more lightweight and durable.
| | |
| --- | --- |
| Material | Cost Per Square Foot |
| Lumber | $1 – $5 |
| Steel | $2 – $4 |
Sources: HomeAdvisor1, National Association of Home Builders2
The baseline cost for a steel frame may initially appear lower. Keep in mind that the starting cost for lumber is $1 per square foot and steel starts at $2 per square foot. Additionally, costs vary depending on which area of the house you need framed. However, steel frames are more expensive than wood because they require special tools, workers with specialized training and extra fasteners to complete them. If steel frames are rare in your area, the availability of local labor could also drive up the price.
House Framing Costs By Frame Type
Costs vary depending on which area of the house you need framed. While the costs of framing basements and garages are on the lower end, ceilings and roofs are more costly.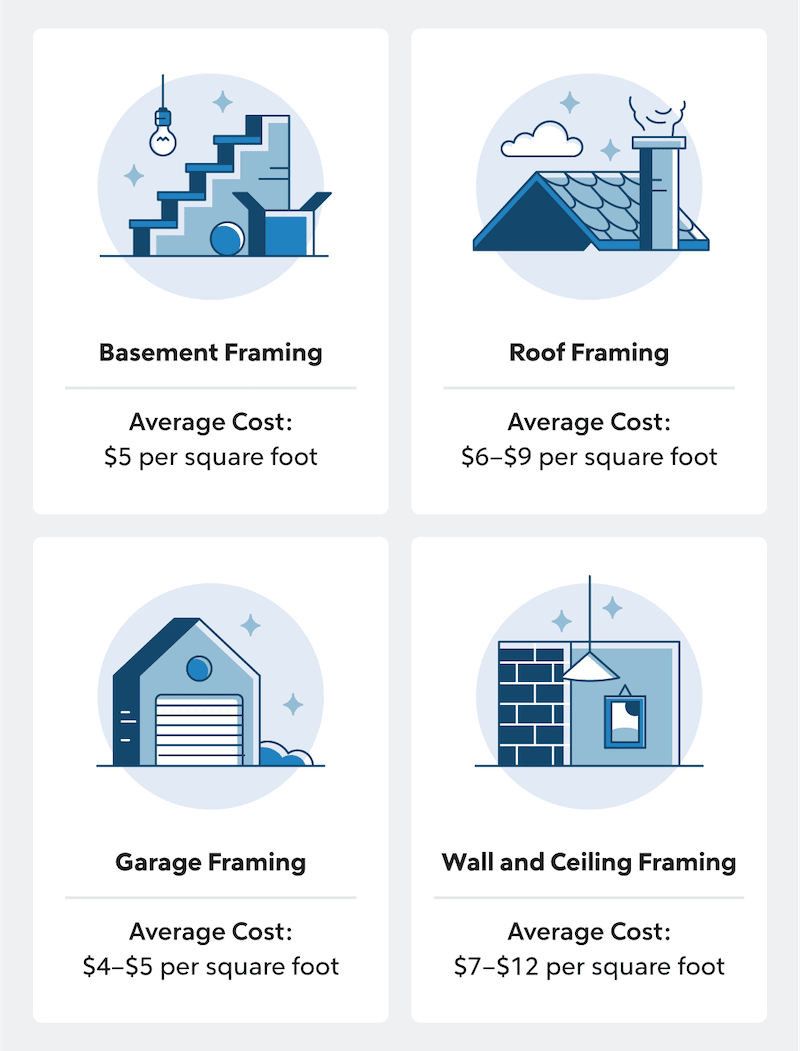 Basement Framing Costs
If you're planning on building a new home you'll want to get estimates for building and framing based on the type of foundation and your plans for using the space.
Framing for basement walls in established homes run on the inexpensive side at about $5 per square foot.1 Basement framing in an existing building isn't load-bearing and won't require much planning, which lowers labor costs.
Roof Framing Costs
Proper framing is crucial to avoiding future roof leaks. Depending on the complexity of the project, roof framing can cost $6 – $9 per square foot.1 Extra valleys, slopes and angles result in higher costs.
If you are trying to build a house on a budget, one way to avoid the costs of roof framing is to use prebuilt trusses. Roof trusses require less labor to install and provide more support than traditional stick frames.
Garage Framing Costs
Attached and detached garages cost $4 – $5 per square foot and are one of the most simple and inexpensive projects to construct.1
Wall And Ceiling Reframing
Framing projects for ceilings and walls cost $7 – $12 per square foot.1 Adding walls to an existing house can cause complications that increase your labor costs. The carpenter might also have to worry about cleaning up debris and working in a tighter space.
Hiring A Carpenter To Frame Your Home
Framing is a big investment, and the quality of your carpentry will determine the quality of your home. As such, it's important to seek out a trustworthy carpenter with qualifications that fit your project.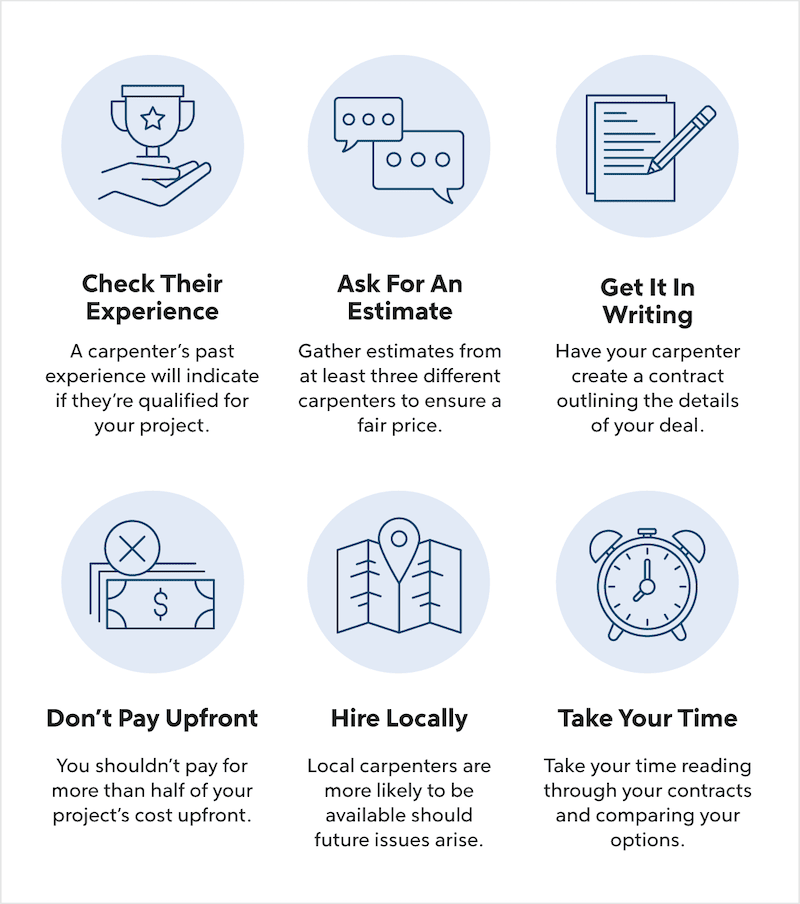 Here are some tips to consider before selecting a carpenter:
Check Their Experience
Make sure that your carpenter's past experience aligns with your project. For example, if your carpenter has never constructed a steel frame and your project relies on steel, you should look elsewhere. Ideally, you want a carpenter who has a strong reputation with more than 5 years of experience.
Ask For An Estimate
After you've vetted a list of reputable carpenters, provide them with your building plans and ask for an estimate. Ask each carpenter to outline the cost of their labor, their profit margins, materials and any other expenses. If necessary, use your estimates to negotiate a better price with your carpenter of choice.
Hire Locally
Local carpenters will be more familiar with your area's building codes and are easier to contact if future problems arise. Since they're in your community, it should be easy to reach them and they'll likely take more care with their work to maintain their reputation in your area.
Don't Pay More Than Half Upfront
If your carpenter asks you to pay more than half of your project's cost upfront, that's a red flag. While a down payment of 10% – 25% isn't uncommon, you shouldn't pay the complete price until your project is done.
Get It In Writing
Have your carpenter write up a contract that outlines each aspect of your project. This should include proof of liability insurance, a payment schedule, materials to be used and a start and completion date.
Take Your Time
It's important to take your time to compare estimates, decide on a carpenter and read the contract from top to bottom before you sign.
Home Framing FAQs
How Much Does Lumber Cost Per Square Foot?
Lumber costs range from $1 – $5 per square foot. This means that the cost of lumber for framing a 2,000-square-foot house could cost $2,000 – $10,000.
How Much Does It Cost To Frame A House Yourself?
The cost to frame a house yourself is generally between $3 – $6 dollars per square foot.1 You might save on the initial cost of labor by framing a house yourself. However, unless you're a professional carpenter or builder having an expert frame your home may prevent unforeseen problems.
The Bottom Line
The cost to frame a house fluctuates depending on the materials used, add-ons and the size and complexity of your project. Before you decide to frame or build your own home, be sure you know the costs involved and budget for possible fluctuations in the cost of supplies and labor. When it's time to choose a carpenter, make sure to take your time to research their background, shop around and secure multiple estimates.
Trying to decide if building a new home is right for you? Building a home can mean personalizing your project to fit your needs, but buying an existing house can be much simpler and faster. Learn more about the differences between buying and building a home.