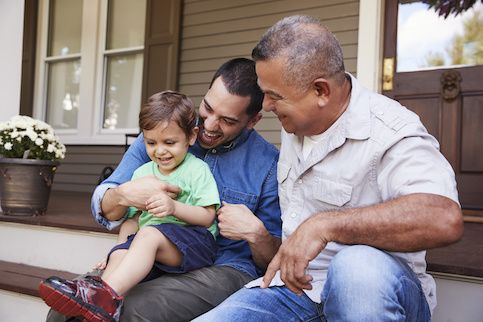 7 Steps To Buying A House After A Divorce
Published on January 25, 2022
Before setting out on your journey to purchase a new home after or during a separation or divorce, it's important to save yourself some time and get equipped with the proper information and documentation.
There's certainly a lot to consider, especially if you need to make decisions about your family home or you're still going through divorce proceedings. Let's walk through a checklist of items that are important to complete if you're looking to buy a home while in the process of getting divorced or after your divorce is finalized.
Find A Mortgage Today and Lock In Your Rate!
Get matched with a lender that will work for your financial situation.
Get Started
How To Buy A House During A Divorce Or If You're Legally Separated
During or after a divorce, it's natural to want to move forward with your life, whether that means refinancing your family home or buying a new home. Buying a home while legally married but separated from your former spouse is possible, but you'll need some extra documentation. Next are the steps you'll need to take if you're buying a house after your divorce is finalized or when you're legally separated.
1. Finalize Your Legal Proceedings
First, your lender is going to require your legal separation agreement. If you have a property settlement agreement, they'll need that as well. This order, finalized and signed by a judge, will tell your lender who's responsible for what in the divorce. This is important because it can have a big impact on your qualifying debt-to-income ratio (DTI).
2. Find The Right Real Estate Agent
When purchasing a home, it's always paramount to find the right real estate agent. It's even more important to find the right agent when house shopping during or after a separation or divorce. In fact, some REALTORSⓇ and real estate agents even specialize in working with people going through a divorce or dealing with its aftermath.
The right real estate professional can help guide you through any complications or sensitive situations. They'll be familiar with financial or legal issues that may arise during the home buying process, and they'll know the best way to tackle these issues so you can get approved for a mortgage.
3.
Figure Out How Much You Can Afford
The decisions laid out in the separation agreement can help or hurt you as you determine how much home you can afford. It's crucial to figure out your income and ongoing costs because they can impact whether you can make a down payment and afford a new mortgage payment every month. Depending on the situation, you may need to pay attorney fees, child support, alimony or other costs. Alternatively, your former spouse might be sending you payments that actually add to your monthly income.
If you're responsible for the payments on your family home or other property you owned before the divorce, this debt will be included in your DTI. Conversely, if your spouse was awarded the property, your lender can exclude that payment from your qualifying ratios.
4.
Divide Your Finances
When a couple divorces, the court issues a divorce decree (also known as a judgment or order) that divides their money, debts and other marital assets by determining what each person owns and who's responsible for paying each debt. It's best to separate your money and finances so your credit score will accurately represent your financial situation.
Failure to do this could impact your credit score, especially if your ex-spouse made poor financial decisions that make it harder for you to get a home loan.
5.
Remove Yourself From The Mortgage Of The Marital Home
If the property is legally awarded to your ex, you should make sure you're removed from the deed. Doing so formally relieves you of your legal responsibility for the property. You may be able to use a quitclaim deed to accomplish this.
6.
Show Your Payment History
The contents of any child support or alimony agreements are also important. If you make payments to your ex, they're included in your monthly debt. On the other hand, if you can show that you receive indefinite monthly payments, it can help your qualifying income and affect the size of the home loan you can qualify for and how much you can afford in monthly payments.
If you're already divorced, your lender will look for the same information, but it will be from your divorce decree instead of your separation agreement.
7.
Get Preapproved For A Mortgage
Once you've finalized your divorce, mortgage preapproval is the next step if you're seriously shopping for a home. It's important to get preapproved by your lender before putting an offer on a house or property. A preapproval shows sellers you can qualify for a home loan and that you aren't in over your head financially.
With a preapproval, your lender verifies your finances and credit score, and lets you know how much you can afford to pay for a house.
What Should You Consider When Buying A House During Or After The Divorce Process?
A few special considerations are worth taking into account if you live in a community property state or will be reestablishing credit after your divorce.
Community Property
One item to note if you're thinking of buying a house while separated is your status as it relates to a community property state. If you live in a community property state, your spouse may have rights to any property you buy while you're still married unless they explicitly sign away those rights.
Also important in community property situations is debt-to-income ratio. For example, if you're getting a government-backed loan (FHA, USDA, VA), your spouse's debts are included in your DTI. However, their credit score isn't counted against you for qualification purposes. Keep in mind that this doesn't apply to conventional loans, however.
Depending on the situation, it could be much easier to wait until the divorce proceedings are final before moving forward with a new house purchase. Waiting will especially make sense if you have concerns about the other person's credit.
Reestablishing
Credit
The effect of a separation or divorce on your credit must be another major consideration. If you've always had joint credit card accounts with your spouse, you'll need to cancel those cards when you finalize your divorce. As a result, your credit score can take a huge hit – even to the point that you're practically starting from square one.
Whether you've finalized your divorce or you're still going through one, you can work to reestablish your credit by getting a credit card or two and pursuing options like taking out a small loan in your name only. If your credit score takes a hit because of a divorce, it's essential to build it back up so you can improve your odds of mortgage loan approval.
If you're looking for a place to start on your new solo credit journey, keep in mind that rebuilding your credit won't happen overnight. However, it's possible by carefully monitoring your credit and ensuring you always make your credit card payments on time.
Saving Money
Also worth keeping in mind: A divorce is expensive. It can therefore be easy to fall behind on bills, which can negatively impact your credit. When juggling extra expenses like divorce attorney fees, it's essential to keep your financial future in mind. With divorces, we recommend building in a cash reserve because of the many costs involved. Mortgage lenders will want to see that you have a cash reserve, which is why it's important to pad your bank account before buying a new house.
Your Current Mortgage
Divorces aren't one-size-fits-all and not all divorcing couples follow the same process. Depending on your situation, you or your spouse may decide to stay in the home where you lived together. If there's still a balance on your home loan, a cash-out refinance is one way to stop sharing mortgage responsibilities with your former spouse if you were both co-borrowers on the loan. Another common solution is a mortgage assumption, where one party simply takes over the mortgage loan and monthly payments.
No matter the situation, mortgage lenders will examine financial factors like your DTI when you're refinancing or purchasing a new house. So if you're looking to buy a home during or after a divorce, you'll need a plan for your current mortgage. If you're unsure of your options, consult a real estate professional or real estate attorney to guarantee a smoother process.
Resolving your current mortgage obligations will make life easier for both you and your ex-spouse. It can be complicated, but it can also free you up to find a new home for the next chapter of your life.
The
Search For A New Location
If you aren't staying in your family home, you may need to search for a new neighborhood. However, since your DTI will likely change after a divorce, you may have to look for a new neighborhood after your divorce is final.
Perhaps instead of two incomes, your household will now only have one, which might mean downsizing or relocating. Identifying your ideal living situation is key to finding the right neighborhood. Factors that could convince you to live in one area over another include:
Location of school districts

Proximity to work

Access to amenities

Affordability
The Bottom Line
Buying a home can be a stressful process, and doing so while going through a divorce or legal separation can make it even more challenging. Keeping the information discussed in this article in mind can help make your process go as smoothly as possible.
Divorces can be tricky, but whether you're refinancing your family home or buying a new one for your life's next chapter, you have plenty of options. Ready to embark on the home-buying journey? Start the mortgage application process online today or give us a call at (800) 785-4788.