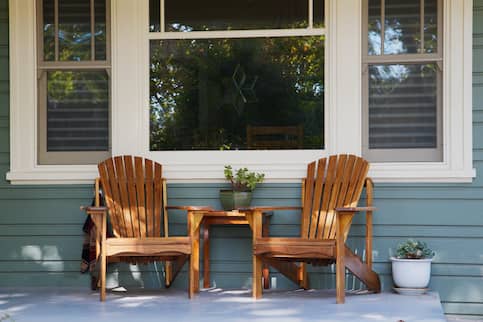 What Are the VA Loan Benefits for Disabled Veterans?
Published on November 22, 2021
Disclosure: This post contains affiliate links, which means we receive a commission if you click a link and purchase something that we have recommended. Please check out our disclosure policy for more details.
Disclaimer: Beginning January 1, 2020, the VA funding fee will be changing to a range of 1.25% – 3.3% based on factors like your down payment or equity amount, your service status and whether this is a first or subsequent use of a VA loan.
The VA loan is a great option for any eligible veteran, active-duty service member or surviving spouse. It offers the chance to get into a home without a down payment and a one-time funding fee in place of mortgage insurance.
If you have a disability as a result of your time in the service of our country, you've made a special sacrifice. In recognition of this, the VA has some special loan guidelines and programs to help you when you get your VA loan.
Before we get there though, let's discuss some basic questions often asked by veterans.
Apply Online with Rocket Mortgage
Get approved with Rocket Mortgage® – and do it all online. You can get a real, customizable mortgage solution based on your unique financial situation.
Apply Online
What Are The Benefits Of VA Loans For Disabled Veterans?
VA home loans offer such advantages as:
No down payments
No private mortgage insurance (PMI)
Lower than average interest rates
Less strict credit requirements
No penalties for early pay-offs
These VA home loan benefits can give veterans lower monthly payments that most citizens don't have access to and allow service members to obtain a home with a helpful source of financing.
See What You Qualify For
Congratulations! Based on the information you have provided, you are eligible to continue your home loan process online with Rocket Mortgage.
If a sign-in page does not automatically pop up in a new tab, click here
How Do Disabled Veterans Qualify for VA Loans?
While VA loans are a beneficial form of financing for many military service members, there are certain requirements they must meet. The VA typically requires service for a certain length of time under specific circumstances. However, veterans with disabilities caused by injuries sustained in the line of duty may be eligible for a VA loan without meeting all of the conditions.
Most service members have to meet one the following requirements to apply for a VA loan:
Have served for 181 days of active service during peacetime
Have served for 90 consecutive days of active service during wartime
Have served 90 days under the Title 32 with at least 30 consecutive days
Have served more than 6 years of service with the National Guard
Veterans and service members may also need to meet additional criteria set in place by their lender or submit specific documentation of one of the above requirements, like a certificate of eligibility (CEO), DD Form 214, NGB Form 22 or another VA form.
Again, you may not have to meet the above conditions to be eligible for a VA loan as a disabled veteran.
Do Veterans Have To Pay Closing Costs?
There are closing costs associated with any mortgage that have to be paid by the client. VA loans are no exception, but the VA seller concessions policy allows the seller to pay for a larger amount of these costs then they could on many other loans.
There's no limit on the amount someone can choose to contribute to the following categories:
Origination fees:Most mortgage lenders charge origination fees for processing the loan application and paperwork.
Discount points: These are prepaid interest points. Prepaying some of your interest ahead of time enables you to lower your interest rate.
Miscellaneous fees:These include things like paying for credit reports, property surveys and appraisals.
There are certain things a seller can only pay up to 4% of the purchase price or appraisal for, whichever is lower. This limit applies to escrow items (prepaid property taxes and homeowners insurance) as well as the VA funding fee.
However, if you're a disabled veteran you may be able to get out of the funding fee. More on that below.
In addition to the seller concessions option, you can choose to take lender credits for part or all of the closing costs. In this case, these are built into the balance of the loan and paid off over the loan term.
Who Is Exempt from the VA Funding Fee?
If you have a service-connected disability, you're an active-duty service member who received the Purple Heart, or you're a surviving spouse of someone who passed in action or as a result of their service-connected disability, you can get the funding fee waived.
If you currently receive disability benefits and have not yet closed on your VA loan, your funding fee is waived and you do not have to pay it. (This is true regardless of your level of disability.)
If you close on your loan prior to receiving benefits, the funding fee may be refundable if you were in the middle of applying for disability at the time of your purchase or refinance. For example, if a first-time home buyer is purchasing a $200,000 home with a VA loan and qualifies for disability, the 2.15% funding fee will be waived – saving the homeowner $4,300. Once your disability benefits are approved, you must apply in writing to your state's VA Regional Loan Center to initiate the funding fee refund. If you financed the funding fee, the refund amount will be removed from your principal amount due, and if you paid with cash, the VA will issue you a check.
It is important to remember that if you do not currently receive disability benefits, you must have a pending claim for disability prior to the closing date of the loan. If the application for disability is dated after closing, you may not receive a refund.
Guide to VA Loans
Discover a more affordable loan option for United States Veterans, Service Members and spouses.
Read the Guide to VA Loans
What Grants Are Available To Disabled Veterans?
A disabled veteran may be able to purchase a home with a fee-free VA loan, but if the home also needs accessibility modifications, the Specially Adapted Housing (SAH) grant and the Special Housing Adaptation (SHA) grant are available to help. To qualify for these particular grants, you need to have a 100% service-connected disability rating from the VA.
The SAH helps qualified veterans with one of the following:
Build a home with special disability-related modifications.
Remodel and modify an existing home to meet adapted housing needs.
Apply the grant against the principal mortgage balance of an adapted home that's already been purchased without VA grant assistance.
The SHA helps qualified veterans with one of the following:
Adapt an existing home that is already owned by the veteran.
Adapt a home that the veteran intends to purchase.
Help a veteran purchase a home that has already been adapted.
It's important to note that if you're considering a grant, the maximum amount allowed for the SAH for the fiscal year 2021 is $100,896. For the SHA, the grant limit is $20,115. Additionally, veterans must have their disability benefits approved prior to applying for housing grants.
Veterans who are eligible for either of these programs may also qualify for a Temporary Residence Adaptation (TRA) grant. This allows you to get funds to temporarily adapt the residence of a family member whose home you're temporarily living in. The maximum loan amount for an SAH eligible veteran is $40,637. If you're eligible for SHA, the maximum TRA grant is $7,256 for 2021.
Even if you don't qualify for any of these particular programs, check with your local VA office as well as the local branch of the Department of Health and Human Services in your area. There may be other sources of funding, veteran specific and otherwise, that will allow you to accomplish goals related to housing or anything else made more difficult by your service-connected disability.
Disabled Veterans Property Tax Exemption and Homeownership Tax Credits
Once you use your VA loan benefit to buy a new home, you're eligible for some very useful tax credits and exemptions that could help quite a bit. The Disabled Veterans Property Tax Exemption can help reduce the amount a disabled veteran pays per year in taxes. The amount varies by state, so it's important to check with your local VA office in person or through their website to find out about your state-specific benefit. For example, some states offer a 100% tax exemption to all veterans, while others restrict it to 100% disabled veterans.
With a VA loan, you may also be eligible for a Mortgage Credit Certificate (MCC). The MCC is issued on the state level that allows you to claim a tax credit for a portion of the mortgage interest paid per tax year. The credit amount is determined on the state level, but is definitely a benefit worth taking advantage of.
Are There Home Loans For Disabled Veterans with Bad Credit?
The VA doesn't have a set minimum credit score for their loan program, but most mortgage lenders have their own requirements. Rocket Mortgage®, for example, has a minimum credit requirement of 580 – though this minimum is still typically seen as below average. If your score is lower than the standard minimum, there are some financial institutions that will still approve you, depending on your payment history, income and other current debts.
Although, with a score lower than 620, you might not be able to qualify for a VA loan with no down payment or the lowest rates, and so may want to consider improving your credit before applying for a VA home loan. By making some changes to your financial situation and spending habits, you can rebuild your credit score quickly.
As a veteran, you may also qualify for additional help and financial counseling through the VA's Financial Services Center. This program offers free financial advice and legal counseling to help veterans better manage their debts and make improvements to their credit.
Are There VA Home Loans For Disabled Veterans Who Are Rated Incompetent?
The VA issues an incompentant rating when it believes a veteran is no longer able to manage their own disability benefits and financial situation. This judgement can happen due a mental disability, advanced age or physical concern.
Once the VA sets this rating, they will require the veteran to choose a fiduciary or will appoint one for the service member. This person will manage your finances and VA benefits for you. Most veterans have a close family member or friend act as their fiduciary with the VA's approval.
If you are deemed incompetent, you can still apply for a VA home loan, but you may have to submit extra paperwork or meet additional requirements. Your fiduciary will be the one to apply for the VA loan on your behalf. They will have to:
Let the seller know that the real estate transaction will be dependent on the VA's approval (this could take over 30 days to finalize).
Submit their paperwork to the VA Regional Loan Center for approval before the lender completes underwriting.
Once those two steps are completed, the VA will notify the lender of the approval. From there, they can complete the underwriting process and then the sale is ready for closing.
Can Disability Payments Help You Get a VA Loan?
If you're currently receiving disability compensation from the VA, it can be counted as income, which, in turn, helps you meet VA loan income requirements. To be eligible for a VA loan, income must meet three standards – it must be stable, reliable and expected to continue. The key factor in using disability pension toward a VA loan is that your payments are likely to continue.
The Bottom Line: VA Loans Can Provide Additional Benefits To Disabled Veterans
Buying a home is more than a large purchase. It's a financial obligation you are taking on for the next 15 to 30 years. Thankfully, as a veteran or active-duty service member, you may be eligible for a mortgage with no down payment, low interest rates and fewer credit restrictions. VA loans are in place to help veterans of the armed forces, so make sure to take advantage of these benefits if you qualify.
If you're interested in your own VA loan, you can get started online or talk to one of our Home Loan Experts today. We're happy to help!
Apply Online with Rocket Mortgage
Get approved with Rocket Mortgage® – and do it all online. You can get a real, customizable mortgage solution based on your unique financial situation.
Apply Online