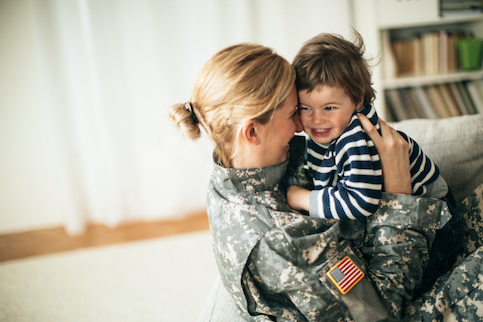 Servicemembers Civil Relief Act (SCRA) Benefits: Everything You Need To Know
Published on April 5, 2022
Are you serving in the U.S. Military or Reserves? Or maybe you're in the National Guard and have been mobilized under federal orders for more than 30 days. You might even be an active-duty officer of the U.S. Public Health Service or National Oceanic and Atmospheric Administration.
If you are, you qualify for the financial benefits provided by the Sevicemembers Civil Relief Act, better known as SCRA.
And that's important if you are applying for a mortgage, auto or student loan; you own a home and are struggling to make your monthly mortgage payments; or you lease a residence or car.
In these cases, your SCRA benefits can protect you from high interest rates, allow you to cancel leases without penalty and protect you from a quick foreclosure from your mortgage lender.
What Is The Servicemembers Civil Relief Act (SCRA)?
Congress enacted the SCRA in 2003 to protect active-duty members of the U.S. Military, National Guard or other organizations when they are serving their country.
The goal is to make sure that these service members won't have to worry about paying high interest rates, losing their homes to a quick foreclosure or facing financial penalties for ending an apartment, single-family home or auto lease prematurely if they are on active military duty.
SCRA Requirements And Eligibility
The financial protections of the SCRA apply to active-duty members of the Army, Navy, Air Force, Marines and Coast Guard; members of the military Reserves when they are serving on active-duty; members of the National Guard when they are mobilized for 30 consecutive days or more; and active-duty officers of the Public Health Service or the National Oceanic and Atmospheric Administration.
These benefits are not available for veterans of these military or reserve units. The benefits are only available for those on active-duty service.
SCRA Benefits And Protections
The SCRA provides several key benefits for qualifying active-duty service members.
Benefit: Limited Interest Rate Cap
One of the most important financial protections under this law is the interest-rate cap. According to the SCRA, any debt that you took on before joining the military, Coast Guard, National Guard, reserves or other qualifying organizations must be capped with an interest rate of 6%, no matter what the original interest rate was. That rate holds while you are on active duty.
What's especially impressive is that this interest rate cap is available on most forms of debt, including mortgages, credit cards, home equity loans, student loans, auto loans and personal loans.
Protection: Military Foreclosure Relief
The SCRA can protect you if you are struggling to make your mortgage payments and are in danger of losing your home to foreclosure. Under the law, if you took out your mortgage before entering active-duty service, your lender can't foreclose on you without first logging a valid court order. Such a court order will stretch out the time it takes to complete a foreclosure proceeding against you.
This protection lasts while you are on active duty and for 12 months after you leave the military, reserves, Coast Guard, National Guard or other qualifying agency.
Benefit: SCRA Benefits For Spouses
If you are married to a service member or are the child of a service member, the protections and benefits of the SCRA also apply to you while the service member is on active duty.
You might also qualify for the benefits of this law if a service member provides financial support for you. Under the law, you'll qualify if an active-duty service member provides more than half of your financial support in the 180 days before you apply for one of the benefits of this law.
It's important to note, too, that the SCRA generally requires a child to be under 18 and not married to qualify for a parent's SCRA benefits.
Protection: Lease/Contract Forgiveness
Thanks to the SCRA, you can also cancel all leases – including those for vehicles, apartments and single-family homes – without any financial penalty if you are being deployed for 90 days or more.
This protection also applies to contracts such as those you might have entered with your telephone, Internet or cable providers.
To qualify for this protection, you must have entered your lease or contract before you were called into active duty.
Protection: Protection Against Default Judgments
This federal law protects you, too, against default judgments if you are sued in a civil legal action.
A default judgment is a court order favoring the person or party suing you if you do not appear in court to defend yourself. If you are on active duty, you might not be able to appear in court, which is where the SCRA protections come in.
Under the SCRA, if you are on active-duty service and can't appear to defend yourself in a civil action, the court is not allowed to enter a default judgment against you until it has first appointed an attorney to represent you.
The party that has filed a lawsuit against you must file an affidavit with the court declaring whether you are on active-duty service. The court must also allow a delay of the case for at least 90 days.
How To Apply For SCRA Benefits
To receive the benefits guaranteed to them under the SCRA, service members must both request the specific relief they are seeking and verify their active-duty military status.
For example, service members who want to reduce the interest rate on their credit card debt must write a letter to their credit card provider stating their account members, the start date of their active-duty service and a statement stating that they want to reduce their interest rate as allowed under the SCRA.
Service members must also include a copy of their active-duty orders. Members can usually get form letter templates for this from their on-base legal offices.
The same holds true if you want to lower the interest rate on your mortgage loan or cancel your apartment lease early. You'll have to write this letter to your mortgage lender or landlord in these cases.
It's important to remember that all lenders, apartment owners and credit card providers have different policies. If you are requesting relief under the SCRA, contact the company providing your mortgage loan, auto loan, personal loan or credit card first to ask about the process.
The Bottom Line
SCRA benefits can provide important financial protection to active-duty service members. If you are being sent on such duty, be sure to explore these benefits and how they can help you. And if you are a member of the U.S. Military or the surviving spouse of a military member you might consider applying for a VA loan, a mortgage loan type popular because it does not require a down payment. That's one other benefit you can receive for serving your country.
Apply Online with Rocket Mortgage
Get approved with Rocket Mortgage® – and do it all online. You can get a real, customizable mortgage solution based on your unique financial situation.
Apply Online