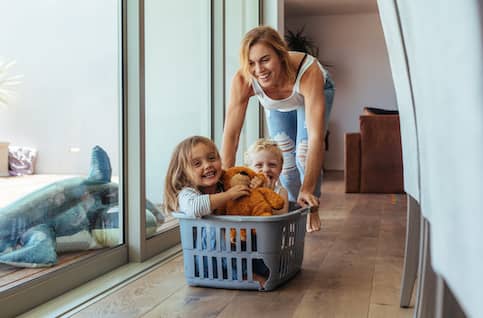 VA Loans – VA Residual Income Charts And Requirements
Published on January 21, 2022
For eligible active-duty service members, veterans and surviving spouses, the VA loan is a really good deal if you're looking to buy or refinance a home. Its benefits include a 0% down payment and a funding fee between 1.25% – 3.3% depending on the size of your down payment or equity amount and whether it's your first or a subsequent use of a VA loan. This can be paid at closing or rolled into the home loan instead of mortgage insurance.
You may be familiar with the fact that lenders take a look at your monthly debt payments in order to help determine how much house you can afford. However, VA loans also take into account the concept of residual income. Before we get to that, let's touch on the basics.
What Is Residual Income?
Sometimes confused with the debt-to-income ratio, residual income can be defined as measuring the net income or discretionary income, or the amount of money remaining after deducting your expenses. The Department of Veterans Affairs wants to make certain that you have enough money left over to take care of your day-to-day costs.
In order to qualify for a VA loan, you must meet a specific residual income threshold, which varies depending on the size of your family and where you live.
VA Residual Income Chart: What Are The VA Residual Income Requirements?
A VA residual income chart shows the housing prices of where you're purchasing your property, depending on the location and the number of members in your household. The chart also illustrates the income conditions that the VA requires, including residual income requirements for loans below $80,000.
Table of Residual Income by Region for Loan Amounts of $79,999 and Below
| | | | | |
| --- | --- | --- | --- | --- |
| Family Size | Northeast | Midwest | South | West |
| 1 | $390 | $382 | $382 | $425 |
| 2 | $654 | $641 | $641 | $713 |
| 3 | $788 | $772 | $772 | $859 |
| 4 | $888 | $868 | $868 | $967 |
| 5 | $921 | $902 | $902 | $1004 |
| | |
| --- | --- |
| Over 5 | Add $75 for each addional member up to a family of seven. |
If you have a loan amount higher than $80,000, things break down as follows.
Table of Residual Income by Region for Loan Amounts of $80,999 and Above
| | | | | |
| --- | --- | --- | --- | --- |
| Family Size | Northeast | Midwest | South | West |
| 1 | $450 | $441 | $441 | $491 |
| 2 | $755 | $738 | $738 | $823 |
| 3 | $909 | $889 | $889 | $990 |
| 4 | $1,025 | $1,003 | $1,003 | $1,117 |
| 5 | $1,062 | $1,039 | $1,039 | $1,158 |
| | |
| --- | --- |
| Over 5 | Add $80 for each addional member up to a family of seven. |
What's The Debt-to-Income Ratio For A VA Loan?
The VA generally recommends a debt-to-income (DTI) ratio of no greater than 41% with your mortgage payment included. It's not a line in the sand for reasons we'll get into below, but it's important to keep an eye on it. Your DTI is a comparison of your monthly debt payments to your monthly income. It includes monthly credit card payments, car payments, student loans, personal loans and mortgages.
The minimum monthly payment on all of these debts is compared to your monthly income to determine the monthly mortgage payment you can afford.
In addition to DTI, one concept that's unique to VA and some FHA loans is the idea of residual income qualification.
How Do You Calculate Residual Income?
Residual income is simply what's left over after all your expenses are paid. To calculate that number, you simply subtract all the bills mentioned above that make up your DTI ratio.
The VA's minimum residual income is considered a guide and should not trigger an approval or rejection of a VA loan on its own.
The Role Of DTI To Residual Income For VA Loans
Residual income and debt-to-income ratio are interconnected for VA loans, and are most often considered in conjunction with other credit factors. DTI and residual income are decidedly different, but they affect each other.
While it's possible to qualify with a DTI that's more than 41%, you must exceed the regional residual income requirement by at least 20%. So, if you have a family of four and live in Michigan, your regional residual requirement is $1,003. If your DTI is at 43%, you now must have a residual income of $1,203 to be approved for a VA loan.
Understanding your debt-to-income ratio and residual income balance can be difficult. That's why it's important to work with a mortgage lender who is experienced in dealing with VA loans.
What Happens If Your Residual Income Or DTI Does Not Meet The Requirements?
Each mortgage lender has its own guidelines that they expect you to meet, and if you don't, you may be denied a loan. However, just because you don't meet all the qualifications doesn't mean your application will for sure be rejected. There are ways to avoid being denied a loan depending on the lender. For instance, if you have income streams from family members living in the home that aren't currently considered for loan qualification, the lender may allow you to use that money to lower the residual income guidelines.
Another way to help you get a VA loan is through compensating factors. There are specific compensating factors (positive aspects used to offset a negative in a borrower's loan application) that can help you qualify but can't be used to cancel out poor credit. This includes things like a median FICO® Score of 720 or higher or 3 months of mortgage payments in reserves.
The Bottom Line
Hopefully this has helped with your awareness of residual income requirements. If you'd like to apply to buy a home or refinance your current one, you can get the approval online or give one of our Home Loan Experts a call at (800) 785-4788. If you still have questions, you can leave them for us in the comments below.
Apply Online with Rocket Mortgage
Get approved with Rocket Mortgage® – and do it all online. You can get a real, customizable mortgage solution based on your unique financial situation.
Apply Online