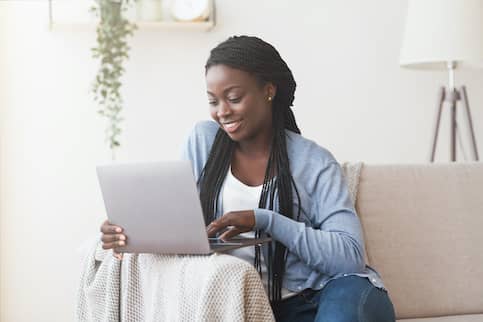 How To Write A Can't-Miss Property Description
Published on September 15, 2021
First impressions are important. Most home buyers are going to have certain criteria that they want met. A well-written property description can help home buyers check the boxes they want and is a great place for you to show off your home. Paired with high quality images, a property description is what gets people interested.
Here we'll cover the ins and outs of property descriptions and the best practices when it comes to writing one.
What Is A Property Description?
A property description is the written part of the real estate listing that describes the details and noteworthy features of the home. As potential buyers read real estate listings, a well-written description will help pique their interest.
A description with clear and intriguing language will generate more interest than one using abbreviations and jargon. Work with your real estate agent to highlight what's special about your home.
Good news is creating a house description is easy. You know your home well, and a real estate agent will know what buyers are looking for. Put the two together in writing and drive the value of your house home. Here are some steps to do that.
Apply Online with Rocket Mortgage
Get approved with Rocket Mortgage® – and do it all online. You can get a real, customizable mortgage solution based on your unique financial situation.
Apply Online
5 Steps: How To Create A House Description
What follows is a step-by-step guide to writing a property description. Read through these 5 different steps and implement them to make your listing impactful.
1. Craft An Attention-Grabbing Headline
The headline is one of the first things a buyer sees and, depending on where you list online, it may be the only thing they see to entice them to check out the rest of the listing. You have one chance to make your listing stand out, and the headline is often what makes that happen. Talk about pressure.
To write an attention-grabbing headline, think of the best, most marketable quality of the home, then follow these guidelines:
Keep it short and succinct.
Include that one, most marketable feature.
Use descriptive words that compel the buyer to learn more.
Include a benefit relative to the location.
Write several headlines, read them out loud and pick the best one.
2. Write A Straight-Forward Introduction
Don't waste time or prime space with a lengthy introduction that doesn't provide any information. Instead, get straight to the point and tell the buyer exactly what the listing is about. A good introduction will tell the buyer what they're looking at and why they want to continue reading.
This is a great place for any other major selling points of the home that didn't make it in the headline. These are features that don't need any other description to back them up, like an open-concept layout, free parking, mountain views or lake access.
3. Highlight The Home's Best Qualities
A picture may be worth a thousand words, but it often can't convey all the emotions, benefits and features like words can. This property description is your chance to highlight the home's selling points, especially if they're easily represented in the listing photos.
When describing the home, highlight why people will want to purchase it and present these reasons in a creative, compelling way. Don't just tell the buyer about the home's best parts; show them. Avoid vague phrases and replace them with rich, descriptive words.
For example, instead of saying the home has "hardwood floors," you could say the home features "historic oak hardwood floors restored to their original beauty." With descriptive wording, an "updated kitchen" can be transformed into a "kitchen outfitted with new, stainless steel appliances, granite countertops and cherry wood cabinets."
Can you see the power of words at work here?
Names can often add recognition and credibility. If a famous architect designed the home or if the appliances are from a well-known, reliable brand, include them in the description.
Go into detail about the home but leave some room for the buyer to use their imagination. You want them to be able to see themselves in the home, so don't make assumptions that could make them feel excluded. Provide enough detail so several buyers from different backgrounds can imagine using the space how they see fit – not how you think it should be used.
Remember, while the real estate description is essential to the listing, you should try to keep your word count around 250 words. No one wants to read a novel. Be descriptive and concise, making every word count.
4. Describe Any Special Promotions
If you're trying to sell the home fast, consider a special promotion to motivate the buyer even more. After a descriptive and creative narrative of the home, a special promotion can be the final thing that excites the home buyer and provides the extra push to contact you.
Such promotions could include a discount on the sales price or an offer of seller concessions to offset some of the potential buyer's closing costs.
Be sure to avoid language that makes your sale sound desperate. Phrases like "motivated seller," "must sell" or "priced to sell" can cause skepticism among buyers. That can be a major red flag with any buyer. They may wonder why you're so eager to move. Work with your real estate agent to agree on the terms of the promotion and how it's worded so it comes across as enticing, not desperate.
5. Lock In The Call To Action
Now that your creative real estate listing has buyers swooning, tell them what to do next. The call to action should tell buyers how to contact you and can even create a sense of urgency that will have them acting fast.
Direct them to get in touch with phrases like "Schedule a tour now. Call us at 555-5555" or "Don't miss out on this house. Call us now at 555-5555."
Things To Consider When Writing A Real Estate Description
You've read the steps, now you're ready to go write, right? Hold up for a second. Along with proper sentence structures and clear language, your description must follow certain guidelines to create the optimal buyer experience.
Check out these do's and don'ts for creating your real estate listing description.
Adhere To Fair Housing Laws
The Fair Housing Act was a large component of the Civil Rights Act, put into law after the riots that occurred after Martin Luther King Jr.'s assassination in 1968. The Fair Housing Act was created with the belief that every person should have the right to purchase or rent a home.
The law prohibits discriminatory practices against certain protected classes who wish to purchase a home, rent a home or obtain a mortgage. These protected classes include:
Race

Color

Religion

Sex

National origin

Religion

Familial status

Disability
Many states have added other protections for classes and may include age, sexual orientation, marital status, ancestry or source of income.
According to HUD, under the Fair Housing Act, you cannot "make, print or publish any notice, statement or advertisement with respect to the sale or rental of a dwelling that indicates any preference, limitation or discrimination."
To avoid this, steer clear of any words that may represent a protected class or make them feel excluded or unwelcome. Examples of such words or phrases include:
Perfect fit for

Near [place of worship]

Exclusive

Blue-collar

Family-oriented

Bachelor pad
Instead, highlight amenities that describe the area while still being inclusive to all parties. These amenities may include neighborhood block parties, the Saturday farmers market or the walkable distance to parks, schools or a bustling downtown area.
Feature Professional Listing Photos
Professional listing photos are a must. The reality is photos make or break a buyer's interest. One wonky photo in a dark room can act as a deterrent. Whether they know it or not, the quality of photos sends a message. Photos that look amateurish may reflect to a buyer that the seller doesn't know what they're doing.
Taking the time with a good camera and lighting is essential for your listing. If one of the highlights is a sprawling lot, use drone photography to give the buyer an idea of the scope of the property and its location.
There should at minimum be photos of every room. Ideally, photos of major rooms should contain multiple angles. Exterior photos should be the house from the front and highlights of the yard and lot.
Photos are a huge part of your online marketing strategy. They're what people are going to see on listing sites, but they're also going to be what they first see when your listing is shared or viewed on social or text. Choose a great featured image that highlights either your home's front or one of the major rooms.
Double Check Your Grammar And Spelling
Once you're done writing the listing description, read and re-read your work. Read the listing out loud and to another person, even. Check for any technical errors, too. Typos and grammatical errors look unprofessional and could turn a home buyer off from your listing.
Don't use all caps. All caps is the text equivalent of yelling. You may think writing in all caps grabs the reader's attention or emphasizes how exciting the home is, but it will leave the reader wondering why you are shouting at them. Writing in all caps is unprofessional, distracting and, many times, difficult and frustrating to read.
Avoid Overselling The House
Overselling the home and its features will do one of two things: Turn the home buyer off before they even step through the door or disappoint them when they view the home in real life. This makes for a bad customer experience, risks your credibility and breaks any trust between you and potential buyers or clients. Be honest about what you're selling, focus on the sellable qualities of the home and don't embellish on the less desirable parts of it.
Property Description Examples
Here are a couple great examples of property descriptions that make a solid impression and provide a sense of urgency. As of writing this article, these homes are listed for sale on Rocket Homes℠.
4905 Wiota St., Los Angeles, CA, 90041
Eagle Rock Urban Oasis! This charming, mid-century home is nestled above a quiet street in desirable Eagle Rock. Built in 1950, this 3 bedroom plus study, 1.5 bath home features beautiful landscaping with terraced gardens and multiple outdoor patios with plenty of room for friends and family perfect for al fresco dining and entertaining! The interior features an abundance of natural light, hardwood and bamboo flooring, central air/heat, fireplace, and a bolted foundation. The detached two car garage is perfect for a studio or workshop. Convenient Northeast Los Angeles location with easy access to the 2 and 134 highways, as well as York, Figueroa and Colorado Boulevards shops and restaurants, including Trader Joes, Little Beast, Found Coffee, Lucky Bird and Cindys. Eagle Rock Dog Park, the Rose Bowl and Old Town Pasadena, Gold Line Metro and nature trails are only minutes away. This is an amazing opportunity to purchase a hidden gem. Don't miss out on this one!
801 N Marion St, Oak Park, IL, 60302
This beautiful Craftsman influenced brick traditional home is located in the heart of NW Oak Park! Pristine oak floors, gorgeous custom corner banding and modern conveniences grace this space. Beyond the double doored front entry, the grand central foyer greets you and flows into the large living room with space for multiple conversation areas. This room also showcases the home's original custom trim carpentry and features a stately brick wood-burning fireplace with thick mantle and side built-ins. The formal dining room can handle your favorite holidays. The cook's kitchen has an ample amount of solid surface counter-space and custom cabinetry along with updated appliances. Don't miss the breakfast room! All 3 bedrooms are on the 2nd floor including the large primary bedroom with 2 closets that are the full wall width. This level also features the newer main bath with marble double sink vanity. Need even MORE space!?! The lower level has a fantastic rec room complete with movie screen, projector, and surround speakers. Here you will also find two great storage rooms, large laundry room and the perfect home office as well as a 3/4 bath! The lush back yard with paver patio expands your entertaining ability. This home also features a very rare attached 2 car garage. Walk to great schools, Lindberg Park, all forms of transportation and so much more! This home is a must see!
The Bottom Line: Share Your Home's Story Through The Property Description
Now's the time to be excited about writing your home's listing description. Channel the things you love about your home and write a clear and exciting property description. Keep it free of typos and be sure it adheres to the Fair Housing Act. Attract buyers with great descriptors and photos.
If you're just starting the process of selling your house and you're ready to hit the market, find a listing agent through Rocket Homes Real Estate.