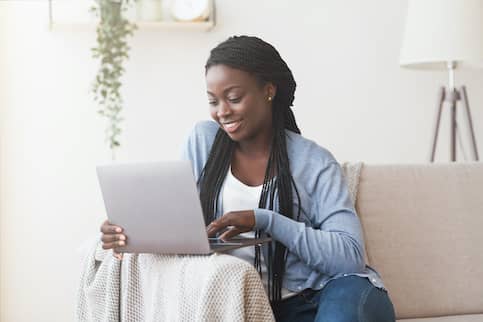 Property Description: Everything You Need To Know
Published on September 15, 2023
What is a property description and how does it affect a home sale? A well-written property description can help home buyers check the boxes they want and is a great place for sellers to show off your home.
What Is A Property Description?
A property description is the written part of the real estate listing that describes the details and noteworthy features of the home. As potential buyers read real estate listings, a well-written description will help pique their interest. Also known as a house description or real estate description, this part of the listing may include interesting features of the home, the floor plan, number of bedrooms and bathrooms and any other information that may show how special the home is.
These descriptions can be important to potential buyers because it helps them get even more information on the home, separate from what they can see in pictures and in the basic facts included in every listing. It also gives the home a little more personality.
Where To Find A Property Description
A property description can typically be found in real estate listings, whether they are online or in print.
What To Consider When Writing A Property Description
Along with proper sentence structure and clear language, your description must follow certain guidelines to create the optimal buyer experience. The potential seller should consider a few do's and don'ts when writing a property description.
Abide by housing laws:

It's important to consider abiding by housing laws when writing a property description because it helps to ensure that everyone has equal access to housing. The Fair Housing Act is a federal law preventing discrimination when people are trying to buy or rent a home, get a mortgage, find housing assistance or engage in other activities related to housing. Writing a property description that discriminates against or excludes individuals or groups based on race, religion, sex, national origin, familial status and disability is illegal and unethical. To avoid this, steer clear of any words that may represent a protected class or make them feel excluded or unwelcome.

Consider professional listing photos:

Professional listing photos are a must because they can help buyers envision themselves living in the space. They are often the first thing potential buyers see when they come across a property listing giving them a better sense of the property, making them more likely to put in an offer.

Avoid overselling:

It is important to avoid overselling when writing a property description. Overselling the home and its features will do one of two things: Turn the home buyer off before they even step through the door or disappoint them when they view the home in person. This can erode trust and credibility, making it difficult to establish a positive relationship with clients.

This makes for a bad client experience. Be honest about what you're selling, focus on the sellable qualities of the home and don't embellish on the less desirable parts of it.

Double-check your grammar and spelling:

Once you're done writing the listing description, read and re-read your work. Read the listing out loud and to another person, even.
How To Write A Property Description
Writing a compelling property description is crucial when listing a property for sale or rent. A great listing is written to cast the property in its best light.
1. Create An Engaging Headline
This is the first thing potential buyers will see, so make sure it's clear, concise and enticing. Buyers scan listings, looking for content that pulls them in and matches their requirements.
To write an attention-grabbing headline, think of the best, most marketable quality of the home and be sure to include it.
2. Provide A Straightforward Introduction
Don't waste time or prime space with a lengthy introduction that doesn't provide any information. Instead, get straight to the point and tell the buyer exactly what the listing is about. A good introduction will tell the buyer what they're looking at and why they want to continue reading.
This is a great place for any other major selling points of the home that didn't make it in the headline. These are features that don't need any other description to back them up, like an open-concept layout, multi-car parking, mountain views or lake access.
3. Highlight Key Home Features
What makes this property special? This could include architectural details, interesting history, large backyard, renovated kitchen, original hardwood floors, fireplace, or proximity to schools, parks or public transportation.
A picture may be worth a thousand words, but it often can't convey all the emotions, benefits, and features like words can. This property description is your chance to highlight the home's selling points, especially if they're easily represented in the listing photos.
4. List Any Promotions
If you're trying to sell the home fast, consider a special promotion to motivate the buyer even more. After a descriptive and creative narrative of the home, a special promotion can be the final thing that excites the home buyer and provides the extra push to contact you.
Such promotions could include a discount on the sales price or an offer of seller concessions to offset some of the potential buyer's closing costs. Be sure to avoid language that makes your sale sound desperate.
5. Write A Captivating Call To Action
Tell buyers what you want them to do next. The call to action should tell buyers how to contact you and can even create a sense of urgency that will have them acting fast.
Direct them to get in touch with phrases like "Schedule a tour now. Call us at 555-5555" or "Don't miss out on this house. Call us now at 555-5555."
Take the first step toward buying a house.
Get approved to see what you qualify for.
Start My Approval
Property Description Examples
1801 Woodward Ave., Detroit, MI 48201
Luxury Apartment in the Heart of the City! Discover urban living at its finest in this spacious 2-bedroom, 2-bathroom luxury apartment. With floor-to-ceiling windows, you'll enjoy breathtaking city views from every room. The open-concept kitchen features top-of-the-line stainless steel appliances and a granite countertop island perfect for entertaining. Relax in the primary suite with a spa-like bathroom and walk-in closet. Building amenities include a rooftop pool, fitness center, and 24/7 concierge. Steps away from trendy restaurants, shops, and public transportation. Reduced price. Schedule a tour now. Call us at 555-5555.
4905 Wiita St., Los Angeles, CA, 90041
Eagle Rock Urban Oasis! This charming home is nestled above a quiet street in desirable Eagle Rock. This 3-bedroom, 2-bathroom home features beautiful landscaping with terraced gardens and multiple outdoor patios with plenty of room for friends and family. Perfect for al fresco dining and entertaining! The interior features an abundance of natural light, hardwood and bamboo flooring, central air/heat, fireplace, and a bolted foundation. The detached two-car garage is perfect for a studio or workshop. Convenient Northeast Los Angeles location with easy access to the 2 and 134 highways. Seller concessions. Don't miss out on this house. Call us now at 555-5555.
What Is A Legal Description Of Property?
It's important to note that there is another type of description for a property. It's known as a legal description and, while it's an important part of the home buying process, it serves a different purpose from a home description. The legal description of a property is usually found on the most recent property deed on file with the county clerk. It's important when potential buyers are looking for a property listing because it provides a clear and accurate way to identify the property from all other properties. However, details like the street address, floor plan, square footage, and the number of bedrooms and bathrooms are not typically included in a legal description of property.
Serving as the foundation for transferring real estate, it's an important aspect when selling a home because it is required in deeds, mortgages, and other legal documents.
The Bottom Line
Understanding how to write a property description matters. Do your research ahead of time and talk to your real estate agent to get a sense of the information needed for writing a property description.
Ready to begin your home selling journey? Connect with a Partner Agent with Rocket HomesSM.