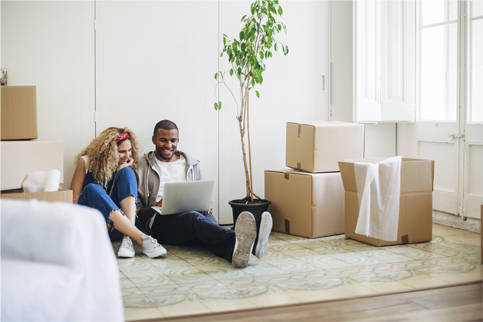 First-Time Home Buyer Loans And Programs
Published on March 18, 2019
*As of July 6, 2020, Quicken Loans is no longer accepting USDA loan applications.
*As of April 20, 2020, Quicken Loans® isn't offering conventional adjustable rate mortgages (ARMs).
Typically, first-time home buyers have less money in their savings. They may also lack a history of strong credit. While this can be discouraging, there are a number of options out there designed to help home buyers who have these limitations.
With the loan programs available today, lower down payments and flexible credit requirements make the goal of homeownership even more attainable. If you're considering buying your first home, these loan options might be right for you.
30-Year Fixed
What Is A 30-Year Fixed?
For new homeowners concerned about consistent budgeting for such a large expense, a 30-year fixed mortgage provides stability. This conventional loan program offers a repayment period of 30 years with an interest rate that doesn't change through the life of the loan (unless you choose to refinance at some point). This is typically the most popular loan type due to predictable interest rates and a monthly payment that's lower than shorter term loans.
What You Get With A 30-Year Fixed
Along with lower monthly payments and a fixed interest rate, first-time home buyers may get the option to put as little as 3% down on a 30-year fixed mortgage. This means that you may not have to save a large amount of money for a down payment to be eligible for this type of loan.
Additionally, your mortgage payment doesn't change throughout the 30-year term (excluding taxes and insurance).
What You Should Consider With A 30-Year Fixed
While a lower monthly payment makes this an attractive choice among home buyers, choosing a 30-year fixed comes with some disadvantages. For example, because your loan term is longer than that of a 15-year fixed, it ends up being more expensive due to the amount of interest you pay on the loan over time. If you make a down payment lower than 20%, you may be required to pay private mortgage insurance (PMI) as well. Because the lender is taking on an additional risk with such a small down payment, PMI protects the lender if you default on your loan.
Is A 30-Year Fixed Right For You?
If you want to know exactly what you're paying in principal and interest every month, then a 30-year fixed mortgage is worth considering. Predictable, lower payments will allow you to budget your finances with greater accuracy and give you the opportunity to fund other goals.
Adjustable Rate Mortgages (ARMs)
What Is An ARM?
ARMs are mortgages where the rate remains fixed for a period of time. Typically, this fixed period lasts for 5, 7 or 10 years. At the end of the fixed-rate period, your interest rate can go up or down once per year based on the market.
What You Get With An ARM
Typically, ARMs have a lower interest rate during the initial fixed period. This works in your favor as you can expect a lower interest rate during this time. You get a lower rate with an ARM than you would on a comparable fixed loan because you're not paying for 15 or 30 years of rate security. This gives you several years to sell before the interest rate reaches its adjustment period. ARMs are available with down payments as low as 5%.
What You Should Consider With An ARM
It's important to note that the housing industry is unpredictable. Even if you plan to sell your home within 5 years of purchase, there's no telling what the market or interest rates will look like when the time comes. You may struggle selling your home or rates may be higher than expected. If you choose an ARM loan for your financing option, keep an eye on the market to ensure you don't lose any money in your investment. One thing you can expect, though, is that your rate won't increase more than 5% of the original rate throughout the life of the loan.
Is An ARM Right For You?
Because an ARM's interest eventually changes, many borrowers who choose this option refinance or sell their home before the adjustable-period begins. If you plan on moving or refinancing within 5, 7 or ten years of buying your first home, an ARM may be ideal as it typically offers a lower interest rate during the initial fixed period of the loan term.
FHA Loans
What Is An FHA Loan?
This loan type is backed by the government and insured by the Federal Housing Administration, or FHA. FHA loans differ from conventional loans which are backed by banks and private lenders. FHA loans are very popular among first-time home buyers since they typically require lower minimum credit scores and down payments than conventional loans.
What You Get With An FHA Loan
There are several similarities between FHAs and fixed conventional loans:
Low down-payment options
15- and 30-year loan terms
Fixed interest rates
While conventional loans require a minimum 620 credit score for loan eligibility, FHA borrowers can put down as little as 3.5% on their home if their credit score is 580 or higher. Even borrowers who have a difficult financial history with things like bankruptcy or judgements could be eligible for approval.
What You Should Consider With An FHA
Due to the lower down-payment option that comes with an FHA, the loan comes with a higher risk of default. That's why you'll have both up-front and annual mortgage insurance premiums (MIP). The mortgage insurance helps compensate for the lower credit score requirements and helps compensate the FHA if you default on your loan. These insurance rates are set by the federal government and can change from year to year.
This is similar to private mortgage insurance (PMI) you may have to pay with a conventional loan, but there is a key difference. With a conventional loan, you can eliminate your PMI after you've reached an 80% loan-to-value ratio (LTV). Removing mortgage insurance from an FHA loan is trickier. If you bought the home with a down payment of at least 10%, you may be able remove mortgage insurance from an FHA loan after 11 years. If your down payment was less than 10%, you'll need to refinance to remove mortgage insurance. A Home Loans Expert can review your situation and walk you through your best options.
FHA also has standards for property condition before closing. They may require you to complete repairs before they will agree to financing. However, this could be something that is negotiated with the seller, especially if the repair is a safety concern.
Is An FHA Right For You?
Borrowers with less-than-ideal credit and little savings for a down payment are more likely to qualify for an FHA than a conventional loan. If you're looking to buy your first home and aren't eligible for a conventional 30-year fixed or ARM, you may still qualify for an FHA.
VA Loan
What Is A VA Loan?
A VA loan is a mortgage option for potential home buyers who meet the Department of Veterans Affairs guidelines for military service. If you're an active or retired military service member, a VA loan is an excellent option for your first-time home buying experience. In most cases, VA loans are approved by a private lender, like a mortgage company or bank.
What You Get With A VA Loan
Unlike other loan programs, VA loans offer 100% LTV financing. This means a loan can be taken out for the entire value of the home with a $0 down payment. The VA guarantees a portion of your loan to protect lenders, and the amount of that guarantee is decided by your entitlement. In most cases, entitlement means you won't need money for a down payment. This doesn't mean you won't need money for closing costs, however.
Since VA loans are backed by the government, lenders assume less risk. As a result, lenders don't require you to buy mortgage insurance. The reduced risk also results in lower interest rates compared to conventional loan types. If you're in a position where you can pay off your loan early, a VA loan allows you to do so without worrying about pre-payment penalties. This makes future home purchases and refinancing options more attainable.
What You Should Consider With A VA Loan
Generally, VA loans require a funding fee: a percentage of the loan amount based on transaction type, service type and whether the veteran has previously held a VA loan. This is a one-time charge that can be paid at closing or rolled into the total cost of the loan. Funding fees do not apply to surviving spouses and veterans who receive disability. If you're a Purple Heart recipient serving in an active-duty capacity, you're also exempt from the funding fee. If you're unable to pay the funding fee at closing, there are VA refinance options to help lower your interest rate or free up cash needed to help resolve debt.
Is A VA Loan Right For You?
This is a great option for veterans interested in making lower monthly payments and avoiding large upfront costs on their home purchase. The added flexibility on a minimum credit scores and debt-to-income ratio allows for easier eligibility.
USDA Loans
What Is A USDA Loan?
Also known as rural development loans, USDA loans are backed by the U.S. Department of Agriculture and provide affordable mortgage options for homes in rural areas. While this loan type may seem targeted toward occupations (like farmers and ranchers), this is not true. USDA eligibility focuses on income and location, not occupation.
What You Get With A USDA
This loan is a 30-year fixed-interest rate mortgage with the option to finance into a new USDA loan. You can qualify with a credit score as low as 640. Like VA loans, USDA loans allow 100% financing, which means no down payment is required. You may be able to get a lower interest rate than other loan options since the loan is insured by the government.
What You Should Consider With A USDA Loan
In order to qualify for a USDA loan, the home has to be located in an eligible rural area. While some suburban areas may be eligible, metropolitan areas are typically excluded from USDA programs altogether. Even if the property is located in a rural area, it must not be a working farm.
Along with location, there are certain income eligibility requirements required for approval. For example, your household income must not exceed 115% of the area median family income and your debt-to-income ratio (DTI) must be 50% or lower.
USDA loans require a guarantee fee that is paid both upfront and on an annual basis. Similar to PMI or the VA's funding fee, this fee compensates your lender in the event that the loan defaults. The upfront guarantee fee required at closing equals 1% of the loan amount.
Is A USDA Loan Right For You?
With a 0% down payment, competitive interest rate and lower upfront costs at closing, a USDA loan is an attractive option for buying a home in a qualified rural area. If you're interested in purchasing a home away from the city, this might be the right choice for you.
Taking The First Step
Buying your first home can be overwhelming, especially if your income isn't exactly where you want it to be. Whether you're actively shopping for a new home or plan on waiting a few years, knowing your options now will bring you one step closer to your goal.
If you're still wondering which loan program to consider, we're here to help! As an approved FHA, VA and USDA lender, we can work with you to help determine which option is best for you. Get started today at Rocket Mortgage® by Quicken Loans® or speak to a Home Loan Expert by calling (800) 785-4788.
Apply for a Mortgage with Quicken Loans®
Call our Home Loans Experts at (800) 251-9080 to begin your mortgage application, or apply online to review your loan options.
Start Your Application