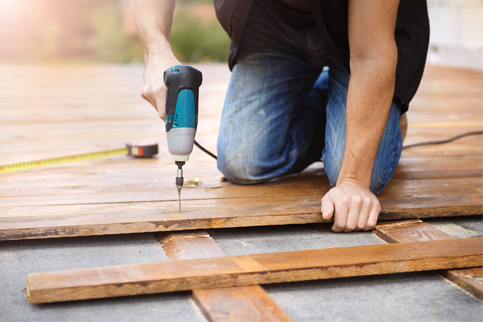 Homeowners Insurance – What's Required?
Published on March 14, 2019
Buying a home requires a major investment. As a homeowner, it might be the most valuable investment you ever make. That's why protecting your home (and yourself) with homeowners insurance is important. If something were to happen to it, the loss or damage may be far too expensive to cover out of pocket. However, not all homeowners insurance is created equal.
Several factors determine what type of homeowners insurance you should get and how much you'll end up paying. Identifying these factors and how they affect you will help you figure out the coverage you need for your home.
What Is Homeowners Insurance?
Homeowners insurance works as a safety net to protect your home and finances. If you experience any damage or theft to your property, your homeowners insurance would typically cover the cost necessary to bring your property value back to its original value.

While homeowners insurance isn't required by law, your lender or mortgage investor will require that you have an insurance policy on your home before they give you a loan.
What It Covers And Why You Need It
While the most basic protection covers damage to the home itself, homeowners insurance can cover damages to other structures around your home, stolen or damaged personal property, and liability in the event someone injures themselves on your property. Let's take a closer look.
Damage to your home – The most basic protection offered by homeowners insurance covers damage to the physical structure of your home. Damage from normal wear and tear to your home would not be covered. Flood insurance is typically not included basic protection, though you'll have to purchase flood insurance if your home is located in a high-risk flood area.
Damage to other structures on your property – Many policies include protection for structures outside of your home that still dwell on your property such as a detached garage, shed or fence.
Damage or theft of personal property – Your policy may cover your personal property, not just within your home, but the property you have in your possession when you're not home. With personal property coverage, the insurer usually sets limits on things like jewelry and other high-value items. However, additional coverage may be offered in the form of riders. A rider is a provision in your insurance policy that adds to or amends the coverage terms.
Liability – If someone injures themselves on your property, liability insurance helps cover the claim made for medical costs as well as your legal costs if a lawsuit occurs. Liability can also protect you against damage to your neighbor's property such as a tree in your yard falling on their roof.
Homeowners insurance doesn't just protect you and your home. It protects the lender's investment in your home. This is why they require it to approve your mortgage. If you have a mortgage, you're required to get homeowners insurance coverage for at least the full replacement value of your property. If damage occurs and a repair needs to be done, an inspection is required to make sure the home's value is restored.
How Much Homeowners Insurance Costs
Where you live plays a major role in how much you pay for homeowners insurance. Typically, HOI premiums vary by state. Just as we mentioned earlier, if you live in a flood zone or a state regularly impacted by hurricanes, you may be required to buy additional coverage that protects your home in the event of a flood. If you live near a forest area, additional hazard insurance may be required to protect against wildfires.
Along with your home's location, the home itself can determine how much you pay for insurance. This includes the home's condition and age. Insurance companies may charge a higher premium for an older home or one that isn't properly maintained. Even the contents inside your home can determine what you pay.
Your credit score can also play a role in how much you pay for homeowners insurance. Just like with a credit card or mortgage, a higher credit score may lead to a better rate, which will save you money.
As with any insurance, you can save money by increasing your deductible, which will lower the amount you pay toward your premium. How much you save and whether doing this makes sense depends on your coverage and the state you live in.
How You Pay Homeowners Insurance
Typically, homeowners insurance is paid through an escrow account. This is a type of savings account used for paying off parts of your mortgage. Unless you're handling your homeowners insurance payments on your own, the annual premium is added to your mortgage payment. This means you pay off your insurance premium in monthly installments rather than all at once. A smaller, monthly rate gives you extra stability when creating a budget and managing your mortgage payments.
While lenders typically require escrow on your mortgage, some lenders may give you the option to waive it. This would allow you to manage and pay your homeowners insurance directly through the insurance provider. Keep in mind: choosing this option, if available, would mean paying your annual premium in one lump sum, which can be quite expensive.
Choosing A Home Insurance Provider
If you are wondering how to find the right home insurance agent, here's what you need to know.
Meet With A Local Home Insurance Agent
The keyword here is "local." While HOI policies are complex and confusing, working with someone who understands insurance isn't enough. You should speak to an agent who knows your area very well. Local agents understand local issues.
Some cities, or even neighborhoods, can have localized risks that affect the policy you may need. For example, let's say you don't live in a climate where frequent storms or flooding occur. However, your home just happens to be in an area with a history of faulty water pipes that are prone to backups. In this case, it might be best to have a policy with hazard insurance to cover potential flood damage. A local insurance agent would have insight into this issue. Because you don't live in a flood zone, a national insurance company might overlook it.
Why Choose An Independent Agent
Independent insurance agents may benefit you for several reasons. They aren't tied to a specific insurance company. This allows them to focus on you rather than trying to fit you into a policy within a single company. Your goals, needs and budget are carefully considered as opposed to a company-specific agent who may just try to get you the lowest price.
Working with an independent agent may also eliminate the stress that comes with making a bunch of phone calls and filling out a handful of online quote forms. They can do all of that for you. Even after you take out an HOI policy, an independent agent will stay in touch with you to make sure you're in good hands and address any questions or concerns you may have along the way.
Filing A Home Insurance Claim
No homeowner wants to face an event where they have to file an insurance claim, but it's best to be prepared if disaster strikes. Here's the typical process for filing a claim with a homeowners insurance company.
Contact your insurance company – This is the first thing you should do. Don't attempt to repair the damage yourself. Instead, let them tell you what to do next. If the damage to your home requires immediate attention, they may have you call a professional to make the repair and ask you to keep the invoice so you can be compensated at a later time.
Evaluate the damage – Your HOI company will send in an insurance adjuster to evaluate the damage to your property. An itemized list of necessary repairs and costs will be given back to the insurance company.
Make repairs – After the damage is assessed by the adjuster and reviewed by your insurance company, it's best to have your insurance company select a contractor to make the repairs rather than handling it yourself. Going this route will ensure that the repairs are properly completed and may even be guaranteed for a certain amount of years.
Inspect the repairs – It's typical for your insurance company to require an inspection of the repairs, especially if the amount of your claim amount is high. The inspector will use the list of repairs created by the adjuster to make sure all repairs are completed and up to par. Having an inspector protects you against any substandard work completed by the contractor.
After the claim is filed and the repairs are made, it's possible that your HOI costs will go up. It's not guaranteed that you'll end up paying more, but you should be prepared just in case.
You're Never In This Alone
Finding the right homeowners insurance policy is something you should never have to figure out on your own. With access to local, independent insurance agents in your area, you don't have to. It still helps to understand how homeowners insurance protects your home. Now that you know what to expect if the unfortunate happens, you'll be prepared for it.
Apply for a Mortgage with Quicken Loans®
Call our Home Loans Experts at (800) 251-9080 to begin your mortgage application, or apply online to review your loan options.
Start Your Application