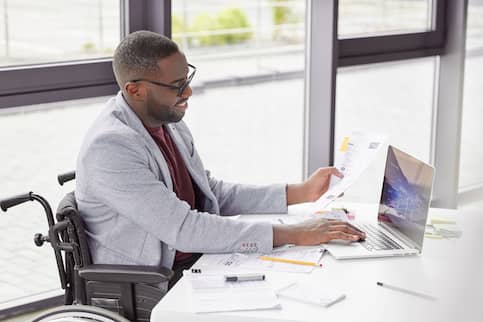 Best Loans And Tips For Home Buyers With Disabilities
Published on February 12, 2021
Homeownership can be an important part of the American dream as a way to build wealth for the long term and create stability in your finances. Although many would-be home buyers are under the misconception that buying a home is out of reach for people with disabilities, that could not be further from the truth.
In fact, there are many home loan options for people with disabilities. We'll explore the options and share some tips on how to successfully secure the home loan you're looking for.
The Top Disability Home Loan Programs Buyers Need To Know About
Before you start looking at different homes, you need to understand the types of programs that are available to help you. While you're free to apply for any home buying program that may fit your needs, there are specific programs in place that can help buyers with disabilities get into homes more easily.
Let's take a closer look at the specific home buying programs available for adults with disabilities.
Fannie Mae
Fannie Mae, otherwise known as the Federal National Mortgage Association, is a government-run organization that provides affordable housing opportunities. Two of their most popular programs are the Fannie Mae HomePath Ready Buyer™ program, which helps first time home buyers purchase foreclosures, and the Fannie Mae HomeReady program, which allows both first-time and repeat home buyers to purchase homes with as little as 3% down. Although you cannot directly receive a loan from Fannie Mae, you can secure one through a mortgage lender that is guaranteed by Fannie Mae.
If you're interested in qualifying for this type of loan, you'll need to have:
A credit score of 620 or higher

A debt-to-income ratio of less than 45%

A down payment between 3% – 5% ready

2 or more months of mortgage payments saved
Although there are some loan limits based on your area, this could be a great option for adults with disabilities that have a lower income. The qualification requirements are more relaxed and the program will help you get into a new home even if you don't have a large down payment saved up.
FHA Loans
FHA loans are often presented as a great option for anyone with a lower credit score. Since these loans are backed and insured by the Federal Housing Administration, borrowers can access lower down payment options.
To qualify for this type of loan, you'll need to have the following:
A credit score of at least 580
A debt-to-income ratio of less than 45%
A down payment of at least 3.5%
The FHA loan program allows home buyers with less-than-ideal credit to qualify for financing. If you're worried about your credit score and don't think you'll qualify for a different type of home loan, an FHA loan may be the right choice.
USDA Home Loans
The U.S. Department of Agriculture (USDA) offers a home loan program that could be a good opportunity for adults with disabilities.
The Housing Guaranteed Loan Program is designed for single-family homes. Through this program, low- and moderate-income applicants that live in eligible rural areas can qualify for a home loan. To qualify, you'll need to satisfy the following conditions:
Have an income meets the eligibility requirements
Choose a property that's in a qualified rural area
Plan on using the property as your primary residence
You can get a USDA loan through a lender with zero down payment if you qualify. Rocket Mortgage® does not offer USDA loans at this time.
VA Loans
If you're a disabled veteran, a VA loan could be the perfect fit. In order to qualify for a VA loan, which is guaranteed through the Department of Veterans Affairs, you'll need to meet the following requirements:
Satisfy the minimum service requirement
Plan on using the home as your primary residence
Meet the lender's minimum credit score requirements
Choose a home that is in good condition
There is no minimum credit score requirement set by the VA or limits set on your debt-to-income ratio. Lenders will set their own requirements, but these will likely be more relaxed than the requirements of a conventional loan.
Rocket Mortgage has a minimum median credit requirement of 580 for VA loans.
State Agency Assistance
Beyond federally backed loans, many state agencies also provide home loan opportunities for adults with disabilities. Although the assistance and requirements will vary based on the state, it can be a good option to look into.
A few states that offer assistance to adults with disabilities seeking homeownership include Maryland's Homeownership for Individuals with Disabilities Program and Connecticut's Home of Your Own Program.
In addition to home loan programs, many states offer property tax exemptions to people with disabilities. Contact your local taxation and revenue department to see if there is an opportunity to save.
Nonprofit-Supported Loans
Government programs are not the only option for people with disabilities seeking homeownership. Luckily, there are several nonprofit-supported loans through many organizations, including:
In addition to the national nonprofits above, seek out local organizations supporting people with disabilities in your area.
Tips For Home Buyers With Disabilities
The home buying process can be a challenge for anyone whether you're looking into disability home loans and grants or are buying a house with cash. However, there are many ways to create a smooth home buying experience.
First, Know Your Rights
As a person with a disability, it's important to understand your legal protections when shopping for a home. You can explore your protection through the help of the National Disability Rights Network and the American Bar Association.
Unfortunately, it's possible that you will run into a violation of your rights along the way. If you need to report a violation, then contact the appropriate agency. For violations of the Equal Credit Opportunity Act (ECOA), contact the Consumer Financial Protection Bureau or 855-411-2372. For violations of the FHA lender process, contact HUD Complaints or (800) 669-9777.
The Fair Housing Act
The Fair Housing Act was designed to protect buyers from discrimination based on race, color, disability, religion, sex, familial status or national origin. Violations of the law can be enforced with significant penalties for those that trespass against the rights of a protected class.
If you are the victim of housing discrimination, then you can file a complaint against the offender with HUD.
The Americans With Disabilities Act
The Americans with Disabilities Act (ADA) provides wide protections for people with disabilities. Through the act, you have the right to "reasonable accommodations" to your home. With that, the reasonable accommodations of your disability will take precedence over the rules set forth by an HOA.
Additionally, you have the right to "reasonable accommodations" within shared homeowners association (HOA) facilities such as the gym or pool area. Plus, you are entitled to a service animal regardless of HOA rules.
As you navigate the home buying process, keep this in mind.
Section 504 of the Rehabilitation Act of 1973
As the first civil rights act to protect people with disabilities, Section 504 of the Rehabilitation Act of 1973 serves as a foundation. Essentially, this act ensures that any program that receives federal financial assistance cannot discriminate against people with disabilities. Since many home loan options are available through federal programs, keep this in mind as you navigate the process of securing a home loan.
Take Advantage Of HUD Housing Counselors
A HUD housing counselor can help you navigate the home buying process. In most cases, you can find a counselor to help you at little or no cost. With their help, you can explore your budget and consider your funding options more carefully.
Research Available Grants
Beyond home loans for adults with disabilities, there are several grants available that could ease the financial burden of buying a home. Here are some of the most popular grants to start your search:
USDA Housing Grants
If you are seeking the repair loan or grants offered through the USDA, then you must already be the homeowner of the residence and unable to obtain credit from another lender. Additionally, you'll need to have an income below 50% of the median area income. In order to qualify for the grant, and not have to pay back the funds, you'll need to be 62 years old or older.
Additionally, the Housing Repair Loans offers applicants the funds to improve, repair, and remove health hazards from low-income homes.
Veteran Housing Grants
Veterans can qualify for several housing grants through the VA. These include:
Specially Adapted Housing (SAH) Grant

Special Home Adaptation (SHA) Grant

Temporary Residence Adaptation (TRA) Grant
Each has specific grant limits through which you can modify a home to fit your needs.
Housing Choice Voucher (HCV) Homeownership Program
The Housing Choice Voucher homeownership program helps families that buy a home and meet the costs of homeownership. Although this program is not offered by every Public Housing Administration, it is worth looking into. You'll need to meet certain income and employment requirements in order to qualify for this homeownership program.
Work With A Real Estate Agent
If you're trying to buy a home and have a disability, the best thing you can do is partner with an experienced real estate agent to help you navigate the home buying process. They'll be able to help you find a home that fits your needs and may even have contractors they can recommend to make any necessary modifications to the property once you buy it.
The Bottom Line
With numerous homeownership opportunities available for people with disabilities, starting down the path towards buying your own home is an exciting prospect. Take some time to research the different funding options available to you and understand your rights before diving in.
Once you're ready to buy a home, you'll want to get your financing in place as soon as possible. Apply for a mortgage online and take the first step toward homeownership. You can also call us at (833) 230-4553.
Find A Mortgage Today and Lock In Your Rate!
Get matched with a lender that will work for your financial situation.
Get Started