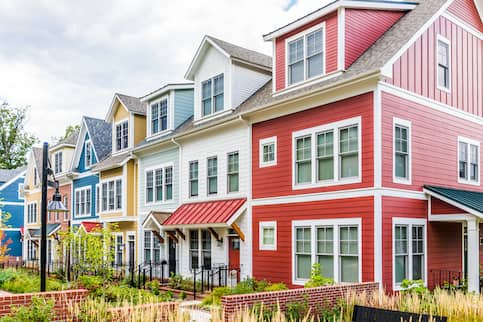 Living Abroad? Buy a Second Home or Rental Property in the U.S.
Published on October 16, 2017
Paris and Madrid are beautiful cities to live and work in. Still, if you're from the U.S., there's nothing like coming back home to baseball, hot dogs and apple pie every once in a while.
If you're a U.S. national or U.S. resident living abroad due to employment or military service, we can now help you buy a second home or rental property. Whether you're interested in finding a home near the lakes of Minnesota, in the hills of Tennessee or somewhere nestled in the plains of Texas, here's what you need to know.
Who's Eligible?
You're eligible to buy a second home or investment property in the U.S. if you're a U.S. citizen or have a visa that permits U.S. residency. In order to get a mortgage with us, you need a valid visa or employment authorization document (EAD). You may also see EADs referred to as work permits.
We have a ton of information regarding the types of documentation that can be used to get a mortgage if you were born abroad as a U.S. resident who hasn't obtained U.S. citizenship.
If you have the proper documentation, you can apply for a mortgage for a second home or investment property while living abroad due to employment or military service.
It's important to note that if you're a military service member on active duty and you need to buy a primary residence in the U.S., you can get a VA, an FHA or a USDA loan, even if your house will be occupied just by your spouse who isn't on the loan.
Acceptable Property Types
If you have foreign residency and aren't a service member with family looking for a primary property, the two types of property we can help you with are second homes and rental properties.
With that in mind, let's go over some of the nuances of these property types.
Second Homes
When you're buying a second or vacation home, you get the flexibility to spend the majority of the time near your workplace and hit the beach or the slopes on your downtime.
The minimum down payment you must make on a second home is 10%. It's slightly higher than the minimums on primary properties because second homes represent more of a lending risk for lenders and mortgage investors, with the idea that you'll make your payment on your primary mortgage first and then on your second home or investment property.
You can rent your second home out for up to 180 days per year. The only stipulation is that you have to occupy the home for the greater of the following:
14 days per year
10% of the days in which the property would otherwise be listed for rent

As an example of this second scenario, if you rent your home for 170 days during the year, you have to occupy it for 17 days.
It's worth noting that if you rent your property for 15 days or more in a given year, you have to report the income to the IRS on your yearly tax return. Speaking of investment properties, let's briefly touch on those.
Investment Property
If you're buying an investment property, you'll need to be sure there's always an agreement in place if the property is tenant-occupied.
If you plan on using rental income in order to qualify for the mortgage, you also need to have a fair rental price established as part of the appraisal, along with having a lease agreement in place with a tenant. You can only use a certain percentage of rental income to qualify for a mortgage, which may vary depending on the type of loan you're getting. The rest is applied to what's called a "vacancy factor." This accounts for the time between one renter moving out and another taking their place.
There are also higher down payment requirements for buying an investment property. If you have a 720 credit score, a one-unit property requires a minimum down payment of 15%. Otherwise, it's 20% for a one-unit property.
On 2- to 4-unit properties, you need a down payment of at least 25% regardless of your credit score.
This blog has only focused on U.S. citizens living elsewhere who want to get a vacation home or investment property, but it's also possible for U.S. residents who are moving back to the U.S. to get a mortgage before moving back.
Are you living in a country outside the U.S. but interested in buying a second home or investment property here in the states? We can go over your options if you give us a call at (888) 855-1822. You can also get started online. If you have any questions, we'll be happy to answer them in the comments below.
Find A Mortgage Today and Lock In Your Rate!
Get matched with a lender that will work for your financial situation.
Get Started