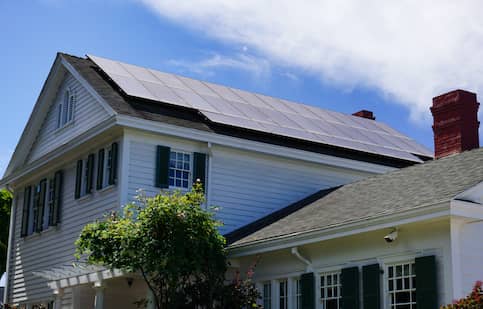 Free Solar Panels: Are They Really Free?
Published on November 4, 2022
Free solar panels sound like a great deal, right? When you see an ad that touts "100% free solar panels," are solar panels actually gratis – or is there a catch?
Can You Get Free Solar Panels For Your Home?
Solar panels are not actually free. Words like "no-cost solar programs" are actually a misnomer. Under a "free" solar panel program, you usually get a solar lease or a solar power purchase agreement (PPA) with a solar provider.You don't own a solar panel system. Instead, you make monthly payments in exchange for installing it on your roof. The solar energy the system produces offsets your electric bill.
Are There Hidden Costs With Free Solar Panels?
There are a few hidden costs of "free" solar panels through leasing and PPA:
Leasing: When you lease, a solar company installs the solar energy system on your property. The solar panel installation requires no money upfront and the company retains ownership of the system. You must pay for the electricity produced by the solar panels and you might also have to cover the costs of the equipment and maintenance. Most solar leases last 20 – 25 years, which is about the average lifespan of solar panels.
PPA: In a PPA, you don't eventually own solar systems. The solar company installs the system, owns and maintains it. You must make energy payments to the company, set at a price per kilowatt-hour.
How To Get Solar Panels For Free
How to get solar panels for free? Homeowners can get free solar panels through a solar lease, PPA or similar program. Find a solar leasing company in your area who will do a survey of your home and consider other factors to make sure that your home is suitable, such as considering obstructions in the area, like trees or branches. They will install the solar panels and equipment. Once the company gets the equipment on the roof, you'll benefit from energy savings.
See What You Qualify For
Congratulations! Based on the information you have provided, you are eligible to continue your home loan process online with Rocket Mortgage.
If a sign-in page does not automatically pop up in a new tab, click here
Considerations For Getting Free Solar Panels Installed On Your House
Take a look at a few factors to keep in mind when looking to have solar panels installed for free. Some of the factors to consider with free solar panels for home use include:
Whether it's a good time to add solar panels to your home
Whether you need to replace your roof before installing panels
The solar system brand and quality of materials
The amount of money you should expect to pay for electricity in the long run
The amount of money you'll save (or not save) using solar panels due to the fact that the leasing company (not you) will own the solar panels on the home and the fact that you will give up rebates, tax credits, solar renewable energy certificate (SREC) income, etc. to the leasing company
The details of the solar panel lease agreement, especially if it's a "no cost solar program"
Alternative Solar Panel Financing Options
There are other ways to finance a solar system. We'll discuss the costs of solar panels before diving into financing options.
Personal Loan
A personal loan is a type of unsecured loan (which means it doesn't have collateral that backs a loan) that you can consider getting instead of going for a solar lease or PPA. Specifically, a personal loan, you'll get a lump sum that you can repay at a fixed interest rate.
Home Equity Loan
You can also get a home equity loan. A home equity loan is a second mortgage that you receive in a lump sum. You will receive a loan based on a portion of the equity in your home. You repay it with monthly payments along with a set interest rate, just like with your primary mortgage. You make both your primary and secondary mortgage payments at the same time.
Home Equity Line Of Credit (HELOC)
You can also choose to pay for solar panels with a home equity line of credit (HELOC). A HELOC allows you to tap into the existing equity in your home, just like a home equity loan. A HELOC works similarly to a credit card in that it's like a line of credit. You can withdraw cash when you need it, offering you a flexible way to pay for your solar panels.
Solar Loan
A solar loan is just what it sounds like – a loan that pays for solar panels. You can find several types of solar loans, including the following:
Secured solar loans: Some retailers offer point-of-sale (POS) financing that requires you to put the solar panels up as collateral. This means that the lender can take your solar panels away. They may come with lower rates because of the nature of secured loans.
Residential Property Assessed Clean Energy Program (R-PACE) solar loans: This type of solar loan allows you to attach your loan to your house and pay it back over 10 – 20 years with your property tax payments.
Green mortgages: Green mortgages allow you to use a mortgage to pay for a solar system, which means you can borrow to pay for energy-efficient upgrades. You may also be able to get a green refinance, which could allow you to refinance for a lower rate and get solar panels on top of that.
Utility or local government solar loans: Some states and governments offer solar loans as well. Check the Database of State Incentives for more information about what you can take advantage of based on your ZIP code.
Free Solar Panel FAQs
Let's take a look at some frequently asked questions about free solar panels.
Can I get free solar panels from the government?
Some governments offer solar loans. The Database of State Incentives can help you find the right type of solar panel incentive from your local or state government.
Are no-cost solar programs actually no-cost?
A "free" solar panel program like a solar lease or a solar power purchase agreement (PPA) costs you money later on. You make monthly payments in exchange for having it installed on your roof. You then get the solar energy the system produces to offset your electric bill.
Are there downsides to getting free solar panels for home use?
There are downsides to getting free solar panels. For instance, the leasing company will own the solar panels on the home. They also keep the rebates, tax credits and solar renewable energy certificate (SREC) income.
The Bottom Line
Solar panels are not actually free. In lieu of a lease or PPA, you can also consider a personal loan, home equity loan, HELOC or solar loan.
Ready to get solar panels with Rocket Solar℠? If you're interested in getting solar panels for your home, apply for financing with Rocket Solar today."
Apply for a mortgage today!
Apply online for expert recommendations with real interest rates and payments.
Start Your Application