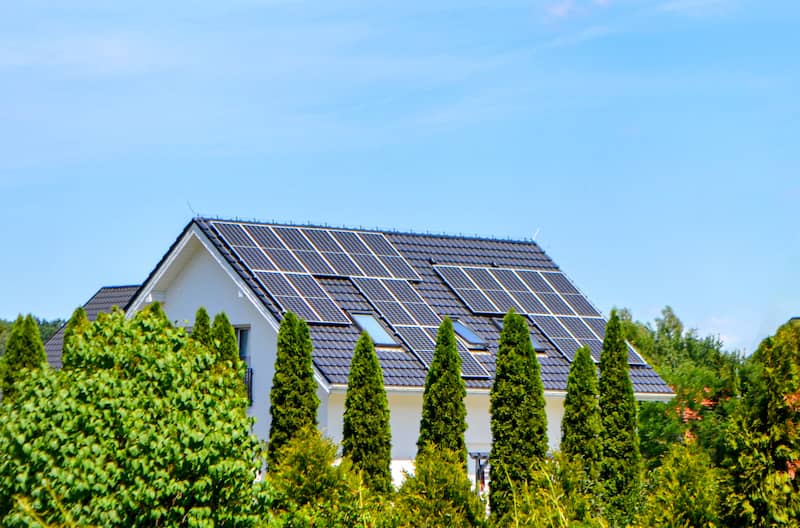 A Guide To Solar Financing: What Are Your Options?
Published on November 10, 2022
With more homeowners considering solar financing, it's important to know what your options are. Each solar financing option comes with different perks and benefits and it can be hard to determine which makes the most sense for your individual household or financial situation.
Here, we'll take a closer look at what types of solar loans are available, how solar financing works and what you need to know before giving your home an energy-efficient upgrade.
Find A Mortgage Today and Lock In Your Rate!
Get matched with a lender that will work for your financial situation.
Get Started
How Much Do Solar Panels Cost?
If you're wondering how much solar panels cost, you're not alone.
Depending on the type and make of solar panels that you pick (monocrystalline, polycrystalline, or thin-film), expenses can vary. Monocrystalline or thin-film solar panels cost roughly $1 – $1.50 per watt, while polycrystalline solar panels cost around $0.70 – $1 per watt instead. How many panels you'll need depends on the size of your home, how efficient these panels are, and your individual electrical consumption needs and patterns. It's common for an average home to require around two dozen panels.
As you might imagine, installation requires some up-front cost investment in labor and permits. On average, solar panel systems cost around $15,000 – 25,000 to put in, which explains why solar system financing has become such a popular option. But you should be aware that additional ongoing costs will present themselves over time.
That said, solar panel systems are designed to last 20 – 30 years, – and can potentially save you thousands over the course of their lifespan. On average, you can expect to save upwards of $100 a month in bills, or more than $40,000 over the course of 30 years. That's before you consider potential tax incentives and credits, which can provide additional savings. Run a cost-benefit analysis, and you may be surprised how much you could save in the long-run, making solar a smart investment.
Solar Financing Options
Homeowners looking to embrace solar have several options when it comes to financing solar panel purchases. Several of the most common choices are summarized below.
Personal Loan
A personal loan generally comes with a fixed monthly interest rates and loan payment rates attached that will remain the same throughout the course of your loan term. They're an option for solar financing as they provide rapid access to cash (some pay out in as little as 24-48 hours) and come with little to no origination fees.
Better yet, personal loans are unsecured by your lender, which means that you don't have to put up your house, car, or other assets as collateral to obtain one. However, to secure one at the best possible solar financing terms and interest rates, you'll need to have a good credit score. As a result, this is generally a preferred option for those looking to get their hands on cash quickly who have a strong credit score to back them up.
Home Equity Loan
A home equity loan allows you to borrow against the equity that you hold in your house. Home equity loans come with fixed loan terms and timelines, fixed interest rates, and predictable monthly payments attached.
Provided that you have a good credit score and have a decent amount of equity in a current property, a home equity loan can help you finance a solar system at a lower interest rate. It also allows you to deduct interest payments on your taxes. Requirements to obtain a home are more stringent than a personal loan and you must have equity in your property to acquire financing.
Home Equity Line Of Credit (HELOC)
A HELOC works differently from a home equity loan in that it provides you with access to a line of revolving credit that you can use as needed like you would with a credit card. You don't have to commit to use any or all of the funds allotted to you if you elect to obtain a home equity line of credit.
But it's worth noting that HELOCs come with variable interest rates attached, which can cause monthly payments to rise and fall as your credit balance and rates fluctuate. As with a home equity loan, HELOCs tend to come with lower interest rates (and tax deductions) attached. Be advised that you can typically only borrow up to a maximum of 85% of your equity with a HELOC.
FHA 203(k) Loan
An FHA 203(k) loan is a government-backed loan that's insured by the Federal Housing Administration (FHA) and issued by an FHA-approved lender. You can use one to help you finance renovations and improvements such as solar panel system installations and upgrades.
FHA 203(k) loans often come with higher interest rates and more paperwork attached than personal loans, and any remodeling work must be finished within 12 months of funding. You may also see higher closing costs and fees attached too. However, an FHA 203(k) loan may be the right choice for financing solar panels if you're buying a property and want to pay for solar installations or enhancements in one fell swoop.
Contractor Financing
Individual contractors may also offer solar panel financing or solar loan programs that are more flexible and affordable than alternate payment options. They often work to provide these programs through third-party banks, credit unions or other lenders.
If you're curious how contractor financing solutions stack up, do your research on interest rates, monthly payments and other loan covenants.
Cash-Out Refinance
A cash-out refinance is a type of mortgage refinancing that allows you to refinance your property's existing loan and convert home equity into cash. This is accomplished by swapping out your current mortgage for one with a higher loan amount than what you actually owe on your residence.
By borrowing more than what you owe on your house, you can leverage your home equity to fund solar panel installations. You can also gain the chance to lower your interest rates and rewrite your loan terms. However, you'll need good credit, and will have to pay closing costs again
Are There Tax Benefits To Financing Solar Panels?
Via the Inflation Reduction Act, you'll enjoy a 30% tax credit of solar installations if you purchase and install a solar panel system on your primary or secondary U.S. residence through 2032. Starting in 2033, the credit will decrease to 26%, and will shrink to 22% in 2034 before phasing out entirely in 2035.
Depending on where you live and reside, you may also find that your state offers additional tax incentives.
What To Consider Before You Start Financing Solar Panels
Before homeowners decide whether solar panels would benefit them, there are several items to consider:
Solar system size: In general, solar system size will affect the number and cost of the solar panels that you'll require. The larger your solar system, the more expensive it may be to finance it.
Sun exposure: The amount of sunlight that a home can get will vary depending on location, time of year, time of day and other factors. These variables impact how much money you stand to save with solar energy.
Recouping your costs: Homeowners will not recoup the cost of their solar panels overnight. Rather, it may take years to make the money back. However, savings can be significant (to the tune of thousands of dollars) as the years pass.
Home value: Solar panels can increase your overall home value as a modern upgrade that many home buyers are now looking for. This may increase the potential resale value of your property when it comes on the market again.
Solar Financing FAQs
When it comes to solar financing, homeowners often have several frequently asked questions (FAQs). Let's take a closer look at some of the most common below.
What is the best way to finance solar?
The truth is that it depends on your personal financial situation as a borrower. As you think about financing options for solar panels, you may find that – especially if you have a good credit history and credit score – that a home equity loan, HELOC, cash-out refinance or another choice is the best option.
Is it smart to finance solar panels?
Financing solar panels is the right choice for some homeowners but may not be the right one for others depending on their individual personal financial situation. Much of the choice here often comes down to how much cash you're willing to put down upfront. As you plan your budget and review your financing options, consider loan payments and ongoing solar panel maintenance costs.
Are solar loans worth it?
It depends on the loan terms that you're offered as a homeowner, and how much money that you stand to save by leveraging the energy generated by solar panels. Interest rates and loan terms may impact your calculations here. Run the numbers and review your solar financing options before deciding.
Can you rent solar panels?
Yes, you can rent or lease them. You might consider a power purchase agreement, which allows homeowners to privately host solar energy systems that solar companies own and install, then purchase back electricity generated by them. Alternately, you lease solar panels. Under both scenarios, you effectively pay minimal upfront cost to rent your solar panels.
The Bottom Line: There Are Many Options For Solar Panel Financing
Thinking of buying solar panels? You're not alone, with thousands of fellow homeowners considering making the switch to solar energy every year. Thankfully, a growing number of different forms of solar panel financing make it easy to finance solar panel installations and upgrades.
Set aside time to crunch the numbers and do your research to determine which form of solar financing makes the most sense for your situation.
Find A Mortgage Today and Lock In Your Rate!
Get matched with a lender that will work for your financial situation.
Get Started