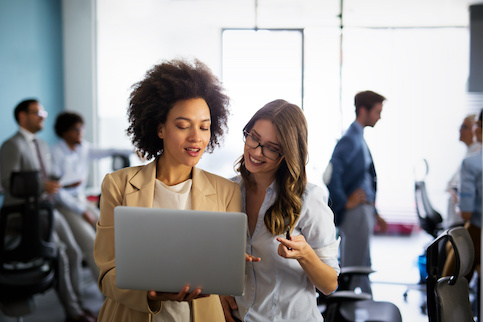 What Is Dual Agency In Real Estate?
Published on September 6, 2022
Whether you're buying or selling a home, it's a good idea to work with a real estate agent. These trained professionals have valuable experience they can leverage to help make your purchase or sale go as smoothly as possible.
Usually, the buyer and seller in a real estate transaction each work with their own agent. But did you know it's possible for both buyer and seller to work with the same agent? Today, let's talk about dual agency and whether this practice can be beneficial or a conflict of interest.
What Is Dual Agency In Real Estate?
"Dual agency" is when one real estate agent or REALTOR® represents both the buyer and the seller in a real estate transaction. Usually, the buyer and seller of a home work with different agents to avoid conflicts of interest with the sale of the home – a buyer's agent and a seller's agent. In some cases, however, the parties to a sale agree to work with a single agent rather than two.
As you may have guessed, choosing to do this definitely has pros and cons. With just one real estate agent involved with the sale, there can be issues with things like availability and the agent's personal interest in the transaction. On the other hand, working with a single agent can also streamline the sale process and result in some possible savings for both sides.
How Does Dual Agency Work?
There are a few instances where you might wind up in a dual agency situation. These scenarios can be especially prevalent if you live in a small town with just one brokerage and few real estate agents to go around.
If you are buying your first home, as an example, you might go to an open house and speak to the listing agent who's showing the home. If you build a good relationship with that real estate agent or REALTOR® and want their help to purchase the property, you could wind up in a situation where the agent is representing you as well as the home's seller.
There are "accidental" scenarios like this that could result in a new buyer unknowingly entering into a sale with dual agency. But it's important to note that some buyers enter into sales working with a dual agent knowingly, too. Some buyers and sellers may agree to this arrangement because it does, in some cases, offer useful benefits.
The Pros And Cons Of Dual Agency
Dual agency can create problems and conflicts of interest, so it's often advised against by many in the real estate industry. It can have its perks at times, however, so it's a good idea to research the pros and cons of this agreement before sharing an agent yourself.
Pros Of Dual Agency
More efficient transaction: Sharing an agent between buyer and seller "takes out the middleman," so to speak. Communication may be faster with a dual agent because there are fewer parties holding up negotiations.
Additional insight into the home: Since the real estate agent involved is helping both the seller and the home buyer, they may be able to offer insight to both sides of the transaction about both the home and the sale that wouldn't regularly be available – if the buyer and seller agree to disclose this information to each other, that is.
You could save on your agent's commission: Some real estate agents may be willing to accept a lower commission on the sale since they'll be earning double at closing. This could potentially take a good chunk of change out of your closing costs, seeing as commission typically costs 3% – 6% of the home's sale price.
Cons Of Dual Agency
Ethical issues: It's not possible for a real estate agent to be entirely ethical in a transaction where they are representing the needs of both the buyer and the seller. The agent could be tempted to "side" with the seller in order to help them get a higher sale price to secure a larger commission for themselves.
Negotiations can become complicated: Negotiations with two real estate agents allow both agents to advocate for their clients' best interests. With just one agent, however, neither client's interests can be necessarily fought for because it would be against the interests of the other party. This means negotiating a sale price can be awkward and frustrating – and could also take a while.
If issues arise, things can get messy: In a typical home sale, if things go awry during negotiations, your real estate agent can leverage their experience and advocate for you or even help you seek legal help if necessary. With a dual agent, home buyers have to look out for themselves.
Dual Agency FAQs
Still confused about dual agency? Here are some frequently asked questions to help clear up your questions and concerns.
Is dual agency illegal in some states?
Due to the conflict of interest it creates, yes, dual agency is illegal in the following states:
Alaska
Colorado
Florida
Kansas
Maryland
Oklahoma
Texas
Vermont
Who pays commission in dual agency?
Sellers often pay the real estate commission of the agents involved with a sale, and with dual agency it is no different. That means if one agent is representing the buyer and the seller, the seller typically pays the commission for both of them.
Who benefits most from dual agency?
Though one could argue either the buyer or the seller benefits most from working with a dual agent, the truth is that the real estate agent benefits the most from this arrangement. They get the opportunity to earn a double commission and don't have to deal with negotiating on behalf of someone's interests. They can't negotiate much when they represent both sides of the transaction.
What is an example of dual agency?
If you opt to work with the same real estate agent who's selling the home you're interested in buying, that's dual agency. Additionally, if you opt to work with a different real estate agent who happens to work for the same brokerage as your seller's agent, that can be considered dual agency as well.
Why can dual agency be problematic?
It can be problematic to share a real estate agent with the other party in a real estate transaction because it's not really possible for the agent to fully advocate for either side of the purchase. Working with the same agent also opens the door for all sorts of potential unethical behaviors such as "siding" with one party over the other and withholding information. This is why real estate professionals generally advocate against working with a dual agent.
Should You Use A Dual Agent?
Whether you want to work with a dual agent or not is ultimately up to you. There are some potential benefits to doing so, including a possibly faster sale and potentially saving on your real estate commission. You should keep in mind, however, the many drawbacks of sharing a real estate agent or REALTOR®. Even if you have the utmost trust in your agent, it can be a tough spot for them to have to represent the needs of both sides of a home sale.
It's possible to work with the same real estate agent as the other party to a home sale, but this practice can create some problems as well as benefits. Make sure to do your research before agreeing to share a dual agent with a seller or buyer you're negotiating with.
Are you looking for an agent to represent you, either in your search for a home or the sale of your current one? Get connected with a Rocket HomesSM Verified Partner Agent today to find the help and expertise you need.
Take the first step toward buying a house.
Get approved to see what you qualify for.
Start My Approval