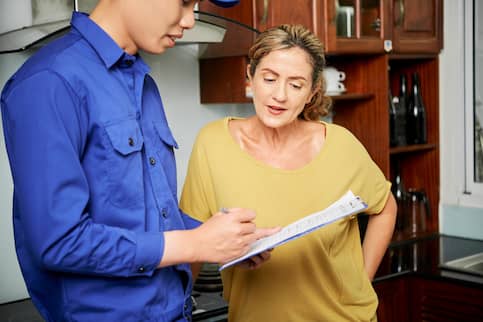 Cinch Home Services: A Guide For 2023
Published on June 22, 2022
Disclosure: This post contains affiliate links, which means we receive a commission if you click a link and purchase something that we have recommended. Please check out our disclosure policy for more details.
When you buy a new home, your appliances and home systems may work effortlessly. But unfortunately, it's wishful thinking to assume that these items will stay problem-free forever. Fortunately, home warranty companies like First American Home Warranty and American Home Shield Warranty can provide a financial safety net if your appliances or home systems need repairs or replacement.
Cinch Home Services is one competitive provider that offers warranty plans. With them, you have coverage for expensive fixes for things like refrigerators or HVAC systems, thus potentially saving money in the long run.
Here's what you should know about the company.
What Is Cinch Home Services?
Cinch Home Services is a home warranty company based in Boca Raton, Florida. Like other home warranty companies, this company offers three home warranty plans to cover major home systems, appliances and some exterior components with additional coverage for homeowners.
A home warranty is a contract between a homeowner and a home warranty company. This contract helps minimize your out-of-pocket cost to replace or repair your major home systems (heating, cooling, HVAC, etc.) and appliances (washers, dryers, refrigerators, etc.). So, if you discover one of your covered appliances is acting up, you can contact your home warranty company to assess the problem, schedule repairs and cover the cost.
How Does Cinch Home Warranty Services Work?
Cinch Home Warranty Services has been in operation for over 40 years. The group promises customers access to a nationwide network of service providers. In addition, work done by these technicians under any one of the three Cinch warranty plans comes with a 180-day workmanship guarantee.
When you sign on to a Cinch Home Services warranty, the contract generally lasts for a year. You can either pay the cost upfront or in monthly installments. In exchange for the contract payment and any applicable deductibles, you gain access to their pre-screened service providers.
In addition, the warranty means that Cinch Home Services takes on the risk that one of your covered systems or appliances will break down. So, once you pay your deductible, the company covers the remaining repair, replacement or reimbursement cost up to a certain amount.
Cinch Home Services: Plans, Coverage And Cost
Cinch Home Services offers three home warranty plans: Appliances, Built-in Systems and a Complete Home plan that covers everything. With these plans, you have the option of add-on options, such as a 180-day workmanship guarantee and protection for preexisting, unknown conditions.
Plans And Coverage
All three of the plans Cinch Home Services offers to its customers cover varying levels of home warranty coverage. They include:
Home appliances warranty: This warranty plan covers large home appliances. This appliance plan covers items like clothes washers, clothes dryers, microwaves, dishwashers, cooktops, air conditioning units, refrigerators, ovens and ranges.
Built-in systems warranty: The built-in systems warranty plan covers non-appliance components. As a result, the plan covers heating systems, plumbing, electrical systems, central vacuums, water heaters, toilets, air conditioners, garbage disposals, smoke detectors and sump pumps.
Complete home warranty: The complete home warranty plan covers everything the above two plans include, meaning appliances and built-in systems. On top of that, the complete plan includes additional benefits like an annual deductible reimbursement up to $500.
Additional Coverages
Homeowners can add on coverage for appliances and home systems excluded from the company's main warranty plans. Cinch Home Services also offers a "Premier Upgrade Package" as well as a "VIP Warranty Upgrade." Both products include additional coverages compared to their standard packages. Limits still apply, though.
Additional coverage includes:
Swimming pool and/or spa (heater included)
Septic tank/pumping
Well pump
Premier Upgrade Package (helps cover limited costs when there are costs outside the standard home protection plan)
Cost And Pricing
Cinch Home Services' pricing depends on your home's location and the type of coverage you select. However, the company's website states that pricing starts at $27.99 per month for the Appliances plan, $32.99 per month for the Built-in Systems plan and $39.99 per month for the Complete Home plan.
Here's a sample cost break-down for a home in Pittsburgh, Pennsylvania:
| Service Call Fee | Appliances | Built-in Systems | Complete Home |
| --- | --- | --- | --- |
| $75 | $55.99/mo | $62.99/mo | $72.99/mo |
| $100 | $49.99/mo | $56.99/mo | $66.99/mo |
| $125 | $44.99/mo | $50.99/mo | $60.99/mo |
| $150 | $39.99/mo | $44.99/mo | $54.99/mo |
The Pros And Cons Of Cinch Home Services
Cinch Home Services has both its advantages and disadvantages. Here's how they stack against each other:
Pros
A few positives that give Cinch Home Services an edge include:
Offers three home warranty plans
180-day guarantee on work
Protection from unknown preexisting conditions
Rust and corrosion coverage
Offers discounts on new appliances
Simple quote form on the company's website
Cons
While Cinch Home Services may work for some homeowners, it won't work for everyone. Here are some drawbacks to look for:
Not available in Hawaii or Alaska
Doesn't offer a roof-leak protection option
High service fees
Little plan customization or flexibility
Fewer add-ons compared to competitor companies
Guidelines And Procedures For Cinch Home Protection
Every home warranty company operates differently, whether it's their fee structure or claims process. Here are the details you need to know when working with Cinch Home Warranty:
Claims
Before you can receive help, you must fill out a service request online or call Cinch. From there, you can document any appliances or home systems you want to be repaired or replaced.
Customer service and claims share the same number at Cinch Home Services at (844) 324-5688. You can reach the company there or place an online service request here.
Service Fees
You'll need to pay your deductible at the time you submit your claims request. However, this fee applies per service trade, not per technician or visit. So, if you have multiple items in need of repair that require different service trades, you'll have to pay multiple deductibles. Additional charges can also kick in if you need more work to fix the problem.
Repair Times
Once you submit a claim, Cinch Home Services will contact an in-network technician to schedule a service. This process can take anywhere from 2 to 24 hours. Submitting a claim outside business hours will likely mean a wait time closer to 24 hours.
Payout Caps
Cinch Home Services has payment caps for some items. Meaning, once you buy a plan, there is a maximum amount the company will pay for replacements or repairs. This varies, though, and can apply per covered item or as a total cap across your plan.
According to the service's sample terms, the company's maximum liability for all claims is $10,000. They also have an appliance cap of $2,000 and a cap of $1,500 for air conditioning and heating units. You can explore their caps further in their sample terms or on their plan breakdown page.
Cinch Home Services Reviews
Better Business Bureau
The customer review ratings on the BBB are generally low. However, there are some customers pleased enough with their service experiences to share it. The BBB itself gives Cinch a B rating.
One happy customer shared that they needed a water heater replacement. Cinch approved the replacement and had a reputable local company install it all within 5 days. They continued by stating it was a very easy process, and it saved them a chunk of money.
U.S. News 360
U.S. News gives Cinch Home Services 3.6 starts out of 5 and ranked number 8 when compared to other home warranty companies. The positive aspects of the review include:
Competitive pricing
180-day guarantee on work
Available in 48 states and Washington, D.C.
The downsides include:
Expensive service calls
Optional coverage only available when purchasing a policy
Consumer Affairs
Consumer Affairs gives Cinch Home Services 3.1 stars. Some of the reviews on the site rave about the ease of submitting a claim and resolving issues in a timely manner. The other positive aspects of the review include:
Plans starting at $27.99 per month
Excellent coverage
Long workmanship guarantee
The downsides include:
Why We Like Cinch Home Services
Cinch Home Services has years of experience behind it and a large technician network which allows it to reach customers all over the country. They have multiple products, which means you have a better chance of finding a form of coverage that suits your needs. In addition, most plans offer a new appliance discount, a free leak sensor and a potential credit toward water or air-con filters.
Pricing is competitive compared to other warranty companies; however, it can be on the higher end of cost. This is due in part to the higher service fees.
In contrast to other providers, though, you have a workmanship guarantee that protects the quality of your repairs. You also get protection for preexisting conditions as well as corrosion and rust coverage.
Cinch Home Services provides an important service for many homeowners by safeguarding their appliances, home systems and financial wellbeing if something breaks.
How To File A Claim With Cinch Home Services
If you find one of your appliances or systems needs repair or replacement, you can file a claim with Cinch Home Services through two different methods. As stated above, homeowners have the option to file by phone or online.
The phone number for claims at Cinch Home Services is (844) 324-5688. Alternatively, if you wish to fill out your claim online, you can do so here. You can make this process even easier by using Cinch Home Service's online customer portal. This provides you with your warranty account information and gives you the ability to track your claims process.
The Bottom Line
Cinch Home Warranty plans cover the valuable appliances and/or systems in your home. The competitively long workmanship guarantee also means you have a better chance of getting the repairs or replacements that fit your wants and needs.
If you're debating how to safeguard your home, consider reading up on the difference between home warranty and home insurance. It may help you find out exactly the type of protection you need.
Methodology
Our writers perform in-depth research from various sources that may feature customer reviews and third-party ratings. These sources include – but are not limited to – Better Business Bureau (BBB) and US News And World Report. We take into account company transparency and plan exclusions, as well as pricing, coverage options and any outstanding legal issues. Writers use this research to compose their reviews of each company.