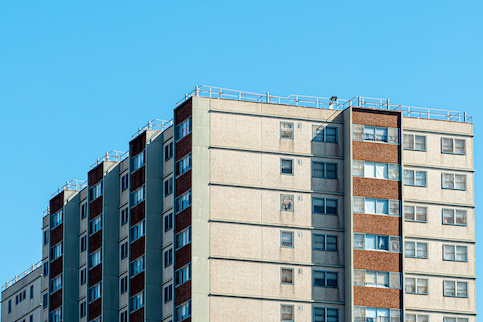 What Is The Section 8 Homeownership Program And Can It Help You Buy A Home?
Published on November 5, 2020
Although you may associate Section 8 housing programs with rental assistance, there is also a Section 8 Homeownership Program. If you are a low-income household, you may be able to start building equity in a home with this program's help. Let's find out more below.
What Is The Section 8 Home Choice Voucher (HCV) Homeownership Program?
Since 2000, the U.S. Department of Housing and Urban Development (HUD) has allowed Section 8 tenants to use their vouchers toward the purchase of a home. HUD developed the Housing Choice Voucher Program to provide an opportunity for low-income families to pursue homeownership.
The logic behind the program is that if a family receives government assistance for their housing expenses, why not help them use the funds to build equity in a property. Instead of passing along their funds to a landlord, this program allows families that meet the requirements for Section 8 assistance to consider the opportunity of homeownership.
Apply for a Mortgage with Quicken Loans®
Call our Home Loans Experts at (800) 251-9080 to begin your mortgage application, or apply online to review your loan options.
Start Your Application
What Is Section 8?
Section 8 housing is a rent assistance program administered by HUD. Congress established Section 8 housing programs with the Housing and Community Development Act in 1974. The goal was to ensure that low wage earners could find safe housing outside of public housing options.
If a family qualifies for a Section 8 home, HUD will provide a voucher when they are available. The family will be able to use the voucher, a subsidy, to secure a rental unit outside of public housing. Once they find a place, HUD will send the payments directly to the landlord. In some cases, the voucher will cover the entire cost of the rent. In others, it may still require the household to pay around 30% of their income on rent.
Who Is Eligible For Section 8 Assistance?
In general, a family may be eligible for Section 8 assistance if their income is less than 50% of the area's median income. The working adults' income in the family must be at least $10,300 per month, which is the federal minimum hourly wage multiplied by 2,000 hours. Additionally, the adults of the family must be currently employed for an average of 30 hours per week and have been employed for the past year.
If you are elderly or disable, you may qualify for an exception to the working and income requirements. But most families will need to contribute an average of 30% to 40% of their income to cover rent, even with the help of a voucher.
The program is only available to U.S. citizens and some noncitizens with eligible immigration status. A criminal record could present another roadblock to Section 8 eligibility. When you apply for a housing voucher, you will have to submit to a criminal background check. The local public housing authority (PHA) will have the ability to deny your application based on past criminal convictions.
To find out more about the eligibility requirements, check out HUD's information page.
So If I Qualify For Section 8 Assistance, I Get A Voucher?
Although you may qualify for Section 8 assistance, there is typically a long waiting list. The demand for low-income housing is extremely high in comparison to the supply of vouchers offered by PHAs.
In many cases, it can take years to get on the waitlist for a voucher. Once on the waitlist, you should expect to remain there for years. Unfortunately, it can be a long process. But PHAs will facilitate the process. If you want to find out more about the waitlist in your area, then contact your local PHA. They should be able to give you more details about the situation on your local waitlist.
Once I Get That Voucher, Can I Buy A House?
Once you receive a housing voucher, you may not be able to buy a house immediately. Instead, the local PHA will determine whether or not you are able to pursue homeownership. Typically, the local PHA will select established Section 8 tenants with a history of on-time payments and steady income to access the homeownership voucher program.
Once selected, you will need to undergo a lengthy process that vets your ability to maintain a mortgage payment. If you are approved, you will have to undergo financial counseling to improve your knowledge of household budgeting and the importance of credit. After this process, you can begin to look for houses.
Advantages Of The Section 8 Homeownership Program
Although the process can be lengthy, there are benefits to securing your place in the Section 8 homeownership voucher program.
Pride Of Ownership
One of the major benefits of this program is that low-income families can pursue a dream of homeownership. With that, the family can build equity and establish a pride of ownership in the property. Over time, this can help the family achieve a better standard of living.
Better Homes Available For Purchase Than Rent
In many parts of the country, applicants may be able to secure a better home in a better neighborhood by purchasing a home instead of renting. Although this factor will vary based on the local real estate market, many families can enjoy a safer place to call home through this program.
Additionally, Section 8 vouchers are met with less discrimination when buying a home than renting. Many landlords are resistant to allowing Section 8 tenants into their units. But homeowners that are selling the property are often more willing to work with the Section 8 family.
Owners Are Better Prepared For Homeownership
Before moving forward with homeownership, the applicant will need to participate in an educational program to improve their personal finance knowledge. Throughout the educational component of the program, the applicant will learn more about the costs of homeownership. With that, they will be more prepared when they close on their mortgage.
Owners Are Supported By Housing Partners While Choosing Their Next Home
The process of buying a home has many different moving pieces. Throughout the process, the homeowner will have the support of a housing partner, either from the local PHA or a nonprofit. Typically, the partner will be available for any home inspections and will sign off on the inspection reports to avoid any home repair scams.
Disadvantages Of The Section 8 Homeownership
Of course, there are some drawbacks to working with this program.
Expensive Real Estate Markets Remain Out Of Reach
Although a voucher can be helpful in some markets, it could be inadequate financial support for low-income families that want to own a home in an expensive real estate market. Unfortunately, the most expensive markets are out of reach.
Voucher Support Ends
When you are determining your financing options, it is important to realize that voucher support will end. If you secure a mortgage with a term longer than 20 years, then voucher support will end after 15 years. If you secure a mortgage with a term shorter than 20 years, then voucher support will cease after 10 years.
With that, you'll need to make a plan to cover the remaining term of the loan. The voucher term limits will not affect you if you are elderly or disabled.
It's Hard To Establish Relationships With Lenders
When you are looking for a lender, you may run into difficulty. Many lenders are unwilling to provide financing for PHA homeownership programs.
It May Take Decades Just To Get A Voucher
Even though this could be a good opportunity, the entire process could take years. Even if you are a resident of a federal public housing program, you won't be eligible for the voucher program until you complete the process of acquiring a voucher. It could take decades to walk through all of the steps of the process. At that point, you may have found another way to pursue homeownership.
Apply for a Mortgage with Quicken Loans®
Call our Home Loans Experts at (800) 251-9080 to begin your mortgage application, or apply online to review your loan options.
Start Your Application