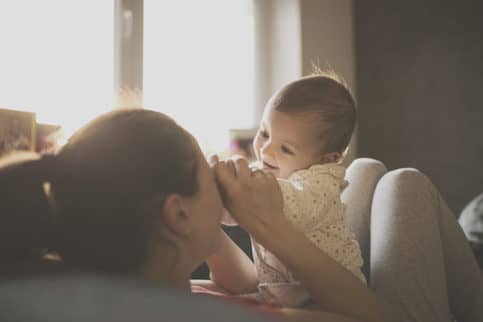 Buying A House While On FMLA: What To Know
Published on January 19, 2023
A big reason to look for your first home is that you need space for a growing family. In fact, there's a chance that you might be in the late stages of closing on a mortgage around the time your baby is born. You might be wondering how staying home under the Family and Medical Leave Act (FMLA) affects your mortgage qualification. Here's what you need to know about buying a house while on FMLA.
Does Being On FMLA Affect Buying A House?
Because an addition to the family is a common reason for buying your first home or moving into one that can accommodate your need for more room, mortgage lenders have defined policies around dealing with maternity leave. Although maternity leave is most common, it's just one of a range of situations that would be covered under a lender's FMLA policy.
While we'll discuss the policies of Rocket Mortgage®, there may be differences in policies between lenders. Additionally, guidelines can vary somewhat depending on the type of mortgage you're getting.
You can buy or refinance a house while on a temporary leave pursuant to FMLA, but problems can arise in the underwriting or closing process if your leave is unpaid and your lender can't verify your income in their check of your financial information before closing. Otherwise, the Fair Housing Act prevents discrimination in the home buying, mortgage and rental processes on the basis of pregnancy or familial status.
If your temporary leave is unpaid, you likely won't be able to use your income to qualify for a mortgage. You would only be able to use the income of a spouse, partner or other co-borrower. It's important to be aware of this because it could impact the income you can use to qualify.
If you return to work before the first scheduled payment on your mortgage, you qualify with your regular income. If your employer provides paid leave, you can usually use this income to qualify if you'll still be on it when you start making payments on your new mortgage. The exception to this is VA loans, which don't allow the use of temporary disability or temporary leave income.
You can also work part time for your regular employer and get temporary leave income. This can be used to qualify as long as it doesn't exceed what your regular income would be if you were working full time.
If you can't qualify based on your temporary leave income and any other income a spouse or partner might contribute, you may be able to qualify if you have enough reserve funds. Reserves are used to show you have the funds available to make a certain number of months of your mortgage payment. Speak with the Home Loan Expert regarding your situation.
See What You Qualify For
Congratulations! Based on the information you have provided, you are eligible to continue your home loan process online with Rocket Mortgage.
If a sign-in page does not automatically pop up in a new tab, click here
What Is The FMLA And What Does It Do?
The Family and Medical Leave Act requires that eligible employees of employers covered under the act may be granted 12 weeks of leave per year while their job remains protected in order to take care of certain circumstances. Also included in this act is a provision allowing 26 weeks to care for an injured service member of our Armed Forces.
The law only guarantees unpaid leave. Depending on the employer, you may have a certain amount of paid maternity leave. Many people also choose to use the paid time off (PTO) they might accrue.
Who's Entitled To Leave Under The FMLA?
Per the U.S. Department of Labor, FLMA provides up to 12 weeks of unpaid leave per year with job protection under the following circumstances:
Birth and care for a new baby within the first year of its life

Care for a child being fostered or adopted by the employee within one year of placement

Care for a spouse, child or parent with a serious medical condition

Time to deal with the employee's own serious health condition that makes it impossible for them to perform their job

Time to enable the employee to cover for a spouse, son, daughter or parent who is called up to active duty
Those caring for a covered military service member with a serious injury or illness can get up to 26 weeks of job protection if the service member is their spouse, son, daughter, parent or next of kin. You may also see this referred to as military caregiver leave.
Can Mortgage Lenders Discriminate Against Pregnant People?
The Fair Housing Act makes familial status a protected characteristic. You can't be discriminated against on the basis of having children. Further, this protection extends to you if you're expecting. It's illegal for a lender to ask if you're pregnant.
While discrimination on the basis of being pregnant is illegal, there is also a very real possibility that employees will have lost or reduced wages while on FMLA. Lenders do have to qualify you on the basis of several factors including your income and credit score. If there's a loss of income, your ability to get a final mortgage commitment letter from your lender may be delayed.
The next steps often depend on whether you'll start repayment while still on maternity leave. If you do, your lender will try to qualify you with any leave income you might receive. If the leave is unpaid or not enough to qualify, lenders can take other steps to make sure you're in good shape. This may include requiring higher reserve funds.
How Can You Prevent Delays In Closing?
If you go on any sort of job-protected leave at any point during the mortgage process, it's important to promptly comply with your lender's requests for documentation to avoid delays in the closing process. Your lender may ask for all of the following, depending on the type of loan you're getting:
Your signed written statement confirming your intent to return to work and the date you've agreed to do so

Written verification from your employer confirming your post-leave employment and income or the most recent pay stubs with your regular income and temporary leave income

If temporary leave income is used to qualify, the amount of the income and how long it lasts

Return to work letter from the employer confirming when you'll return to work

Confirmation of leave start date through work employment verification, pay stubs or employer documentation
It's also important to note that you'll be qualified differently if the repayment of your mortgage starts after you return to work vs. still being on leave. If you're still on leave, you're qualified with any applicable leave income, the income of a co-borrower and, potentially, reserves. If repayment starts after your return, you can qualify with your regular income.
Maternity Leave Loan FAQs
Now that we've covered many of the basics, let's try to answer a few of the questions you still may have.
Can I get a mortgage while on FMLA?
If your mortgage lender can confirm that you'll have enough income to cover your monthly payments and that you're gainfully employed, you should be able to complete the home buying process without issue. You could be qualified with your regular or temporary leave income, the income of a co-borrower or extra reserves, depending on your situation.
Can I get another type of loan on maternity leave?
If a mortgage isn't feasible while you're on maternity leave, you may be able to get a personal loan, personal line of credit or other type of funding to get through. While all of these options take a look at income, the qualification standards may be different and worth looking into.
Should I buy a house while pregnant?
Whether you should buy a house while pregnant is really a very individual decision we can't answer here. You need to make that choice based on your finances and personal goals. However, we can offer some pros and cons:
Pros
Buying a house could secure the space you need for your growing family.

Securing a home sooner could be beneficial if rates rise in the future.

If you're returning to work by the time of your first mortgage payment, you'll be able to qualify with your regular income.

Lenders may be able to qualify you with your temporary leave income and/or through verifying extra reserves.
Cons
If you don't feel ready while not on the job, you could be straining yourself financially.

Rates could fall and you might be in a better financial position to take advantage after returning to work.

If your maternity leave is unpaid or the temporary wages too low, you may not be able to qualify while on FMLA.

You may be required to qualify with more reserve funds. Making payments out of those funds for an extended period could significantly deplete your savings.
The Bottom Line: Maternity Leave Shouldn't Prevent Your Home Purchase
Merely being on FMLA doesn't prevent anyone from qualifying for a mortgage. Additionally, it's illegal for a lender to discriminate on the basis of pregnancy. However, it should be noted that if the leave is unpaid or pay is greatly reduced, you might not be able to qualify based on income. Your lender may be able to qualify you with a co-borrower or using extra reserve funds.
Our Home Loan Experts can work with you to determine the best options for your situation. You can start your application online or give us a call at (888) 452-0335.
Take the first step toward buying a house.
Get approved to see what you qualify for.
Start My Approval