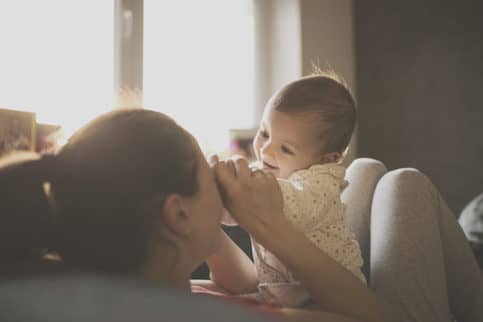 Closing on a Home While on Maternity Leave
Published on August 12, 2016
As of June 25, 2018, we've made some changes to the way our mortgage approvals work. You can read more about our Power Buyer ProcessTM.
When I was on maternity leave a few years ago, we had been in our new home for around 10 months. So unfortunately, I had seemingly a thousand home improvement projects on my to-do list, in addition to everything that came with becoming a mother for the first time.
But many parents are preparing for the birth of a baby while also juggling the daunting task of house hunting or closing on a home. Expectant mothers may have questions about getting approved for a mortgage while on maternity leave, so below, I'm sharing some information that I hope is helpful.
Maternity leave typically shouldn't prevent you from being approved for a home, but you should understand the implications of your leave time. When women go on maternity leave, they usually return to work within 90 days.
"Most of the time, women take the full 12 weeks the company grants them," says Linda Villarosa, who is a veteran benefits specialist at Quicken Loans in Detroit. "Some moms do want to extend their leave time, but that doesn't happen a lot." In some cases, though, mothers choose to take up to a year off after the birth of a child.
So what documentation is required during maternity leave that's different from what other home loan applicants must provide? Well, if you're purchasing a home, you're required to prove your income in one of the following ways:
Provide a T4 tax slip from the year prior to maternity leave (for salaried employees only)
Provide a letter verifying your employment that states when you were hired, when you anticipate returning to work and your annual salary. If you're paid hourly, the number of hours you work weekly should be included, and if you work overtime frequently, you can provide documentation from the previous two years to show consistency.
"While on maternity leave, your income stops, but it sort of doesn't at the same time," said Villarosa. "On leave, you are partially paid through short-term disability, your paid time off hours and the Family Medical Leave Act. Then, depending on how long you've been with the company, you'll temporarily receive between 30% and 70% of your regular salary."
The reduced income and temporary leave status can affect the application process and may require you to jump through more hoops to verify eligibility. Mortgage industry guidelines are stricter than they were even 10 years ago. According to the guidelines set by Fannie Mae, Freddie Mac and the U.S. Department of Housing and Urban Development, maternity leave is considered a temporary leave in the lending industry. As a result, in the past, some expectant mothers have reported that their leave spurred red flags from some mortgage lenders. However, thanks to the Fair Housing Act, mortgage lenders can't discriminate and refuse to approve a loan or refinance due to a pregnancy or maternity leave.
"Our team is always managing a lot of baby news and mothers preparing to go on leave. We schedule a 'baby talk' with them ahead of time so we can review everything they need to know," Villarosa says. "We discuss the length of their leave, their due date, their pay while on leave – and we outline their benefits."
According to Villarosa, the goal is to make sure expectant mothers don't have any outstanding policy or medical coverage questions.
By law, homebuyers are required to pass a verbal employment verification within 10 days of their closing. This means your lender will call your employer to ensure you still work there and inquire about your salary information. So it's important to let your lender know that you could be on maternity leave at that time so it doesn't interfere with your approval or closing.
"I've had someone call and ask me to write a letter verifying their employment and regular salary amount," says Villarosa. "I've also been asked to fill out a form for a mother on leave who was trying to qualify for a rental lease. We're always happy to help when these types of requests come in."
Since there is no place on your mortgage application asking if you're pregnant, it's a good rule of thumb to be honest with your lender about what's going on in your life.
"One piece of advice I have for expectant parents is to plan ahead and pay bills ahead of time if possible with their upcoming loss in income," she says. "Sometimes, there is a delay in processing payments for leave employees, even though their bills keep coming!"
Now, assuming you've completed all the items on your baby to-do list, you are as ready as can be for your bundle of joy and for the home loan application process.
Take the first step toward buying a house.
Get approved to see what you qualify for.
Start My Approval