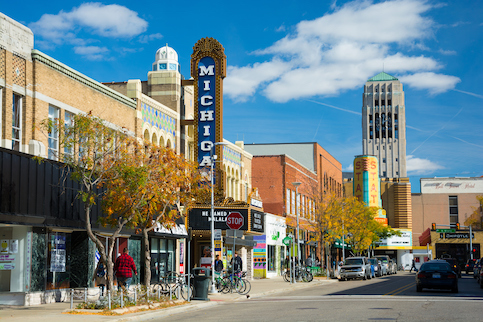 Top 10 Best Places To Raise A Family
Published on January 28, 2020
Disclosure: This post contains affiliate links, which means we receive a commission if you click a link and purchase something that we have recommended. Please check out our disclosure policy for more details.
If you're deciding where to live, you might want to consider some of the best places to raise a family. Some places are more conducive to raising a family than others. This can be attributed to several factors such as the quality of the school system, great quality of life, low crime rates, and affordability. Read on to discover the 10 best places to raise a family in the U.S., and what makes them so attractive to families.
1. Naperville, Illinois
This Chicago suburb is home to many great restaurants, the stunning Riverwalk area, and a family-friendly swimming complex called Centennial Beach. While only an hour's drive outside of the Windy City, Naperville has a homey, suburban feel and is this year's number one best city to raise a family in the United States.
Population: 146,431
Schools: Indian Prairie High School was ranked the highest on the

US World Report's 2015 Best High Schools

list, according to the Chicago Tribune, and was closely followed by several other high schools in the area.
Family Activities: From the Morton Arboretum to the Napier Settlement, there are myriad family-friendly and educational activities in Naperville. The DuPage Children's Museum is home to many hands-on activities and classes for kids, and Centennial Beach is a hit in the summertime.
Median Home Price: $390,914
Safety: Naperville experiences significantly lower crime rates than the national average. Where the national average robberies per 100,000 residents is 135.5, Naperville only had 14.1. Theft rates are approximately half the national average.
Diversity: Naperville is 68% white, 18% Asian, and 6% Hispanic. The city is relatively well-educated with 67% of residents having a bachelor's degree or higher, and 16% of the population is under 18.
2. The Woodlands, Texas
The Woodlands is a suburb of Houston, Texas. The city was planned in 1974 and has been developed into several neighborhoods. Many of these neighborhoods feature grocery stores, office parks, schools and golf courses.
Population: 109,608
Schools: The Woodlands is home to several public and private schools as well as Lone Star College, a community college. The Woodlands boasts 18 elementary schools, many of which are in the top 10% in the state.
Family Activities: The Woodlands Children's Museum and George Mitchell Preserve are centrally located and are popular among families. The Woodlands is also home to many neighborhood lakes and parks that promote a sense of community among residents.
Median Home Price: $

351,000

Safety: Crime rates in the Woodlands are much lower than in the Houston metro area. The Woodlands experiences less than half the average crime rate of the national average.
Diversity:

The Woodlands is 72% white and 16% Hispanic.

Roughly

62% of residents have a bachelor's degree or higher, and 27% of the population is under the age of 18.
3. Arlington, Virginia
Arlington lies just across the Potomac River from the U.S. Capitol and is a favorite place among government workers and the military to raise a family. Arlington is close to some of the largest employers in the country, including the U.S. Department of Defense, United Airlines and other government offices.
Population: 229,534
Schools: Arlington schools rank 25% higher on average than other schools in the country. Additionally, there are four universities in the area: Marymount University, George Mason University, Strayer University, and the Art Institute of Washington.
Family Activities: Arlington also ranks as one of the best cities in the U.S. for millennials, recent college grads and dogs. Yes, you read that right. Five city-owned dog parks offer obstacles, fences, water and more. Outside of all the tourist activities like visiting Arlington cemetery and catching a Washington Redskins game, there are bike trails that connect many corners of the city and lead to trails that reach the rest of the state.
Median Home Price: $729,477
Safety: Arlington's crime rates are 61% lower than the national average making it one of the safest cities in the DC metro area.
Diversity: 72% of the adult population has a bachelor's degree. The population is 62% white, 16% Hispanic and 10% Asian. 17% of the population is under the age of 18.
4. Ann Arbor, Michigan
While Ann Arbor is best known as the home of the University of Michigan, it offers so much more than simply being a college town. Known as "Tree Town," Ann Arbor is densely forested and is home to more than 50,000 trees. While most of the city is employed by the school and university hospital, the university's heavy focus on science and technology also draws several tech companies to the area.
Population: 119,303
Schools: There are 21 elementary schools and an overall 18:1 student to teacher ratio. There are four types of high schools in Ann Arbor: traditional, international baccalaureate, magnet, and small independent schools.
Family Activities: Ann Arbor offers a wide variety of museums for your whole family to explore. From the Ann Arbor Hands-On Museum to the University of Michigan Kelsey Museum of Archaeology, there is something for everyone to enjoy. Also, if your family loves to exude their energy, they may love Planet Rock, which is one of the biggest indoor climbing gyms in the U.S.
Median Home Price:

$271,600

Safety: Ann Arbor is safer than 57% of U.S. cities and has one of the lowest crime rates among college towns in the country.
Diversity: While the university skews the median age to 26, it also draws the education level significantly higher. 89% of the population has at least some college under their belts and 45% have a master's degree or higher. The city is 69% white.
5. Columbia, Maryland
Columbia is in the Baltimore-Washington metro area and is a planned community broken down into villages. This contributes to a neighborhood feel. This suburban community is home to two golf courses, and each village has an indoor recreation area with indoor swimming pools and fitness centers.
Population: 103,170
Schools: The schools in Columbia typically rank in the top five in the state and country.
Family Activities: Columbia has a series of libraries that rank as some of the best in the state and each neighborhood has a "tot lot," or playground for kids. The area is densely wooded which provides several trails, lakes, and other areas for families to spend time together.
Median Home Price: $362,388
Safety: Columbia was named the safest city in America in 2018. This included crime rates, national disaster risk and financial safety. Overall, it has significantly lower crime rates than the national average and surrounding areas.
Diversity: Columbia is 47% white, 27% black, and 13% Asian. 63% of the population has a bachelor's degree or higher, and 22% of the population is under the age of 18.
6. Overland Park, Kansas
Overland Park lies just outside of Kansas City and boasts a slow, suburban feel with all the perks of living in a big city. The "Local 3rdFridays" event happens monthly and encourages residents to shop at area businesses and get to know each other. The farmer's market happens weekly throughout the year and provides an opportunity for locals and visitors alike to get closer to their Midwest roots.
Population: 186,147
Schools: There is an average of 15 students per classroom in Overland Park, compared to a state average of 14. 97% of students graduate high school, compared to a state average of 91.5% and a national average of 88%. Schools in Overland Park consistently rank in the top 5% of those in the state.
Family Activities: The city is home to several parks and the recent addition of Prairiefire offers both indoor and outdoor activities for the whole family. There is live music almost every night, a bowling alley, and several restaurants. The Prairiefire Museum hosts hands-on activities and even has dinosaur artifacts from the American Museum of Natural History of New York.
Median Home Price: $314,425
Safety: Crime rates in Overland Park are lower than the national average and lower than surrounding cities. The police presence is visible and responsive, according to locals.
Diversity: Businesses in Kansas City and Overland Park have created a need for highly educated individuals, and 60% of the population holds a bachelor's degree or higher. The city is 79% white followed by 7% Asian and Hispanic.
7. Plano, Texas
A 30-minute drive north of Dallas, Plano offers the best of both a suburban feel and metropolitan proximity. The Dallas-Fort Worth Metro area is home to nearly 7 million people, two major airports, and six professional sports teams.
Population: 281,566
Schools: Plano students' scores on state-mandated tests consistently surpass national averages, and the Plano Independent School District has earned the highest rating through the Texas Education Agency's Schools FIRST program for 16 consecutive years.
Family Activities: In addition to the many professional sporting activities in the Dallas-Fort Worth area, Plano is close to minor league teams such as the Frisco RoughRiders. Plano has several public parks, and the metro area is home to many museums including the Perot Museum of Natural Sciences.
Median Home Price: $340,273
Safety: Plano has the lowest crime rate of any Texan city.
Diversity: 57% of Plano's adults have a bachelor's degree or higher. 55% of the population is white, followed by 19% Asian and 15% Hispanic. Nearly ¼ of the population is under 18.
8. Bellevue, Washington
Bellevue is a large suburb just outside of Seattle. Alaska Airlines, Amazon, Microsoft, Costco, and Starbucks are just a few of the famous companies headquartered out of the Bellevue and Seattle area, making it one of the most illustrious job markets in the country. This makes Bellevue attractive to families and young professionals alike. Bellevue has been ranked as the sixth healthiest city in America.
Population: 139,014
Schools: Bellevue's International School has ranked as a top 100 public school in the country, and Bellevue is the best overall public school district in the state.
Family Activities: From the KidsQuest Children's Museum to Downtown Park, there are plenty of indoor and outdoor family activities in Bellevue. We recommend checking out the city's comprehensive website to see which parks have the amenities you and your crew are looking for.
Median Home Price: $729,381
Safety: The police in Bellevue are ranked among the best in the state, and the city has one of the lowest crime rates in the country.
Diversity: 51% of the population of Bellevue is people of color, and 37% are foreign-born. There are 10 main languages spoken other than English, nine of which are east or central Asian languages. The other is Spanish.
9. Cambridge, Massachusetts
Home to Harvard University, this suburb is just across the Charles River from Boston. You and your family can enjoy the Harvard Square bookstores and cafes. Southeast of this beautiful town you will find the prestigious Massachusetts Institute of Technology.
Population: 110,893
Schools: Cambridge has 26 K-12 schools and two districts: Cambridge School District and Benjamin Banneker Charter Public District. These two districts enroll 6% of the overall population and consistently rank in the top 10 districts in the state.
Family Activities: The MIT Museum provides hands-on STEM activities, and the city is home to several parks. The Charles River runs through the city and has several miles of bike paths and parks, and people have the option to rent kayaks or canoes at Kendall Square.

Median Home Price: $851,595
Safety: The crime rate per 1,000 residents is 26.62, making Cambridge safer than 19% of U.S. cities. This makes Cambridge's crime rate significantly higher than the national average, but is not one of the least safe cities in America, either.
Diversity:

76% of Cambridge has a bachelor's degree or higher, and the population skews younger likely due to the high population of students from Harvard and other Boston universities. The city is 62% white, 16% Asian, and 10% black.
10. Irvine, California
This Los Angeles suburb boasts proximity to several major companies and is several miles from some of the most famous beaches in California. While the Los Angeles area is one of the most expensive cities in the U.S., Irvine has superior school systems and myriad public spaces to spend time with your family.
Population: 256,877
Schools: Irvine Unified Public School District was ranked as the best school district in Orange County. This statistic factors in state test scores, college preparedness, standardized national test scores, and the quality of the teachers.
Family Activities: Irvine has many family-friendly activities. This includes Great Park, which has a huge antique carousel and an anchored helium balloon. Many trails feature California's famous sycamore trees. The Pretend City Children's Museum provides a space for kids to play in a mini post office and pretend farm.
Median Home Price: $864,493
Safety: 65% of residents report that they do not feel there is crime in Irvine, and they experience about 10% of the total violent crime that the rest of the country does. Irvine is one of the safest cities in California.
Diversity: 22% of the population is school-aged and 67% of the population has a bachelor's degree or higher. Over 55% of the population are people of color.
Summary: Best Places To Raise A Family
When considering where you should buy a home, you may want to look at where you would like to spend your time and raise your family. The cities listed above have been evaluated based on the quality of living, school ratings and general safety. Fortunately, the U.S. has many great places to raise a family, and you can start your home search in nearly any state.
When you have selected an area to live, you may want to consider the cost in comparison to potential income. When you choose to start a family, you will need to rearrange your budget. Rocket Mortgage® is with you every step of your financial journey and can offer expert advice, mortgage calculators and more.