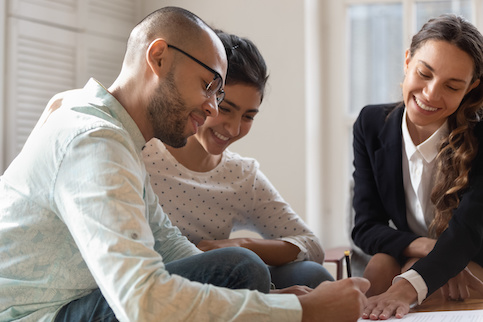 What Is An Automated Valuation Model (AVM)?
Published on April 20, 2022
One of the most significant factors in the real estate market is research. Before you purchase a property, invest in one or sell one, you need to know how much it's worth. Most people are familiar with the appraisal process, which is one way to determine the property value.
But it's not the only way to find out this crucial information. You can also use an automated valuation model to your advantage. Here's how this modern-day technology works.
Automated Valuation Model Meaning
An AVM is a software-based real estate tool that's used to determine a property's value. The model uses the combination of machine learning and various real estate information to determine an estimated market value for a particular property. The model can be used to find the property valuation regardless of the property's type, whether it's commercial or residential.
You can find AVMs offered by both platforms like Rocket HomesSM and commercial providers such as Freddie Mac. Each AVM is different based on its provider, formula and the data it uses. So, you may find that the estimated property value varies depending on the AVM used.
Property buyers, investors, and real estate agents aren't the only ones who can benefit from AVMs. Loan and mortgage borrowers may also run into them since lenders use them during the underwriting process. Appraisers may reference them during their work as well.
How Automated Valuation Models Work
AVMs are computer programs that use complex algorithms to estimate the market value of a property. AVMs are proprietary, though, meaning each platform has its own formula to feed its model. This model is based on machine learning and mathematical regression.
These platforms may also use data points from various sources, such as private and public records. So, the accuracy of an AVM can also vary. It depends on the quality of the information, technology and thought behind it.
However, most use the same type of information even if the specifics or sources of said information are different. Some of the factors that can "make or break" a property's value using an AVM are:
Prior sales of the property: The home's sales history usually factors into an appraisal, like in the case of foreclosure.
Square footage: While bigger houses tend to cost more, the cost per square foot drops as the house grows.
Age of property: Newer homes tend to be of higher value. However, older homes can have high value depending on their location and history.
Lot size: Generally, larger lots come with a higher property value.
Number of bed/baths: Home renovations can increase home value. According to Opendoor, adding a full bathroom increases it by $18,000, and Priceonomics claims that each new bedroom increases it by $30,000 – $50,000.
Public records: Public records, including deeds of ownership, tax assessments and property transfers, can help or hurt a property's value during appraisal.
Area price trends: Pricing trends show how much your competing sellers expect for their homes.
Comparable home sales (comps): Comps indicated how much consumers are willing to pay for a property like yours.
A platform or team takes data like the above on comparable properties and plugs it into their technology. Each data point may have a different weight depending on the statistical formula and the current market, resulting in a unique home value.
Take the first step toward buying a house.
Get preapproved to see what you qualify for.
Start My Preapproval
Automated Valuation Model Vs. Appraisals
While automated valuations and traditional appraisals may appear similar, how they function when buying or selling a home is another. Automated valuations, such as the one you'd find for a property on Rocket Homes, are a computer-generated estimate of your home's value sight unseen.
Conversely, most traditional appraisals are done by highly trained professionals who research and visit specific homes. They do on-site walk-throughs and evaluate the neighborhood and the local market.
Each methodology has its pros and cons. For instance, an automated valuation isn't going to see the home in detail and be able to determine quality of maintenance or renovations. On the other hand, appraisals can have an element of human error and bias.
The most important difference between the two is that lenders accept appraisals as determining home value, not automated valuations. So while the automated valuation can be a useful tool in estimating property value, an appraisal is necessary if a lender is involved.
Pros And Cons Of Automated Valuation Models
Automated Valuation Models may be integral in modern-day real estate technology like Zillow's Zestimate. However, they are not perfect. You should know where tech shines and where it falls flat before using it.
Pros
Solid estimate: Since AVMs use public data on neighborhood sales, you can get a good estimate for what the property will sell for.
Fast results: AVMs offer real estate agents, sellers, and buyers a quick way to obtain a property's value. It avoids the extra time needed for physical services like appraisals or personal research. That also means less manual effort.
Useful for marketing: REALTORs® can use AVMs to provide prospective sellers or buyers with possible sale prices.
Cons
Data reliant: The quality of the AVM answer relies on the data fed to it. If the data is not up to date or inaccurate, it will impact the calculations.
Missing information: An AVM is limited in the type of information it can use. It can't account for qualitative data – things that must be observed. So, unlike a human appraiser, it can't factor in a property's old roofing or leak-prone basement.
Appraisals are still necessary: If a lender is involved in the transaction, an appraisal will still be necessary and may not line up with the value presented by the AVM.
The Bottom Line
AVMs are still relatively new to the real estate market and are only getting more accurate. While they can be a good indicator of a property's value, they're best when used with a professional appraiser.
Doing your own research before diving into the real estate market is crucial. Learn more about the fair market value of the home you're considering before making the purchase.
Take the first step toward buying a house.
Get preapproved to see what you qualify for.
Start My Preapproval