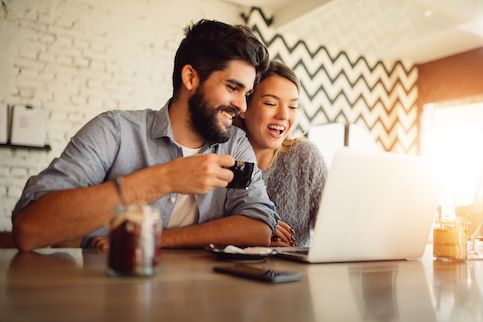 Rocket Mortgage Is The First Mortgage Lender Able To Perform eClosings In All 50 States
Published on October 21, 2019
Traditionally, closing on a mortgage has involved a lot of paper and a lot of hand cramps from signatures. Not only does this make closing on a mortgage tiresome, but it also has quite the negative impact on the tree population.
Rocket Mortgage® set out to improve the mortgage process through technology and now we've done the same with the closing process, becoming the first mortgage lender having the capability to conduct hybrid eClosings in all 50 states. In addition, Rocket Mortgage® has completed 96% of all the eClosings on record with the MERS® (Mortgage Electronic Registration Systems, Inc.) eRegistry.
"For more than 30 years, we have worked tirelessly to improve the mortgage process. We are continually researching, building and implementing new technologies to streamline the entire client experience from start to finish," said Jay Farner, CEO of Rocket Mortgage®. "This is a turning point for the housing industry and the first step in reducing one of the biggest pain points in the mortgage process. We will not stop until our clients can close their home loan from anywhere at any time."
Rocket Mortgage's® sister company Amrock Inc. is one of the country's biggest providers of title insurance, property valuations and closing services. The company enables eClosing services in three ways: in-person hybrid eClosing, in-person electronic notarization (IPEN) and remote online notarization (RON).
Clients across the country can take advantage of hybrid eClosing. While this includes both traditional and electronically signed documents, it dramatically cuts down on the number of documents that require a physical pen. Depending on the state, the number of physical signatures is reduced to anywhere between three and five as opposed to the usual 17. All digitally signed documents are immediately added to your Rocket Account.1
To qualify for a hybrid eClosing, among other eligibility requirements you'll need to be refinancing into a conventional fixed-rate mortgage for a single-family home. Additionally, if the loan is using power of attorney, it isn't eligible for eClosing at this time.
The second method is IPEN. In this approach, all documents are digitally signed in the presence of a notary. In addition to being environmentally friendly, this cuts down on mistakes because you can't complete the closing until everything is signed, eliminating the potential for missed signatures and delays. The IPEN process is currently available in several states. More states are coming online on a regular basis.
Finally, there's a RON closing process. In this experience, a remote notary meets with clients via a web video conference. They walk you through signing all of your digital documents and take you through each step of the closing process. The advantage of this is that you can close your mortgage anywhere at any time. The RON process is currently available to those looking to refinance in a number of states. Rocket Mortgage isn't offering this on purchase transactions at this time.
Rocket Mortgage® is obsessed with finding a better way. Being an early adopter of a centralized online-only mortgage process, Rocket Mortgage® has been able to simplify the mortgage process. Today, 98% of our clients utilize Rocket Mortgage® technology in their home loan process. You can now go through the entire process without talking to a human if you want. Still, if you get stuck, thousands of our Home Loan Experts are able to offer help and advice over email, online chat and the phone at your convenience.
If you like what you see, you can get started online with Rocket Mortgage® or give us a call at (888) 980-6716.
1Rocket Account is your account created in connection with Rocket Mortgage®, Rocket Loans®, Rocket HomesSM or Rocket HQSM. Rocket Homes Real Estate LLC, Rocket Loans® and Rocket HQSM are separate operating subsidiaries of Rock Holdings Inc. Each company is a separate legal entity operated and managed through its own management and governance structure as required by its state of incorporation, and applicable legal and regulatory requirements."
Find A Mortgage Today and Lock In Your Rate!
Get matched with a lender that will work for your financial situation.
Get Started