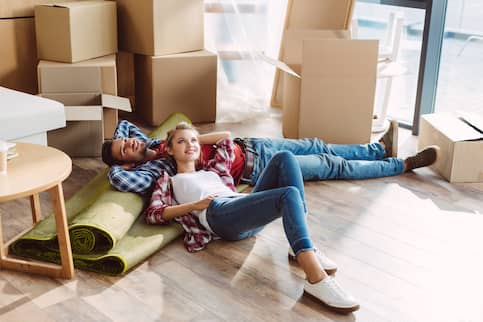 Float-Down Option: How To Lower Your Interest Rate
Published on April 26, 2023
Interest rates fluctuate quite a bit. When buying a house costs hundreds of thousands of dollars, even the smallest movement in interest rates can affect your mortgage payment and lifetime loan costs substantially. A float-down option could allow you to lock your rate and be protected from rising costs while also giving the flexibility to take advantage of a rate drop.
What Is A Float-Down Option?
A float-down option allows borrowers to take advantage of a lower rate even if they had previously locked theirs if rates drop before closing on their mortgage. Since interest rates fluctuate often, a float-down rate is one way home buyers can save during the search.
Lenders typically have rules around the timing of your float down option. We'll go over the policies of Rocket Mortgage® and some of the most common program structures, but be sure to speak to your specific lender for details.
See What You Qualify For
Congratulations! Based on the information you have provided, you are eligible to continue your home loan process online with Rocket Mortgage.
If a sign-in page does not automatically pop up in a new tab, click here
How Do Float-Down Options Work?
The key to a float-down option is that you have the ability to lock your mortgage rate while you're shopping for your home to protect yourself from interest rates pushing higher. Typically, it's a one-time option to move down to a lower rate if mortgage rates oblige.
Let's say you're getting a 30-year mortgage for $250,000. You might initially lock your rate at 6.5%. If rates drop by just 0.25% over the time you're shopping, locking in the lower rate would save you almost $41 per month on your payment. Additionally, you would be saving $14,715.74 in interest.
You'll often have a period of time when you can shop for a home and time to close on your home prior to your rate lock expiring. You can float down during the shopping period. Once you find a home, the underwriter will need to know your final interest rate to complete last qualification checks based on what the payment would be.
Rate Lock Vs. Float-Down Rate
A float-down rate is a type of rate lock. Under a traditional rate lock, you can't decide to lock your rate until after you have a signed purchase agreement, meaning you you've already found a house. This is intended to give you the option to protect your rate while arranging for an appraisal and home inspection as well as title and homeowners insurance.
With a float-down option, you can lock your rate while you shop with a limited option to take a lower rate if rates fall further. All rate locks are time-limited and float-down locks are no different, but the time frame tends to be longer. If you would usually lock for 30 days, a float-down rate could mean 90 days to shop with additional time to complete the process on finding a house.
How To Get A Float-Down Mortgage
Every lender has slightly different policies regarding float-down mortgages. These include different lock periods and different points when you can take the lower rate. Be sure to speak with them about requirements. Rocket Mortgage has a great option if you're looking for a float-down rate.
RateShield®
RateShield is a float-down option that allows you to lock your rate for up to 90 days while you shop for a home. 1 You can take advantage of a lower rate once at any time during this period. You'll have more time to complete the process of appraisals, underwriting and home inspections.
But you should be confident in the fact that not only are you getting a good rate, but that you can afford the mortgage as well. Because of this, our RateShield Approval also includes a Verified Approval.2
In a Verified Approval, we not only pull your credit, but we check your income and assets by having you share things like W-2s, tax returns and bank statements so you know how much house you can afford and shop with confidence.
Pros And Cons Of Getting A Mortgage Float-Down
There are both benefits and things you should be aware of when getting a float-down rate.
Pros
Rate can only get better: As with any rate lock, you're protecting yourself from rates moving higher. But a float-down option also gives you the bonus flexibility of being able to move down to a lower rate if the market moves in your favor.
Lock earlier: With a float-down rate, you can typically lock your rate while shopping for a home. With a traditional rate lock, you have to find a house and have a signed purchase agreement in place.
Additional time to complete the process: Once you've found a home, you'll have additional time to get through the underwriting, appraisal and home inspection process.
Cons
Fewer product options: Lenders often only offer float-down rates on certain product options. For instance, RateShield is offered on 30-year fixed mortgages.
Higher mortgage points: When you lock your rate, lenders have to hedge against the market in order to protect themselves from adverse market movements. The longer your lock period, the harder this is. So it's not uncommon to pay a higher fee to lock your rate with a float-down option.
Alternatives To A Float-Down Option
If getting a float-down rate is impossible or impractical for you at this time, there are a couple of alternatives you could consider.
Adjustable-rate mortgage (ARM):

An ARM loan features a little lower initial rate than the market rate for fixed mortgages with comparable terms. Depending on the option you qualify for, this typically lasts for the first 5, 7 or 10 years of the loan. Of course, the rate could always increase after this, but there are caps. Also, some people take advantage of the lower payment at the beginning of the loan to put extra money toward the principal balance, so by the time the rate adjusts, they're paying on a lower balance anyway. Additionally, if you maintain enough equity and qualify, you might also be able to refinance. Finally, many in starter homes might choose to move to their next home and sell the current one before the rate ever adjusts.

Refinance:

If an ARM doesn't make sense for you, it's important to note that you aren't tied into one mortgage rate for as long as you live in your house if you don't want to be. Even if you get a fixed rate, you can always consider refinancing down the line if rates drop as long as you qualify.
The Bottom Line
A float-down option allows you to lock your interest rate to protect yourself from higher interest rates before you close. And you still have the option to move to a lower rate if the market turns in your favor. With RateShield, you can lock your rate for 90 days while shopping for a home. If rates fall during that time, you can move down once to the lower rate.
It's important to be clear with your lender about the exact terms of any float-down option and to understand any fees associated. If a float-down is unavailable or doesn't make sense for your situation, you can always look at an ARM or refinancing down the line.
If you're interested in RateShield or any of our other loan options, you can get started with your mortgage approval. You should also feel free to give one of our Home Loan Experts a call at (888) 452-0335.
1 RateShield Approval is a Verified Approval with an interest rate lock for up to 90 days. If rates increase, your rate will stay the same for 90 days. If rates decrease, you will be able to lower your rate one time within 90 days. Please contact your Home Loan Expert for additional information. This offer is only valid on 30-year FHA, VA and conventional purchase loan products. RateShield Approval not eligible for clients with a signed purchase agreement, on Charles Schwab loans, or new construction loans. Additional conditions and exclusions may apply.
2 Participation in the Verified Approval program is based on an underwriter's comprehensive analysis of your credit, income, employment status, assets and debt. If new information materially changes the underwriting decision resulting in a denial of your credit request, if the loan fails to close for a reason outside of Rocket Mortgage's control, including, but not limited to satisfactory insurance, appraisal and title report/search, or if you no longer want to proceed with the loan, your participation in the program will be discontinued. If your eligibility in the program does not change and your mortgage loan does not close due to a Rocket Mortgage error, you will receive the $1,000. This offer does not apply to new purchase loans submitted to Rocket Mortgage through a mortgage broker. This offer is not valid for self-employed clients. Rocket Mortgage reserves the right to cancel this offer at any time. Acceptance of this offer constitutes the acceptance of these terms and conditions, which are subject to change at the sole discretion of Rocket Mortgage. Additional conditions or exclusions may apply.
Apply for a mortgage today!
Apply online for expert recommendations with real interest rates and payments.
Start Your Application