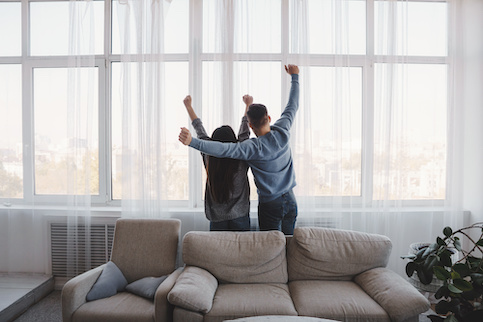 Get The Confidence Of A Cash Buyer With A Verified Approval Letter
Published on November 4, 2019
If you're a buyer in a hot real estate market struggling to stand out among high bidders and cash buyers, take heart; you might just need a little confidence boost to tip the scales in your favor.
With the Quicken Loans® Power Buying Process℠, buyers who are financing their home purchase can make an offer on their dream home with confidence, all thanks to the Verified Approval℠.
How It Works
A Verified Approval℠ is a stage of mortgage preapproval that gives you and others involved in the transaction the confidence that you can afford what you're offering, and that you can follow through to closing.
This can be a huge help in competitive markets, where buyers with financing often get passed over for buyers with the full asking price in cash, as cash is typically considered to be a safer bet than financing, which has the potential to fall through before closing.
When you include a Verified Approval℠ letter with your offer, sellers can be confident that you're a safe bet, too.
What Makes A Verified Approval℠ Letter So Strong?
To receive a Verified Approval℠, we'll pull your credit and you'll share with us documentation verifying your income and assets, including things like W-2s, income tax returns, pay stubs and statements for any accounts you want to use as assets. This allows us to confirm that your finances can handle a monthly mortgage payment, and helps us tell you with certainty just how much house you can afford.
Why A Strong Preapproval Is So Important
Even if we're in a slow market or a buyer's market, sellers want to know that you can put your money where your mouth is.
When a seller takes their home off the market to enter into a contract with a buyer, they're doing so with the hope that the buyer will be able to follow through to closing. If the buyer's financing falls through at the last minute, the seller has to put their house back on the market and go through the whole lengthy process all over again.
Sellers generally don't want to have to go through all that trouble, so giving them assurance that you'll be able to make good on your end of the deal can be worth quite a bit when you're making an offer on their house.
Verified Approval℠ provides that assurance and makes your offer more attractive to sellers in today's competitive market. When you're up against other hopeful buyers making offers on the home you want, a reliable promise of financing can help make your offer competitive, even if you're going up against cash buyers.
Apply for a Mortgage with Quicken Loans®
Apply online for expert recommendations with real interest rates and payments.
Start Your Application
We're Confident, Too
By allowing us to verify your information, you can be even more confident you'll close on a new home. And we're confident, too. In fact, if you don't close based on our review, we'll give you $1,000.1
Ready to start the home buying process on the right foot and move forward with confidence? Give us a call at (888) 452-8179 to speak to a Home Loan Expert.
1Participation in the Verified ApprovalSM program is based on an underwriter's comprehensive analysis of your credit, income, employment status, debt, property, insurance, appraisal and a satisfactory title report/search. If new information materially changes the underwriting decision resulting in a denial of your credit request, if the loan fails to close for a reason outside of Quicken Loans' control, or if you no longer want to proceed with the loan, your participation in the program will be discontinued. If your eligibility in the program does not change and your mortgage loan does not close, you will receive $1,000. This offer does not apply to new purchase loans submitted to Quicken Loans through a mortgage broker. Additional conditions or exclusions may apply.