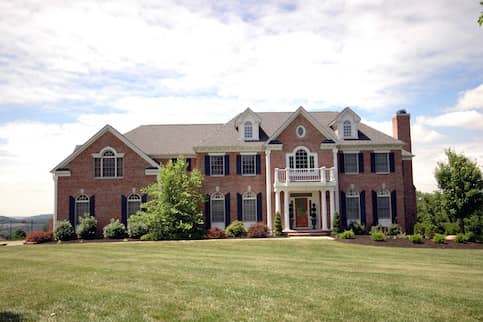 McMansions: What Are They And Should You Buy One?
Published on May 24, 2023
If you've ever wished you lived in a bigger home in a nicer neighborhood, you're not alone. Many people want to purchase larger houses for the extra room or because they want to improve their social status. One way many people get there is by purchasing a McMansion.
"McMansion" is a slang term used to describe large and often cheaply made homes. They've been around for a while but once again surged in popularity in recent years after the pandemic forced many people to stay home.
There are many benefits to buying a McMansion, but there are some downsides to consider as well. It's a good idea to learn more about this type of house before you start your home buying journey.
What Is A McMansion?
A McMansion is a large, highly ornate house often found in planned communities. This term is sometimes used as a criticism of mass-produced homes that don't follow strict architectural styles.
They are large homes on small plots of land and can be more prevalent in states like California, New York and Texas. McMansions provide a way for upper-middle-class Americans to inflate their economic status.
McMansions are often generic and made from low-quality materials, so they don't hold up well over time.
McMansions Vs. Mansions
A McMansion differs greatly from a mansion, though there's no solid definition of what a mansion even is. Obviously, size and luxury have something to do with it, but the biggest difference is that mansions are designed to be truly custom and unique homes.
Mansions are usually located on estates with abundant properties and have exceptional landscaping and outdoor areas. The homes are made from high-quality and sustainable materials and have plenty of space for entertaining guests.
For instance, a mansion may have a home gym, library or game room. And you'll usually see top-of-the-line appliances and high-end security systems. Such materials may include marble and other expensive stones or woods.
By comparison, McMansions are made to look luxurious but are actually made from low-quality materials. They usually have a cookie cutter appearance, are usually located on small plots of land and every home in that neighborhood will look similar.
The History Of McMansions
In the 1980s, McMansions started growing in popularity once homes started to be seen as a sign of luxury rather than just a place to live. By the early 2000s, these houses peaked in popularity, as a home with less than 3,000 square feet was considered small.
During this time, many people took out risky mortgages to pay for their homes, leading to the housing crisis. Many of these homes were later foreclosed on during the Great Recession.
McMansions are seen as the fast food equivalent of houses — cheap, low-quality and surprisingly popular. In fact, the nickname "McMansion" is based on the fast food restaurant McDonald's.
Common Features Of A McMansion
You'll know you've spotted a McMansion when you notice the following traits:
Sizable floor plan

Between 3,000 and 6,000 square feet

Poorly designed room layouts

Poorly proportioned placements of windows and doors

Low-quality building materials

Lack of architectural design principles

Over-the-top finishings

An oversized, gaudy chandelier
Should You Buy A McMansion?
If you're looking to buy a house, you should consider the pros and cons of a McMansion before choosing this type of home.
Pros
Lots of room for everyone in the family

Typically located in high-end neighborhoods

Potentially large return on investment when you sell
Cons
High maintenance costs

Large purchase prices

More expensive property taxes

Less financing options available
The Bottom Line
McMansions get a bad rap and are often referred to in a disapproving manner, but there are advantages to purchasing one. It can be a good way to buy a larger home, and you may be able to live in a nicer neighborhood. However, these houses may also come with high property taxes and can be expensive to maintain, especially if they're built with low-quality materials.
Whatever type of house you choose to buy, it's important to think about how you'll finance the purchase. If you're ready to move forward, you can apply for approval on a mortgage today.
Take the first step toward buying a house.
Get approved to see what you qualify for.
Start My Approval