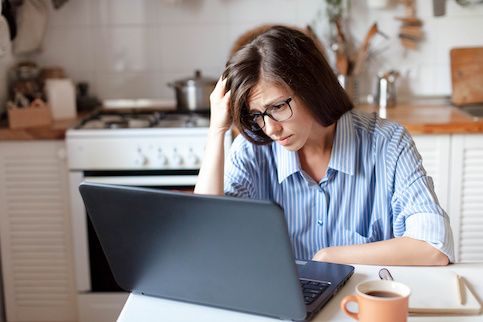 What Is A Grace Period For Mortgage Payments?
Published on August 26, 2021
Disclosure: This post contains affiliate links, which means we receive a commission if you click a link and purchase something that we have recommended. Please check out our disclosure policy for more details.
In these uncertain times, many Americans are finding themselves in need of some type of financial relief or assistance. This can come in many forms, including deferring credit card payments, receiving unemployment or getting a stimulus check from the government, just to name a few. When it comes to your mortgage, relief may be available in the form of a grace period.
Grace Period Definition
A grace period can be defined as a set amount of time following the deadline of a payment or obligation when any penalties are waived, so long as the obligation or payment is made during that time. If the full payment is not made during the grace period, a late fee will be charged, and the missed mortgage payment will be reported to the credit bureaus.
It's important to read the full terms and conditions of your student loan payments, credit cards and mortgages to understand the grace period for your own financial obligations.
What Is The
Grace Period For Mortgage Payments?
For most Americans, buying a home means taking out a mortgage. During this process, we're inundated by a slew of legal terms and conditions regarding the mortgage from how long its term is to when and how we'll pay it (and a ton of other stuff in between).
Probably the most critical advice we receive is that paying our mortgage payments on time is of utmost importance. If we don't pay on time, we can expect fees and possibly dings to our credit scores – and sometimes it can even mean losing our homes. A grace period eases these consequences a bit, ensuring that fees or credit nicks don't happen right away if you can't pay on time.
While there may be information about grace periods on your billing statement, the first thing to do is to look at your mortgage note. When you close on your home, you receive a signed copy of your mortgage note and the original document stays with your lender, only to be returned to you on that blissful day the loan is completely paid off. The note includes the date of the month that your mortgage is due (usually the 1st) and whether you have a grace period to pay, among other stipulations.
Unfortunately, this isn't something you can negotiate after the fact, so if there is no grace period mentioned on your mortgage note, it doesn't exist.
How Long Is A Grace Period?
The amount of time in the grace period varies, but it usually is 15 days, or 2 weeks. To be clear, you should always pay your mortgage on time if you're able to, and a grace period does not absolve you of having to make the payment. It merely gives you a little more time to get it paid before late fees and other negative consequences set in. It's also a great feature to have if you accidentally forget to make a payment but catch the mistake before the grace period has expired.
Why Do Lenders Offer Grace Periods?
You may be wondering, "What's in it for the lender to let me pay my mortgage late?" Well, in some cases they have no choice. To protect borrowers from late fees, many states have laws that make it illegal for mortgage companies to not offer grace periods.
In addition, lenders know that different borrowers have different days of the month that they pay their mortgage on, so grace periods take that into account. They also understand that many factors can delay a payment that are not the fault of the borrower. Bank holidays causing processing delays or mail delivery being held up are just a couple examples.
Lenders know that life happens, and that sometimes making sure that borrowers pay their bills takes a little, well, grace.
What Happens If I Pay Within The Grace Period?
Not much – the whole idea of a grace period is to allow late payments without consequences. But that doesn't mean you should rely on it. Grace periods are no doubt wonderful to have. They save forgetful homeowners lots of money each year, especially if their late penalty is calculated as a percentage of their monthly payment.
That said, best practices from a credit score perspective encourage us to make our payments on or before the due date, so always go that route if you can. One way to ensure this is to make payments online to avoid mail and bank processing delays.
An even better solution is to enroll in automatic payments so you can just set it and (never) forget it.
What Happens If I Cannot Make My Payment Within The Grace Period?
If you're unable to make your payment when it's due or even within the grace period after it's due, there are a few consequences you can expect when making a late mortgage payment. First off, late fees will be imposed in the form of a flat fee or a percentage of your monthly payment.
This amount depends on your lender, so some get hit harder than others, but we all prefer to avoid fees when we can. Obviously, these don't go away when the month turns over either, so they can really add up and put a bigger and bigger financial burden on you.
Beyond this, late payments are a big no-no when it comes to your credit score. After 30 days, your lender will report the missed payment to credit reporting agencies, and failure to make a timely mortgage payment will cause your credit score to drop significantly. This will make borrowing in the future more expensive and difficult as you work to repair your credit.
So what do you do if you can't pay? Talk to your lender as soon as you fall behind on your mortgage payment, tell them the circumstances you're facing that are preventing you from paying, and let them know when you'll be able to start making your payments on time again.
The Bottom Line
Grace periods are a great way to have a little wiggle room when it comes to paying your mortgage. It's as easy as 1, 2, 3:
Check your mortgage note to make sure you are crystal clear on the terms of your loan.

Do the best you can to make your mortgage payment on or before the due date.

If you can't pay on or before the due date, avoid late fees and negative credit hits by paying before the grace period has ended.
Still have questions about grace periods? Speak with one of our Home Loan Experts today!