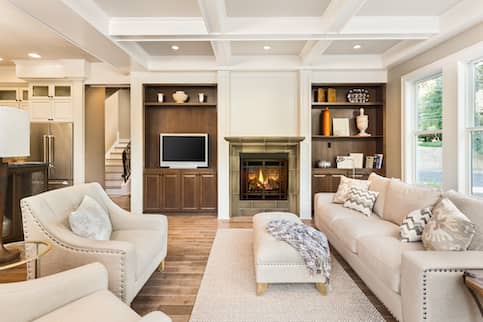 To Raise Or Not To Raise: 10 Common Ceiling Types To Fit Your Home
Published on March 10, 2022
To raise, or not to raise, that is the question. The ceiling is often an overlooked component of your home's aesthetic, but it contributes as much to the interior design as the walls or flooring. The ceiling can shape the mood of an entire room or living space, from airy and cozy to cluttered and claustrophobic – so when you're designing a room, be sure to consider how your ceiling will affect the overall look and feel of the space.
The good news? You've got options. There's a wide variety of ceiling designs to fit your home, and in this article, we'll explore everything you should know to choose the best style for your space.
What To Consider When Choosing A Ceiling Type
The basic function of a ceiling is to hide or protect the space above it, concealing wiring, pipes and duct work from the naked eye. But ceilings can also serve a purpose beyond functionality. The right ceiling in the right room can become a focal point or fade away into the background to give the spotlight to another part of the space, depending on your preference.
But whether you're choosing the ceiling design of your new home construction or deciding how you want to renovate the existing ceiling in your primary bedroom, you'll want to choose a ceiling style that…
Fits in your budget

Plays well with the walls, roof and the rest of the house, both functionally and aesthetically

Will boost your home's resale value and provide a good return on investment
View Your Refinancing Options
See expert-recommended refinance options and customize them to fit your budget.
Start Your Refinance Online
Different Types Of Ceiling Designs In Homes
From inconspicuous to eye catching, there's a ceiling design to fit any home. But which design should you choose and what practical considerations should you make beyond the ceiling's look and feel? Let's explore your options.
1. Conventional Ceiling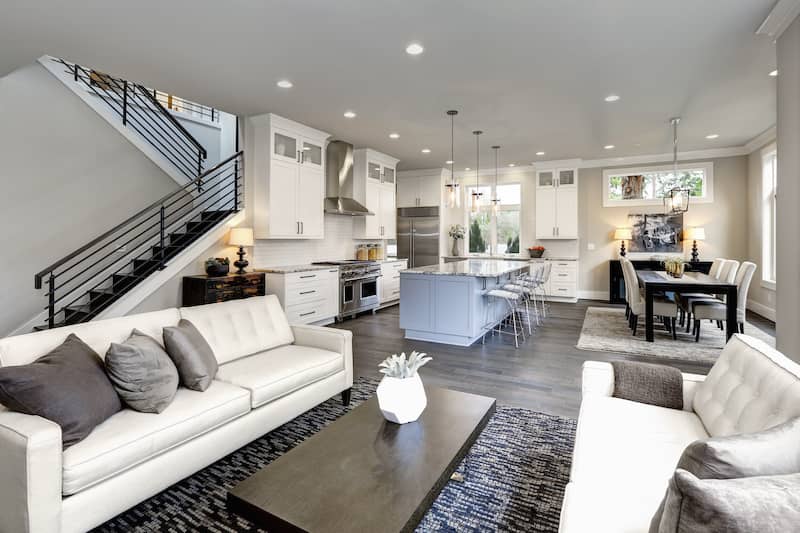 Also known as regular or flat ceilings, conventional ceilings are basic and plain. Although they typically sit at a standard ceiling height of 8 – 9 feet, raising a conventional ceiling to taller heights of 10 – 13 feet can brighten the room and give the illusion of more space.
The simplest ceiling design, conventional ceilings are usually finished with drywall and painted over. If you're looking for a little more personality, adding texture, crown molding, lighting and other fixtures can easily elevate this ceiling's aesthetic.
2. Sloped Ceiling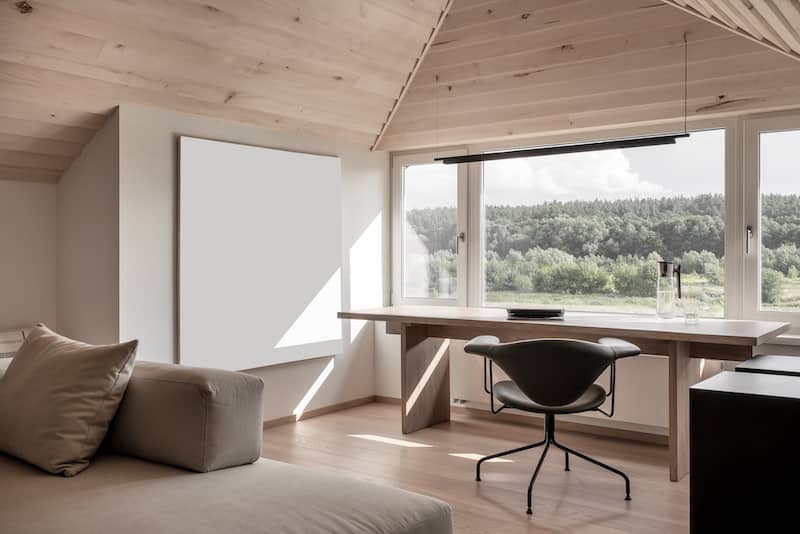 A sloped ceiling follows the angle of the roofline, so the exact look and feel is going to depend on where the ceiling is featured in the home. In attics and rooms on the top level – closest to the roof – this can create a charming, cozy atmosphere. On the main floor, a sloped ceiling can make a space feel more open.
Aside from their shape, these ceilings are typically basic and finished with drywall and paint, though some homeowners choose to keep ceiling beams exposed. But before you make the move to a sloped ceiling, be sure to check your local building codes, which dictate how low this type of ceiling can slope.
3. Vaulted, Or Raised, Ceilings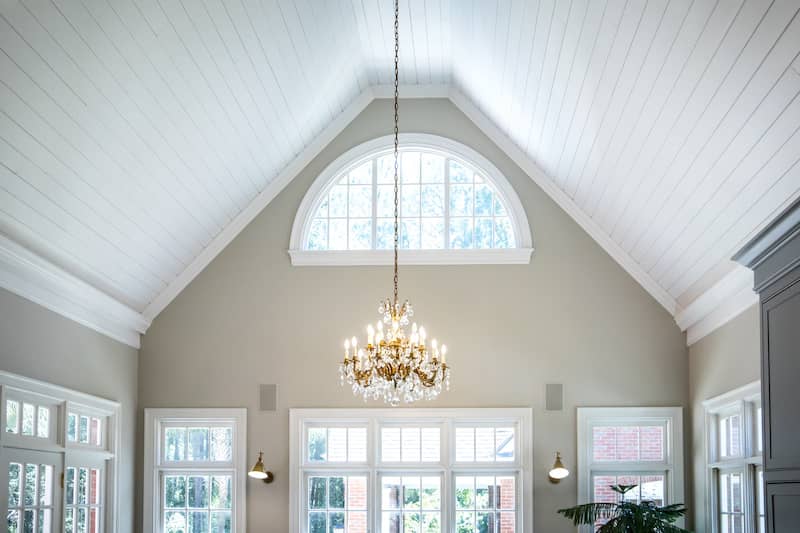 Commonly found in large homes and living spaces, vaulted ceilings extend up from the each of the walls to a center point, extending the height of the room. Vaulted ceilings have been around in some shape or form for thousands of years, popular for their ability to open a space – but some modern homeowners have criticized this ceiling type due to energy inefficiency. After all, higher ceilings typically mean higher energy bills.
Types Of Vaulted Ceilings
Vaulted ceilings come in a variety of shapes, sizes and styles. The specific kind of vaulted ceiling that fits your space will depend on your house's structural design and your personal style, but you can consider the following types:
Cathedral ceiling:

Taking its name from famous churches and cathedrals spread across Europe, a cathedral ceiling has two slanted sides that meet at a high point in the middle.

Domed vault:

As the name implies, a domed vault ceiling is spherical, rising from a low point at the center of the room and creating a dome shape.

Barrel vault:

If you like soft lines but a full dome isn't right for your space, a barrel vault ceiling is made up of a single curved arch between the rafters.

Groin vault:

This ceiling is comprised of two intersecting barrel vaults, creating four outward curving domes and arches.

Cloister vault:

Like a groin vault, a cloister vault features curving arches – but these arches rise from the middle of each wall, rather than the corners, and curve inward.

Shed ceiling:

Commonly found in attic spaces and lofts, a shed ceiling has a single slope, starting at a higher point on one wall and sloping to a lower spot on the opposing one.
4. Tray Ceiling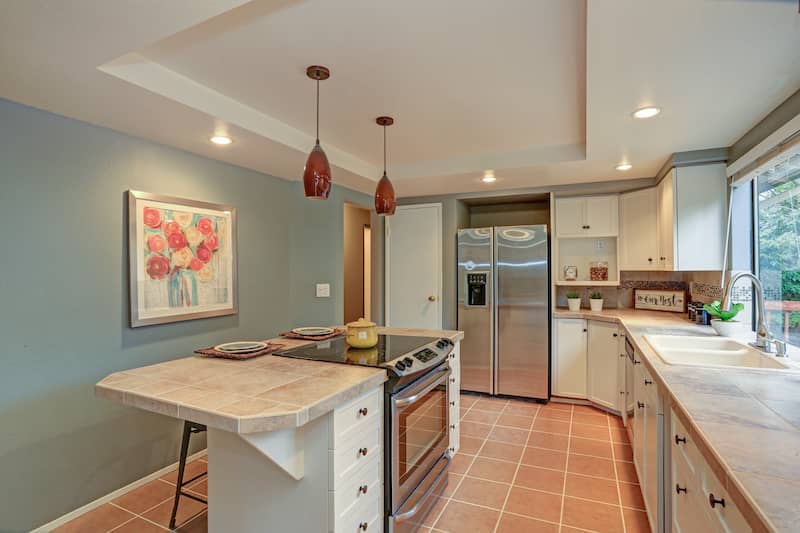 For a unique architectural focal point, consider a tray ceiling, which features a central section raised higher than its perimeter, creating a similar shape as the top of a tray. The lowest point of these ceilings – the perimeter – typically sits at about 9 feet, with the middle raised about a foot higher.
5. Coffered Ceiling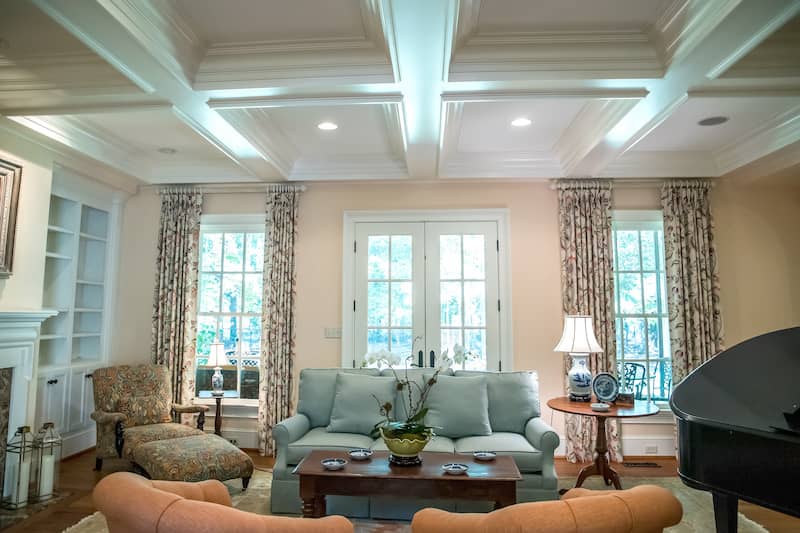 Take the first step toward buying a house.
Get preapproved to see what you qualify for.
Start My Preapproval
Coffered ceilings add depth and detail to a space through a grid of sunken panels, often accentuated by molding. These ceilings sit at a minimum height of 9 feet. Coffers – the inverted part of coffered ceilings – can be made in a variety of shapes and sizes to fit the homeowner's taste.
But the cost associated with coffered ceilings adds up quickly, as this design may require expert carpentry skills and specialized installation to achieve.
6. Coved Ceiling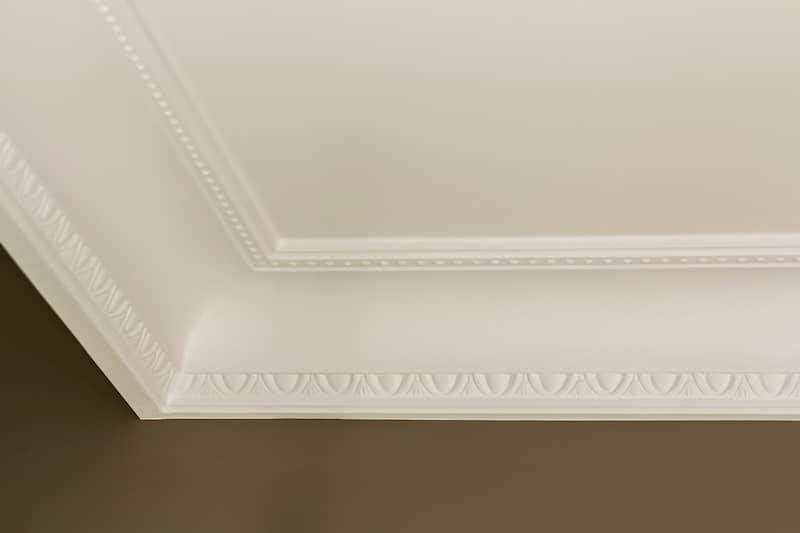 A coved ceiling abandons sharp angles in favor of rounded edges. The depth of the rounded curve can vary, as can the type of ceiling it's paired with. Coved ceilings can be a good middle ground if you want to create a unique, polished look without distracting from other focal points in the room, but they can also be paired with tray ceilings or special inlays for a more dramatic look.
Builders will charge extra for coved ceilings, but DIY enthusiasts can find prefab cove ceiling kits online for around $300.
7. Beamed Ceiling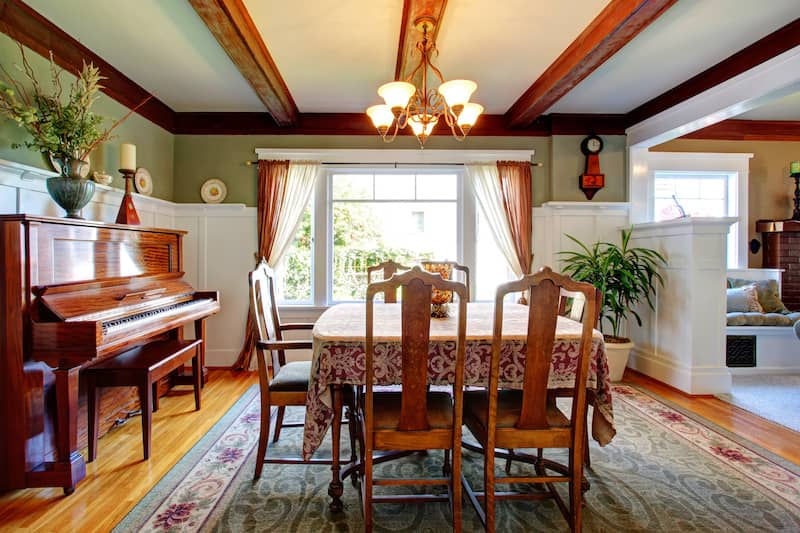 A beamed ceiling makes a focal point out of the structure's exposed wood beams, which can be incorporated into a flat ceiling or a vaulted one. This rustic design is commonly found in cabins, chalets, converted barns, mountain homes, lake homes, and other timber-constructed edifices.
Though it's possible to convert a regular ceiling into a beamed one, the process can prove costly. This is because most modern homes are built with steel frames, so it's not as simple as exposing what's already there. To avoid redesigning your ceiling's entire structure, consider integrating faux beams to achieve this look instead.
8. Exposed Ceiling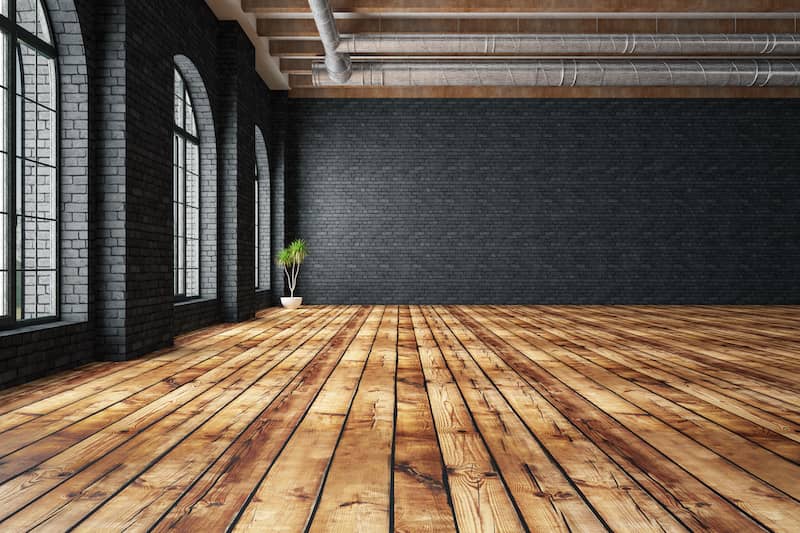 Exposed ceilings put it all on display. Beams, pipes and ductwork are all visible with this ceiling type, making it a popular choice for modern industrial interiors. Though these elements create an intentionally unfinished look, they are sometimes painted a common color for the sake of consistency.
Exposed ceilings are cheaper to construct but will cost you more over time in heating and cooling costs due to their lack of insulation – which also means this is a noisier option.
9. Drop Ceiling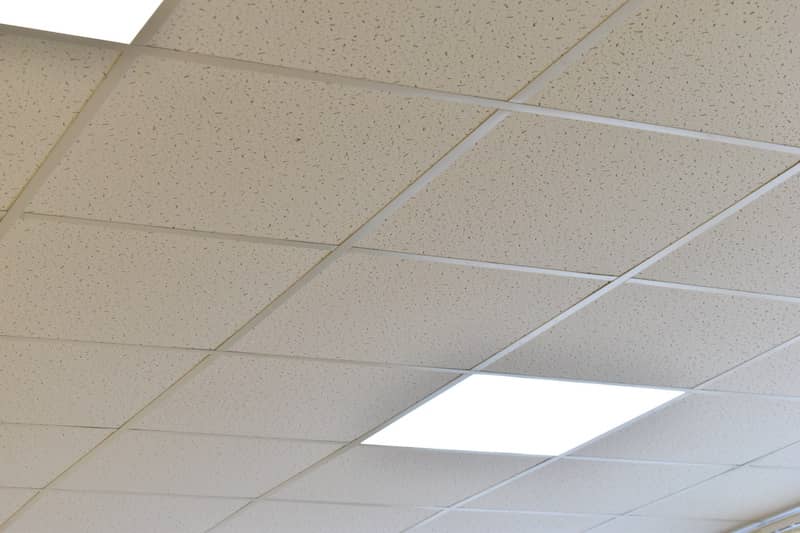 Also known as suspended ceilings, a drop ceiling's purpose is to hide pipes, wires, duct work and sprinkler systems. They are commonly associated with commercial and industrial spaces – but the ceiling tiles and panels used with drop ceilings have diversified in recent years, with panels now available in a variety of decorative patterns, textures and materials for residential use.
10. High Ceilings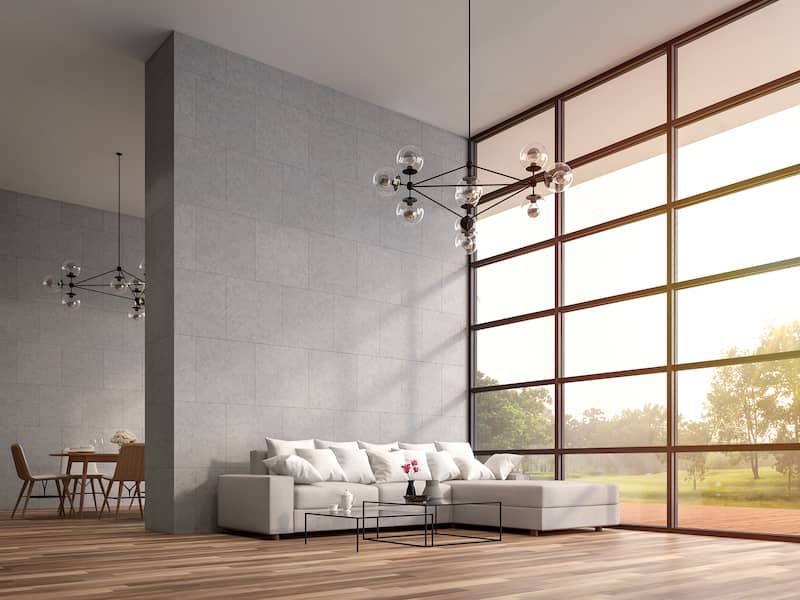 High ceilings aren't a particular ceiling type. Rather, this umbrella term covers any tall ceiling that sits above the average height of 8 – 10 feet. But whether your high ceiling is flat, curved, detailed or basic, the extended height will make any room feel larger and more open.
Types Of Ceiling Finishes
Once you choose your ceiling style, it's time to think about the details. Ceiling finishes – including textures, fixtures and other features – can easily enhance a ceiling, make it a focal point, or a tie a room together. From basic to bold, there are options for any aesthetic.
Ceiling Texture Types
One of the most impactful ways to add depth and design to your ceiling is by using a unique ceiling texture. There are a number of textures to choose from, many of which can be DIY. Some of the most popular ceiling textures include:
Flat or smooth:

The most basic ceiling texture is smooth. This is the simplest texture and the easiest to achieve, though it won't add anything extra to the room. If you want your ceiling to play a background role in your space, a flat texture is a good choice.

Orange peel:

Taking on the look of an orange peel's texture, you can get this splatter look by using a sprayer or roller with thinned drywall mud. This is one of the easier textures to achieve, but some homeowners feel it resembles a cracking ceiling.

Skip trowel:

Getting its name from the tool used to create this texture, a skip trowel effect is accomplished by using a trowel to apply drywall mud on top of a surface. There are a wide variety of skip trowel designs, so you can choose precisely how much texture you want.

Knockdown:

Like a skip trowel, knockdown ceilings feature wide blots of drywall mud, but this style is less spaced out. This is a popular option because it is both timeless and easy to accomplish, but it can sometimes prove difficult to clean.

Stippled:

Also called slapbrush, the stippled texture is created using a long-bristled soft brush, moving the excess drywall mud into pointed or semi-pointed shapes. This can be a great option to hide imperfections, though it can be messy to apply.

Swirled:

Also applied with a soft brush, the swirled texture is a collection of circular swipes of drywall, creating several circles in a repeating design. This creates a unique and pleasing pattern, although it may require some artistic skill to create.

Popcorn:

The textured look of crumbled popcorn can be achieved with a spray or paint on treatment. Though some consider popcorn ceilings, which were popularized in the 1950s and 60s, to be outdated, the texture gives off a unique style and also has noise cancelling properties.
Types Of Ceiling Lights
Another key factor to consider when you're designing a ceiling is how you'll add lighting to the living space. The design and placement of lighting can drastically change the feel of a room, so you want to be intentional in these choices.
Do you want to make a statement with a chandelier, or do you prefer recessed lighting? Maybe you'd like to opt for more natural light and incorporate a skylight instead. Take the time to consider your options and remember how the shape and design of your ceiling may impact your lighting picks.
Ceiling Molding Types
Borders, trim and molding offer yet another opportunity to customize your ceiling design. By far the most popular option, crown molding is a decorative addition placed along the border of the wall adjacent to the ceiling. It's available in a variety of sizes and designs, from a basic thin border to a thicker, more ornate style.
View Your Refinancing Options
See expert-recommended refinance options and customize them to fit your budget.
Start Your Refinance Online
The Bottom Line
Whether you choose to embrace a dramatic slope or opt to dress up a conventional ceiling with detailed molding and fixtures, the ceiling can top off any room's design – literally – so when you're designing your space, don't forget to look up.
If you're in the market for your dream house or looking to borrow money for a home renovation, speak with a Rocket MortgageⓇ Home Loan Expert to discuss the best financing options to match your needs.