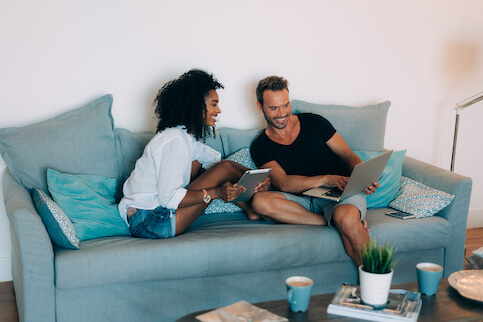 Top 9 Ways To Sell Your Home To Millennials
Published on November 27, 2019
If you're trying to sell your home, there's a good chance that a millennial will be one of your prospective buyers. So how does this generation feel about homeownership? And how can you make your house more appealing to them? We have answers.
For the most part, these home-selling tips will apply to any age group. But there are a few interesting aspects about millennials that may change the way you market your home. You'll need to put yourself in the shoes of your potential buyers. After reading this, you'll know how to do the following:
Understand the barriers for millennials and homeownership
Learn how to market to millennials
Discover what millennials actually want in a house
Let's dive into the head of the millennial (which may be scary for some of you) to point out some tips and tricks for selling your home.
Who Are Millennials?
Who exactly are millennials? The funny thing is, it depends on who you ask. You'll rarely find an agreed-upon definition. For the most part, though, it's people who are 18 – 34 years old.
These are the children of the internet – they've experienced an overall technology boom unlike the world has ever seen. Most have student loans and side hustles – extra jobs or even businesses that provide a second source of income, an apparent obsession with avocados, and a penchant for traveling via Airbnb. They also have different lifestyle choices from previous generations, with many getting married later, not getting married at all, not having children, or often changing jobs. Many have different financial habits and priorities.
And now they're making a splash in the workforce. It is estimated by 2025, 75% of American workers will be from the millennial generation.
How To Market To Millennials
Social Media And The Insta-House
It's the age of Instagram and Snapchat, specifically when it comes to millennials. These social platforms have raised the bar when it comes to viewing photos online. Take a moment to consider how people will find your home's listing. According to the latest data from the National Association of REALTORS®, 44% of buyers are starting their home search process online, a percentage that's only likely to increase as buyers get younger. And they're using phones, tablets and laptops to do it. This means that their first impression of your house is coming from a description and, more importantly, photos.
Error rendering content unit:*[@Name='BasicImage']
Error occurred during XSLT transformation: Stylesheet BasicImage_Unit.xsl cannot be found.
Stylesheet BasicImage_Unit.xsl cannot be found.
Snapchat, which has been one of the most successful social platforms for millennials, also provides some opportunities for selling your home. Snapchat allows you to set a geofilter – which is an overlay that can be added to a picture or video – to any location. You can actually place a geofilter specifically around your house so prospective buyers can interact with it on your property.
If you're going to go this route, make sure people know about it. Create a sign to explain that you have a geofilter at your property. Most people don't currently assume that a geofilter will be placed at an open house.
For more on geofilters, check out this Snapchat page.
Apply for a Mortgage with Quicken Loans®
Call our Home Loans Experts at (800) 251-9080 to begin your mortgage application, or apply online to review your loan options.
Start Your Application
What Millennials Want
As important as being listed in the right place is, there are some basics to help you sell to millennials – or anyone for that matter.
Quality Of Photo
Most importantly, you absolutely need to have pictures in your online listing. This is a must whether you're marketing to millennials or anyone else. The quality of the pictures need to be up to snuff as well. Make sure the house's lights are on – try to rely on natural lighting as much as possible – and check that the camera is steady. It's essential that you use a goodcamera. It may not make sense to take a picture with your phone. If you're trying to gauge this, take a step back and consider if the image would be good enough for HGTV. If not, try again with better equipment.
You can potentially hire a photographer to take a few shots, or you could borrow or rent a camera to take your own photos. If you're going to do it on your own, try to get a camera that has a least 5 megapixels. The point is that your photos need to stand out against other images on home listing sites. Think about it like any other social media posting. You're competing with everyone else who's selling a house. If you wouldn't give it a "like" on Instagram, it's not ready for its big debut.
Staging The House
This shouldn't be your grandma's house. The knickknacks, flowery wallpaper and dust need to go. Staging is a must, specifically when marketing to the millennial home buyer. For many of this generation, this will be their first time buying a home. Staging will give them a visual on how they could live in this space.
While there are a variety of considerations for decorating and updating, there are a few key areas where you should start. Cleaning and decluttering are a must. You'll also want to depersonalize your space. After all, you're not trying to sell the house to you. You're trying to make it appealing to a wide variety of prospective home buyers.
While you shouldn't try to mislead the prospective homeowner about your property, do your due diligence to make your home appear and feel as comfortable as possible. In many cases, it may make sense to stage your place with home decor to give it a more modern aesthetic.
Go Small Or Go Home
Don't live in a 3,000-square-foot house in the 'burbs? There's good news! Bigger isn't always better when it comes to home buying millennials. After all, many were either directly or indirectly affected by the financial crisis of 2008, watching their parents and grandparents lose significant value in their homes. The result has made numerous millennials tentative – and dare I say more strategic – than their previous generation's counterparts.
The trend of the millennial generation is to buy smaller, older homes. The purpose of this is twofold: first, it allows them to buy a home with a smaller down payment or pay a smaller monthly mortgage payment; and more importantly, it gives them a chance to build equity in a house. This means that they'll be able to use this starter home as a steppingstone to buy a larger home down the line.
More Amenities, Please!
While space isn't as big of a concern for most millennials, they want their homes to come with modern, high-functioning amenities. This includes items like dishwashers, washers and dryers, and space to exercise. If you're selling a condo, having access to personal amenities isn't necessarily a must. In a study by the National Association of Home Builders, more than 80% of millennials want things like laundry rooms, hardwood floors, patios and garage storage.
Home automation is another amenity that piques the interest of millennials. Many want the ability to interact with their homes in the same way they do with their smartphones. There are varying levels to the smart house setup, whether that's automated security, heating and cooling, lights – the list goes on. But if you really want to appeal to millennials, start thinking about ways to make your home more tech-savvy.
Selling DIY And Handling Maintenance
If your house has some unfinished projects, millennials might be a good target audience – they've grown up with YouTube and a variety of home renovation shows on HGTV. Calling a home repair specialist doesn't necessarily have to be the go-to for millennials. They're willing to roll up their sleeves and learn about the responsibilities of homeownership, especially if the price is right.
Make sure that you don't confuse "project" with "maintenance," though. Millennials expect all things to be quick, efficient and long-lasting. They're a microwave generation, and convenience is of the utmost importance.
When prepping your home to sell, think about renovations that speak to the utility-focused millennial. Consider switching out carpeting – which stains easily and requires regular vacuuming – with hardwood floors. Similarly, synthetic or composite decking might appeal to them over a traditional wooden deck. Often made of recycled materials, this option will need only a periodic clean with soapy water. And these low-maintenance options can even extend into the yard. Take a look at xeriscaping, which is energy efficient and requires less time mowing during summer.
Showcasing Multifunctional Spaces
While we can't put all millennials in a single category, there appears to be a trend of pursuing interior layouts with more open space that can easily be used for multiple purposes. They do this both for social and practical reasons. Socially speaking, this allows them to interact casually with guests throughout the entire house. They aren't confined to just hosting in the dining room. They have the option to move around the home and entertain casually.
When it comes to smaller homes and condos, having multifunctional spaces is also a necessity. In an interview with REALTOR® Magazine, East Coast-based architect Arthur Lasky explains that "Exercise equipment may share space in a bedroom, and a hammock may get tucked away into a dining corner if there's little outdoor space."
As you're prepping your home for millennial buyers, make sure you show off your home's versatility. You don't necessarily need to knock down a wall to create a more open floor plan. Start by shopping at a store like IKEA or the Container Store, where you can see different ways to use your home's space.
Outdoor Spaces
According to Traditional Home Editor-in-Chief Jill Waage, "Seventy-five percent of millennials want relaxing outdoor spaces," including amenities like vegetable gardens, decks and fences. When it comes to prepping your home for the millennial buyer, spend some time focusing on curb appeal. Is there sufficient space for relaxing or an outdoor gathering? It doesn't have to be the large backyard with a white picket fence, but make sure it's a space that prospective home buyers could feel comfortable in with their friends (or a good book). There are plenty of great landscaping ideas that you can do with a small backyard.
You should also think about outdoor extras that you could throw in with the purchase. Could you include a grill? How about the riding lawn mower? A perk can do wonders when it comes to any potential home buyer.
Green, Value-Driven Millennials
Think about the advertisements you've seen in the last month. As you've probably noticed, millennials are marketed to differently than previous generations. Now, it's not just about the quality of the product or even the celebrity who's enjoying the product. Advertisers are now – more than ever – promoting causes and charities in their commercials and ads. Millennials want to know that their money is going to more than just a product; they want to attach their spending to something that will make the world a better place.
The same is true for buying a home. Millennials are focused on their home's impact on the environment and their overall energy consumption. When marketing your home to the millennial buyer, consider how your house can follow that narrative. There are a wide variety of ways to make your home more energy efficient, many of which can be quickly implemented. Not only will these changes appeal to their values, they'll also help millennials save money.
Infographics
If you want to go the extra mile, there are some other options to market your home. One often underutilized way is the use of infographics. These are illustrated images that take a lot of information and simplify it through easy-to-understand pictures. This allows you to highlight how your home stands out above the rest, including the improvements you recently made. And you don't have to be an artist to have this done. There are websites like Fiverr that will team you up with infographic specialists. For around $25, you can send in some facts about your home, and an artist will generate an easy-to-understand – and aesthetically pleasing – infographic. You can then either upload that infographic with your real estate listing, or you can provide a physical copy at an open house.
When preparing a home to sell – whether you're the homeowner or the real estate agent – it's important to consider the buyer. And millennials are making up more of that prospective home buyer audience. You shouldn't market your home to millennials the same way you would to baby boomers or Gen Xers. Having a listing in the local newspaper probably isn't going to pique their interest (or even be seen).
Instead, play to the millennial aesthetic, their pursuit of philanthropy and their desire to be relationally connected to the thing they're buying.
Using these tips, you'll be better equipped to prep your home to sell. Millennials are the up and coming generation. Make sure your home is ready.
If you're looking for an agent to help you sell your home our friends at Rocket Homes Real Estate LLC ("Rocket HomesSM")1 can help.
And if you're looking for options to purchase a new home, get started online with Rocket Mortgage® by Quicken Loans®or give us a call at (800) 785-4788.
Apply Online with Rocket Mortgage
Get approved with Rocket Mortgage® by Quicken Loans – and do it all online. You can get a real, customizable mortgage solution based on your unique financial situation.
Apply Online
1Quicken Loans® and Rocket Homes Real Estate LLC are separate operating subsidiaries of Rock Holdings Inc. Each company is a separate legal entity operated and managed through its own management and governance structure as required by its state of incorporation, and applicable legal and regulatory requirements.