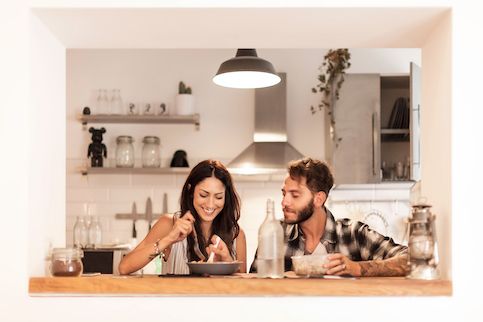 Overcoming The 'Scared To Buy A House' Phenomenon
Published on September 1, 2021
For most people, buying a house is the largest financial investment they will make in their lifetime. This concept is exciting, but it can also be incredibly daunting. How do you know you're ready to take this step? How much money do you really need to save? How can you be certain you'll be able to make your mortgage payments?
If these questions are spinning through your mind, you're not alone. Buying a home is a big responsibility, and especially for first-time home buyers, it can be difficult to know where to start. In this article, we'll explore the most common triggers for home buying anxiety and how you can overcome them to achieve your goal of homeownership.
Getting Over First-Time Home Buyer Anxiety
Buying a house for the first time can be incredibly exhilarating, but that's likely not the only emotion you're feeling. Being a first-time home buyer may cause stress and anxiety for many people.
But if you fall into this group, it's important to remember you're not alone. It's normal to be scared. Buying a house is a big financial commitment, so feelings of apprehension are both valid and understandable.
Top Fears Why Buying A House Is Scary
The first step to overcoming any fear is understanding it. When it comes to homeownership, there are many fears shared by the masses. Let's look at the most common points of anxiety and some potential solutions to work through them.
Too Much Debt
One of the most common reasons someone might be intimidated when it comes to buying a home is having too much debt. According to the U.S. Federal Reserve's 2019 Report on the Economic Well-Being of U.S. Households, the typical monthly payment for student loans is $200 – $299 per month.
It's understandable that those making student loan payments may not be in a rush to add a mortgage payment to their monthly budget. Student loan debt can make you feel like your only option is to rent, but that doesn't always have to be the case. If this fear hits home for you, know that there are steps you can take to tackle debt, such as researching debt management and consolidation or talking to a financial advisor.
Credit Score Or Income Is Too Low
Having a low credit score is another common apprehension to home buying. There's no doubt credit plays a huge role in mortgage loan approval, so we understand why this might give you pause. Most loan types require a credit score of 620 or higher, although certain types like VA loans may be more flexible.
If your credit needs repair, you're not alone. Practicing good credit habits is the quickest and most effective way to boost your score, so make sure you're paying bills on time, keeping credit card balances low and limiting how often you apply for new credit.
If low income is an obstacle, there's options for that to change. Depending on your specific case, there may be actions you can take to improve your situation, such as getting a part-time job, getting more hours at work, asking for a raise or finding a side hustle.
Although this may take time, remember homeownership is a marathon, not a sprint. It's worth it to wait longer to buy if it means more financial stability and peace of mind.
Not Enough Money For Down Payment Or Closing Costs
Many first-time home buyers feel they could get past the fear of the expense of buying a home if it weren't for the other associated costs – from the down payment to closing costs.
Understanding these costs, what you're responsible to pay and when is the key to a smooth home-buying process and will also provide some invaluable peace of mind. It's important to speak with your real estate agent or lender to determine which costs you'll have to pay upfront.
It's often recommended to have 20% of a home's purchase price saved for a down payment – and it's understandable why many home buyers see this number as unattainable – but this hefty down payment isn't always essential.
There are many low down payment options that can allow home buyers to purchase a property with as little as 3% down. Doing research into the different loan options that are available can help you better determine exactly how much you need to save for a house.
Not Sure What You'll Be Able To Afford
Many first-time home buyers aren't sure what they can afford, which makes sense when you consider the various layers to a monthly mortgage payment, from the actual cost of the home, to interest and property taxes. That's why it's key to work with a real estate agent who will guide you through the process and look out for your best interest.
If you're not ready to work with a real estate agent, consider using the home affordability calculator to see what you can realistically fit into your existing budget. Typically, experts recommend spending no more than 30% of your gross monthly income on housing costs.
Feeling Scared After Buying A House
Even after you've purchased a home, the anxiety and fear you felt throughout the home buying process may linger. As a new homeowner, you might feel stressed about the expenses to come and wonder if this was the best choice for you.
If you find yourself feeling overwhelmed, know that this is normal, and you should be proud of yourself for making it through the process. Imposter syndrome is real, and it may take some time to adjust to your new home.
Homeownership Acceptance
Wondering how to find peace in your new role as a homeowner? First and foremost, remember this was a good choice that will set you up for success in your financial future. Buying a home is significantly more beneficial than continuing to rent. A home gives you the flexibility and control to design the space to your needs and style while also building equity in the property.
It may take some time to adjust to this milestone in your life but remember these upsides when you find yourself feeling stressed or overwhelmed.
The Bottom Line: It's Possible To Get Over Buying A House Anxiety
If you're anxious or afraid of buying a house, you're not alone! In fact, you're probably in the majority. A financial commitment of this size is not something to take lightly. Remember that while you may be worried about saving money, poor credit and what to buy, there's solutions in place to help you overcome these trickling thoughts.
If you're ready to begin your home buying journey, check out our First-Time Home Buyer Guide to get started!
Apply Online with Rocket Mortgage
Get approved with Rocket Mortgage® – and do it all online. You can get a real, customizable mortgage solution based on your unique financial situation.
Apply Online