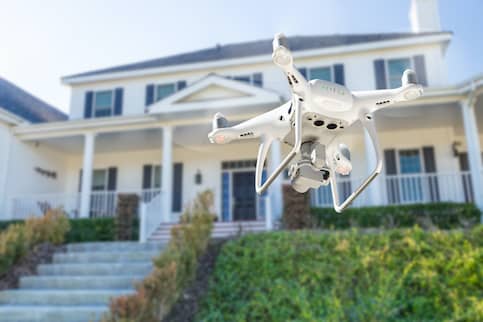 The Bird's-Eye View: How Drone Photography Can Help Sell Real Estate
Published on July 13, 2021
Now more than ever, photography is a key component in how your home is marketed when you're ready to sell. But telling the story of your home may go far beyond the house, its yard and even its acreage, to the neighborhood, vistas or overall livability the property's location offers. Imagine the ability to take prospective buyers on a tour of all that makes your home special.
With drone photography, you can show buyers a bird's-eye view with aerial shots or video shot by drones. Keep reading to learn more about how drone photography can help your property stand out from the pack.
Why Use Drone Photography To Sell Real Estate?
Because your house isn't the only selling point about where you live. Think about what made you fall in love with your house when you bought it. Now think about whether a quick 360° of your home on Google Earth would be enough to showcase your neighborhood.
Your Neighborhood
If you originally bought your home because you loved the neighborhood, you're going to want to show the buyers who are learning about your home online just how special its surroundings are by offering a video tour created with drone photography. Maybe you love walking your children to school every morning on tree-lined streets and greeting your neighbors. Or you live in a suburban community where groups of children routinely play together in front of their houses while the adults chat amiably. Or maybe your community boasts spectacular common facilities, like gardens or pools that are a short walk from your front door.
If so, drone photography can capture the experience of life where you live and convey to house hunters why they should buy your home.
Your Acreage
If you live on an expansive property, you'll want to give house hunters a sense of the breadth your home offers. Show them your barn, or your pool facilities, or the park-like landscaping that you installed to create a private and serene backyard oasis. Pictures are fine, but it can be impossible to convey proximity and layout through still photography.
Your Views
If your home is special because of the views it offers or its proximity to lakes, oceans or other scenic sites, there's nothing like drone photography to make the point. Drones can offer the views a buyer might experience from your porch, or when sailing on the lake that lies just beyond your front door.
Your Location
If your home is located in a particularly convenient location – perhaps just a short drive from downtown in one direction and amazing shopping or recreational opportunities in the other – you'll want to showcase that with drone photography.
Apply Online with Rocket Mortgage
Get approved with Rocket Mortgage® – and do it all online. You can get a real, customizable mortgage solution based on your unique financial situation.
Apply Online
Shouldn't Buyers See The Neighborhood For Themselves?
More and more frequently, and particularly since 2020, real estate sales have been moving online. A small but rapidly growing percentage of home buyers never step foot in the home or the neighborhood until after they've purchased it. In a recent survey conducted by Zillow, 36% of Americans are more likely to try to buy a home entirely online.
But even if your home is sold after an in-home viewing, buyers almost always choose the homes they want to view after seeing it online, through Multiple Listing Service websites or sites maintained by individual real estate agents. Few and far between are the buyers who leave it to their agent to decide what they'll see and where it will be located.
What's The Impact Of Using Drone Photography On Real Estate Sales?
A study performed by the National Association of REALTORS® reveals the importance of technology in real estate sales, particularly younger buyers. Millennials and Gen Z buyers are particularly interested in utilizing technology to learn about properties before setting up opportunities to view them.
The increased use of tech means that how your home is photographed to look on a screen becomes increasingly more important. In a different study to assess the importance of using drone photography, 83% of buyers stated they'd rather work with agents who use drone photography on their websites.
Do I Need To Buy A Drone To Create Aerial Photography?
DIY drone photography isn't as simple as just buying a drone and slapping a camera on it. Unless you want to make this your new side hustle, it's probably going to cost you more than you think it will.
Cost Of Equipment
A high-quality drone suitable for real estate photography can cost between $1,000 and $10,000 or more. And then there's the cost of editing software, if you want anything beyond the most basic presentation. Unless you already own the necessary equipment, you'll save money by hiring a professional.
Federal Aviation Administration (FAA) Regulations
In order to fly a drone, you'll have to register your drone with the FAA and abide by all FAA airspace restrictions. Your drone will have to comply with all commercial drone usage rules because you're using the footage it creates to sell your home. These rules include times of day when drones are allowed to fly, height restrictions and whether the drone can leave your sightlines.
Because it's a commercial use, you'll have to get a license to pilot a commercial drone. You'll need to fill out a form, pass an aeronautical knowledge test (cost: $150) and submit to a background check.
How Do I Find A Drone Photographer That Specializes In Real Estate?
Talk to your real estate agent. Their brokerage may have a drone photographer on staff, if volume warrants, or a short list of the best drone photographers in your area. Check online and see if you can find a local photographer with enthusiastic reviews. Depending on your needs, you might pay anywhere from $100 for a still photo to a few hundred for a short video.
Another plus to hiring a pro? Should the drone cause any property damage, they'll be responsible, and their insurance will be responsible for any claims. Make sure the photographer you hire has up-to-date insurance to cover property and personal injury damages should a drone collision occur.
The Bottom Line: Drone Photography Helps You Tell The Whole Story Of Your Home
If you're just getting started on selling your home, you'll want to ask prospective real estate agents how they use digital marketing to sell the homes they list. Check out their websites, and see whether one stands out for the way they present the homes they're selling online. Look at listings that include virtual tours of the features beyond the walls of the house. You may find that the most attractive listings have utilized drone photography.
Are you already dreaming about what type of house you'll own next? Ready to apply for your next mortgage? We're available to answer any questions you might have.
Apply Online with Rocket Mortgage
Get approved with Rocket Mortgage® – and do it all online. You can get a real, customizable mortgage solution based on your unique financial situation.
Apply Online