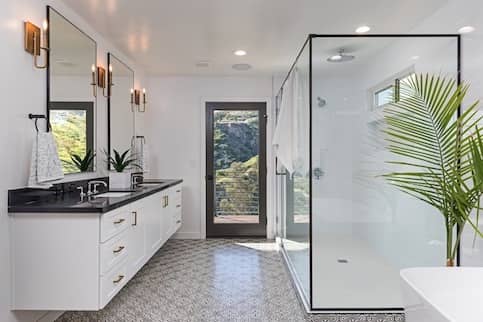 6 Ways You Can Turn Your Bathroom into a Spa
Published on February 14, 2019
Picture this: A soft harp strums in the background accompanied by a wood flute. Candlelight bounces off the mirrors and casts shadows on the walls and ceiling. You sink deeper into a tub of steaming, bubbly water as your mind settles into a peaceful state.
You might have pictured yourself in a high-end, luxurious spa, but what if you could emulate this experience in your very own home? Creating a spa-like atmosphere in your bathroom could do more than just give you an escape after a long day; it could increase your home's value should you decide to sell your home down the road.
The benefits are endless, so if you're looking to turn your bathroom into a relaxing oasis, check out these six tips from home improvement and interior design professionals.
Take your bathroom to the next level.
Compare multiple quotes from local pros with HomeAdvisor.
Find A Pro Today
Create a Calming Color Scheme
What colors come to mind when you think of the word "calm"? Perhaps hues of blues and greens? The experts agree that color has a large impact on our mood, so when you're deciding what color to paint your spa bathroom, choose the colors that are proven to reduce stress and soothe the mind.
"Color is one of the easiest ways to create a feeling in a room," explains Karen Gray-Plaisted, owner of Design Solutions KGP. "Where a bathroom has so many hard surfaces, you will want to use colors that resonate calmness."
Matt Kunz, president of Five Star Painting, concurs with Gray-Plaisted, adding that painting the walls and ceiling of a bathroom can make a huge impact.
Depending on what vibe you're going for, Kunz explains that a lighter tone can make the room feel bigger, while a darker shade can add drama to a room. He also suggests using a flat or matte finish paint color, as it absorbs light and creates a smooth look for a low-light room.
Set the Mood with Lighting
Lighting, like color, can affect the mood of the environment, so choosing the right lighting for your bathroom can make it look and feel like an actual luxury spa. Spas utilize candlelight to create a calming atmosphere, so Caleb Backe, health and wellness expert for Maple Holistics, suggests replicating this technique in your spa bathroom.
"Seeing as candles are pretty much what makes or breaks a relaxing environment, you want the lighting in your spa bathroom to reflect that," says Backe. "Invest in muted lights that can be dimmed down."
Light dimmers can be adjusted to create the perfect environment in your spa bathroom. (You can imitate the look of a candle by bringing the lights down low.) Backe also suggests adding floor spotlights or light around the fixtures of the bathtub and sink.
Add Soothing Scents
If you've ever been inside a spa, you know that scents play a major role in the experience. From lavender to eucalyptus, jasmine to mint, each scent evokes a certain emotional response of peace, restfulness or healing.
"Any essential oil that positively affects your central nervous system is perfect for getting that spa experience," says Backe. "If you're not sure where to start you can purchase a relaxing essential oil blend and a diffuser to get the full-blown spa experience."
Candles are the most obvious choice when it comes to incorporating scents in a space. They also double as an additional light source in the room.
However, if you're nervous about leaving candles burning while you're in the bath or shower, you can use an essential oil diffuser to create the same effect.
Give Your Bathroom Features an Upgrade
The major appeal of a day at the spa is the ability to relax in a hot tub or bath. If your tub isn't up to the task, Gray-Plaisted suggests swapping it for an above-ground soaking tub that will allow you to be fully immersed.
Steam showers are another hot item (no pun intended) for spa bathrooms. The steam emulates the feeling of sitting in a sauna, but from the comfort of your own home. The installation process will be complicated, so here's an idea of what you can expect.
J.B. Sassano, president of Mr. Handyman International, suggests upgrading your bathroom with new tile floors for a modern and relaxed vibe.
"Not only does the installation of these add value and beauty to your bathroom, but they can be a practical solution for areas that receive a lot of high foot traffic and should be easy to clean," he adds.
There are even heated tile floors that you can install to prevent that icy chill you receive after stepping out of the bath or shower. You can buy floor warming mats that you install under tiles to warm them.
Don't forget to give your sink a little love! Try going modern with a sleek vessel sink that sits on top of a vanity. This gives your bathroom a designer look with a luxury spa-like feel, while also providing an area for storage.
For an extra touch of luxury, Backe recommends installing a heated towel handrail, because who doesn't love a warm towel after a hot bath or shower?
Take your bathroom to the next level.
Compare multiple quotes from local pros with HomeAdvisor.
Find A Pro Today
Install Hands-Free Technology
Since your hands will be wet during your shower or bath, purchase hands-free smart technology that can do the work for you.
You can use smart devices like a Google Home or Amazon Echo to sync up with your home's technology and act as a virtual home assistant.
This way, you can create scenes in your home to light or dim at preselected times, which is a great way to cultivate a relaxing atmosphere in your home.
Using pre-determined voice commands, you can dim the lights, turn on a music playlist and even change the temperature of your home without having to dry off your hands every few minutes.
Don't Forget the Details
The details create a true feeling of luxury in a bathroom, so if you're looking to make every bath or shower feel like a trip to a high-end spa, don't skimp on the details.
Gray-Plaisted recommends investing in quality, soft, full-body bath towels to complete your spa-like experience. You can also purchase a cozy bathrobe for the same effect.
You'll notice that spas usually provide endless amenities to make the experience as luxurious as possible. Backe recommends mimicking this experience in your at-home spa by purchasing a bubble bath, bath salts or oils you can enjoy during a soak.
Keep these toiletries prominently displayed with clear glass jars on your shelves or vanity or use a bathtub tray to add a decorative element to your tub.
Even if you invest in heated flooring, don't forget to add a decorative bath mat to your bathroom to tie in the decor. Place one in front of the bath, sink and toilet. Tie in your bath mats with coordinating curtains that can cover your windows and darken your bathroom.
10 Inexpensive Items that Can Turn Your Bathroom into a Spa
If you have the budget to make large-scale renovations to your bathroom, adding upgraded features, like a luxury shower head, a deep soaking tub with jets or a shower with steam can yield a high return on investment (ROI) if you're looking to increase your home's value.
"Everyone looking to purchase a home expects the bathroom(s) to be spa-like," Gray-Plaisted says. "So if a homeowner is considering selling, the more spa-like they make their bathrooms, the more desirable the property will be."
However, if you're working on a tight budget, don't panic: You can still create a quality spa-like experience in your bathroom without breaking your bank. The key is to focus on high-impact, low-cost items that replicate the environment of a spa.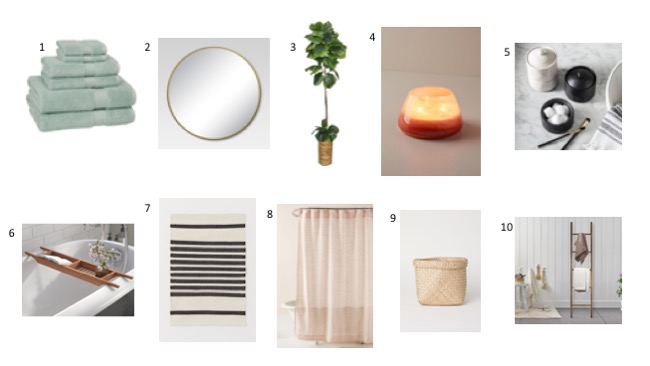 Take your bathroom to the next level.
Compare multiple quotes from local pros with HomeAdvisor.
Find A Pro Today