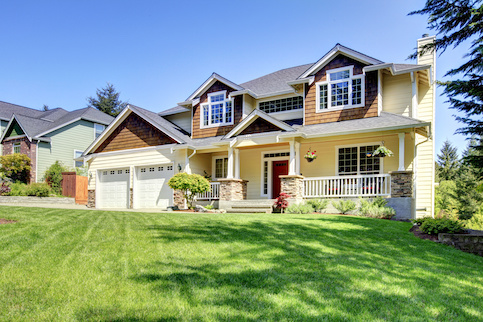 House Foundation Types: A Guide
Published on June 2, 2021
Without a good foundation, your dream of homeownership could come crumbling down, literally. When it comes to building your dream home one of the first, and most important, decisions you'll make will be the type of foundation to build on.
A good foundation will support the weight of your home and keep it from moving and shifting over time. To help you choose the best foundation for your home, we've put together this guide to give you insight into your options and some of the pros and cons of each type of foundation.
Take the first step toward buying a house.
Get approved to see what you qualify for.
Start My Approval
What Is The Foundation Of A House?
A house foundation is a load-bearing structure that supports the weight of the home, provides stability and keeps the home anchored in one place despite shifts in the soil or acts of nature. The foundation holds up your home and keeps it safe to live in. It's also what provides a level base to build on.
Types Of House Foundations
There are four common types of house foundations you can choose from when building a home. The foundation you choose will depend on where you live, the type of home you plan to build, and your budget.
We've done the research and provided some pros and cons of each type.
Concrete Slab Foundation
True to its name, a concrete slab foundation is made with one slab of concrete that is 4 – 6 inches thick. The concrete slab can be reinforced with tension cables and rods to improve stability and reduce cracking and breaking.
This type of foundation is considered the most affordable with Home Advisor estimating the average cost to pour a foundation without reinforcement $5,400 – $13,000. To pour and install a concrete foundation with additional reinforcement expect to pay $7,000 – $21,000.
Pros
Lower utility bills. With no additional space between the home and the ground, the cost to heat and cool the home is less than those homes with a crawl space.

Minimal pest and rodent intrusion.

Decreased exposure to moisture, mildew and mold growth found in basements and crawl spaces.
Cons
Limited access to pipes and buried utility lines.

No additional space for storage in basement or crawl space.
Basement Foundation
A basement foundation is entirely below ground level, and it's the deepest residential foundation. The space spans the length and width of your home, and it's tall enough for most people to stand in. Many homeowners use basements as additional living or hobby space. If done correctly, a watertight basement can add great value to your home.
Most basements are built with poured concrete or cinder blocks. The footers are built first, then steel rods are placed to reinforce the walls, which are constructed next. Once the walls are dry, concrete is poured to create the floor.
Basement foundations are considered the most expensive house foundation types. According to Home Advisor, the average cost to build a basement for a new home is $24,000 – $44,500.
Pros
Potential additional living/hobby space and storage.

Easy access to pipes and utility lines for repair and maintenance.

Tremendous buyer appeal
Cons
More expensive than other foundation alternatives.

Higher likelihood of experiencing water intrusion and mold/mildew growth.
Crawl Space Foundation
A crawl space foundation is built on footings and short walls. The footings elevate the home off the ground 1 – 4 feet, providing enough space for someone to crawl through like the name implies.
Building a home with a crawl space foundation is one of the more affordable building methods. According to Home Advisor, the average cost of a crawl space foundation is $8,000 – $24,000.
Pros
Additional storage space.

Easy access to the home's HVAC system, electrical and plumbing.

More affordable than a concrete slab or basement foundation.
Cons
Animals, pests and insects may want to nest in the crawl space.

Moisture and mold can develop with out proper ventilation.
Pier And Beam Foundation
Pier and beam foundations were popular in homes built prior to the 1960s, and they're still popular in homes in the South and in areas where shifting soil is common. This type of foundation consists of three main components:
Piers:

Concrete columns reinforced with steel poles that anchor deep into the ground.

Grade beams:

A beam, typically made of concrete, that rests on the piers and runs from one pier to another, creating the perimeter of the home.

Joists:

These are connected to the beams and the flooring of your home.
A pier and beam foundation also elevates the home and provides a small space to crawl through and to store and access important home systems. Because of the design, homes with pier and bream foundations may experience sagging and bouncy floors. The average cost of a pier and beam foundation according to Home Advisor is $9,000 – $17,500.
Pros
Better protection from flooding and shifting soil.

Easy access to the home's HVAC, electrical and plumbing systems.

Flexibility when building on uneven land.
Cons
Increased heating and cooling costs due to cold/hot air flowing under the house.

Animals, pests and insects are attracted to the cool dark space under the home.
Home Foundation FAQs
Here are a few additional things that are important to keep in mind when choosing your foundation type or when repairing foundation damage.
What type of foundation is strongest?
The strongest type of foundation for a home will depend on the climate and soil where you are building the home.
For example, if you're building near a marshy area with shifting soil, a pier and beam foundation set deep in the bedrock may be helpful in keeping the home stable and unaffected by shifts in the soil.
How deep should a foundation be for a house?
The depth of a home's foundation will depend on the climate, foundation type and the soil type you're building on. It can range from surface level to dozens of feet deep.
What is the cheapest type of foundation for a house?
Concrete slab foundations are considered the most affordable. With the right climate and crew, they can be completed in just a few days.
The Bottom Line
A home's foundation may seem expensive, but a good one will add to your home's value and lifespan. If you want to avoid future problems with your home's foundation, be sure to do your research and find the solution that is best suited for your location and home design before moving forward with the home building process.
If you're ready to dig in, learn more about the costs of building a house and get started on your home ownership journey.
Take the first step toward buying a house.
Get approved to see what you qualify for.
Start My Approval