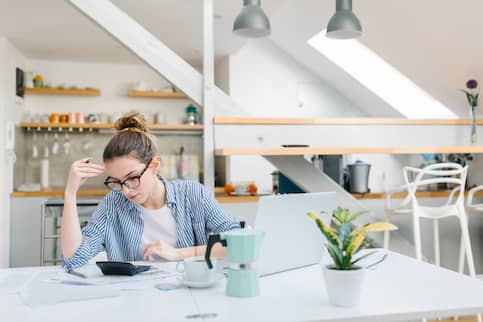 Homestead Exemption: How It Works And If You Can Qualify
Published on January 14, 2021
An exemption helps homeowners pay fewer taxes by decreasing the taxable value of their homes. The homestead exemption can defend a home or homeowners from declaring bankruptcy or provide a surviving spouse with ongoing property tax relief. Ultimately, the homestead exemption is designed to provide physical shelter as well as financial protection.
What Is The Homestead Exemption?
The homestead exemption protects a certain amount of a home's assessed value from property taxes. There are several scenarios in which a homestead exemption would be helpful for a homeowner, including when one spouse in a two-income household dies.
Depending on what state you live in, you can either exempt a percentage from your home's value from property taxes or a set dollar amount. If your state bases the exemption on a percentage method, the exemption is increasingly valuable to people with more valuable homes.
Most states have a homestead exemption. Forty-six states have homestead exemptions that include general homestead laws, homestead tax exemptions, and more. Additionally, every state but Delaware offers a version of property tax relief for veterans or disabled veterans.
How Does The Homestead Tax Exemption Work?
A homestead exemption can protect a home's equity from property taxes. By decreasing the taxable value of a home, it can help individuals facing bankruptcy or foreclosure by decreasing their tax burden. Therefore, a homestead exemption can stop or pause the forced sale of a property. The exemption can give a surviving spouse ongoing property-tax relief or shelter if they are struggling to make house or tax payments by decreasing their monthly tax burden.
For example, let's say there is a home with an assessed value of $200,000 and a 1% property tax rate. The annual tax bill would be $2,000. If you are eligible for a $50,000 homestead exemption, your home's taxable value will decrease to $150,000, and therefore your tax bill would be $1,500.
In the same example, if you live in a state where 25% of your property's value can be exempted, your taxable value would be $150,000. Your tax bill would also decrease to $1,500. However, homes with higher values will see more tax relief, and homes with lower values will see less tax relief in states that use a percentage system.
Apply for a mortgage today!
Apply online for expert recommendations with real interest rates and payments.
Start Your Application
What Can't A Homestead Exemption Do?
The homestead exemption has several restrictions. These restrictions may vary from state to state depending on the homestead exemption laws. For example, a homestead exemption cannot stop a foreclosure on a property once the primary owner has defaulted on the mortgage. Additionally, mortgage or mechanics' liens cannot be prevented. If you have questions about your state or county's homestead exemption laws, be sure to contact your county tax assessor's office.
Do You Qualify For The Homestead Exemption?
There are several qualifications for a homestead exemption. They include:
The property in question must be the owner's primary residence, hence the "homestead" in the title. Rental or investment properties will not be accepted.
Only the primary owner of the property or the surviving spouse can apply.
Eligible taxpayers include low-income homeowners, senior citizens, and veterans.
How To File For A Homestead Exemption
Eligible homeowners can apply for a homestead exemption. The exemption is automatically included in most states, while others require an application. If you do need to apply for the homestead exemption, you will likely need the following to apply:
Driver's license or personal ID
Social security number
Property deed
Tax returns
Vehicle registration
Mortgage documents
If you are unsure about what documents you need, be sure to contact your county tax commissioner. They will answer your questions and direct you to appropriate online resources regarding homestead exemption regulations in your area.
The Bottom Line
The homestead exemption is available in most states and is designed to prevent homelessness or poverty due to property taxes. Some states or areas will automatically enroll people into a homestead exemption, and people in other areas will have to apply. Ultimately, your county's tax commissioner will be able to give you the most up-to-date and accurate information for your unique situation.
If you are in the position to apply for a mortgage, be sure to check out our Learning Center. There, you will find more information on tax exemptions, lenders, and more.
Apply for a mortgage today!
Apply online for expert recommendations with real interest rates and payments.
Start Your Application