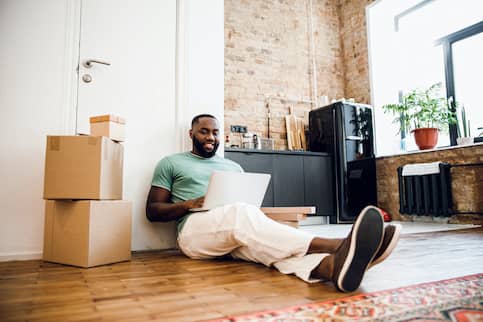 Single And Interested In Purchasing A Home? This Guide Is For You
Published on January 12, 2021
Homeownership isn't just for married folks. Though going it alone can sometimes be a little more challenging than purchasing with a partner, single people can benefit from owning their own home just as much as anyone else.
Married couples make up the majority of home buyers (61%, according to the National Association of REALTORS®), but singles collectively make up the second-largest share, with female buyers making up 17% of recent home buyers and male buyers making up 9%.
Wondering about the process of buying a home as a single person and what hurdles you should look out for? Here's our guide for anyone looking to pursue the path to solo homeownership.
Be Aware of Challenges For Single Home Buyers
Often, the main challenge that single home buyers have to overcome has to do with income and buying power.
When a couple buys a home together, mortgage lenders will typically include both of their incomes when calculating how much they can afford to borrow. So, if one spouse makes $40,000 a year and the other spouse makes $60,000, they have a combined household income of $100,00, giving them a lot more buying power together than what either of them would have as an individual.
If you're using a mortgage loan to purchase a home, the lender will approve you for an amount they believe you can reasonably afford to pay back. For single middle- to low-earners, this can make mortgage approval more challenging.
Having a significant amount of debt can add to your difficulties, as having a high debt-to-income ratio (DTI) limits the amount you'll be able to borrow. If your DTI is very high, you might not be able to get approved for a mortgage at all.
It can also be harder to find houses within your price range when you buy a house on a single income. If you're only approved for a loan for $100,000, for example, that can seriously limit your home search, depending on average prices in your area.
Your down payment is another important factor in the mortgage approval process, and can also prove to be a hurdle for single buyers. After all, it's generally easier to reach a savings goal when you have two people working toward it rather than just one person.
While many of the challenges single buyers often face have to do with finances, there are additional factors that should be taken into consideration, even if you're able to comfortably afford to buy a home on your own.
The mental and emotional impact of buying and owning a home, for example, is something that can hit harder for those who are handling every aspect of the process themselves. The home buying process can be stressful, and being a homeowner comes with a lot of responsibilities. Not having someone to share those responsibilities with can make homeownership more challenging.
Additionally, something that every potential home buyer should think about is whether it makes sense for their lifestyle to own their home. If you prefer to have the freedom to move around more frequently, or if you just aren't sure if it makes sense for you to settle down in one place at the moment, renting may be a better option for you.
Tips For Overcoming Challenges
Let's go over some strategies you can use to help overcome these challenges and become a homeowner.
While these tips are aimed at single home buyers, they're useful for anyone who's considering purchasing a home.
Create A Savings Plan
To create a savings plan for your homeownership goals, you first need to figure out how much money you'll need to purchase a home.
If you're using a mortgage to purchase a home, you'll need to save for a down payment and closing costs. It's also generally a good idea to have some additional money tucked away in the bank for emergencies, so that you'll be able to afford unexpected repairs to your home or keep up with your mortgage payments if you lose your job, for example.
In fact, many lenders require that borrowers have at least a couple months' worth of mortgage payments saved up in case you have an interruption in your earnings.
This can add up to a lot of cash.
Say you want to buy a $200,000 home. You plan to put down 10%, or $20,000. You also need money for closing costs, which, in this scenario, end up costing around $6,000. Then, your mortgage lender asks that you have 3 months of reserves saved up. If your monthly payment is $750, that means you'll need an additional $2,250 leftover in the bank when all is said and done.
At the bare minimum, you'll need to save a little over $28,000 to make it happen. If that sounds like a lot, you can also look into loan options that allow you to go lower on your down payment (more on that in a minute).
To start saving, it can be helpful to create a plan that details exactly how much you'll put aside each month and how long it will take you to reach your goal.
Not sure how much you should be planning to save? Using a home affordability calculator will help you figure out your price range, which can give you an idea of how much cash you'll need.
Explore Your Loan Options
The down payment can be the biggest hurdle for cash-strapped home buyers, but fortunately there are programs that make saving for a down payment a little more realistic.
FHA loans, for example, are popular among many first-time, low-income and single home buyers thanks to their more lenient credit requirements and low down payment options. When you get an FHA loan, the minimum down payment is just 3.5%. On that $200,000 home, that's $7,000.
It's also possible to get a conventional loan with a down payment as little as 3%, if you're able to qualify for this option. A 3% down payment on a $200,000 home is just $6,000. Still a considerable amount of money, but a bit easier to save for than a 10% or 20% down payment.
If you're eligible for a USDA loan, you won't have to make a down payment at all. The same is true if you qualify for a VA loan, which are available to U.S. military servicemembers, veterans and some surviving spouses.
Find A Mortgage Today and Lock In Your Rate!
Get matched with a lender that will work for your financial situation.
Get Started
Find A Co-Signer For Your Mortgage
If you're having trouble getting approved for a loan on your own, it may be possible to have someone co-sign the mortgage with you. This means that they'll also be legally responsible for the loan, and that their financial and credit information will be used in helping determine your eligibility for a loan.
This can be helpful if you have poor credit or insufficient income to qualify on your own. However, it comes at a big risk for your co-signer. When someone co-signs a mortgage, they're just as responsible for paying it back as the primary borrower, even if they don't live in or own the home. If you miss a payment, that can affect their credit just as much as yours. If you stop paying the mortgage altogether, they're on the hook for the entire thing.
Depending on your loan, your co-signer may need to be someone you have a familial relationship with.
Pay Down Debt
If you have a significant amount of debt, you might have a hard time getting a mortgage or saving for a down payment, especially if you're applying on a single income.
Instead of trying to jump into homeownership right away, you might want to consider focusing all your efforts on paying off any debt you owe, including student loans, auto loans or credit card debt.
Paying off debt lowers your debt-to-income ratio, which typically increases the amount of money you'll be able to borrow and makes you more attractive to lenders, which can translate to a more affordable interest rate.
Plus, when you have smaller debt payments each month, you'll have more money to save for your down payment.
Reflect Thoughtfully On Your Life Goals
Buying a home isn't something that should be rushed into; it's something you need to be fully prepared for.
If you're unsure of whether homeownership or renting makes more sense for you and where you're currently at in life, take some time to think about why you're considering purchasing a home and reflect on whether you're ready to take on the responsibility of being a homeowner.
For example, are you willing to take on the additional housework (such as shoveling snow, mowing the lawn or making repairs) that comes with owning your own home? Do you plan to stay in the home for at least several years? What will you do if you want to leave but are unable to sell your home?
Think about how a home fits into your future goals. Do you need extra bedrooms in case you plan on expanding your family in the coming years? If you have kids or plan on having them, do you want to only search for homes in highly rated school districts?
Owning your own home provides a lot of freedom and stability, but it also comes with a lot of work, especially if you're the sole owner. Be sure you're ready before taking this big step.
Lean On Others For Inspiration And Guidance
When it's just you, having a community to rely on can make the world of difference in ensuring that your home buying process goes smoothly.
Do some research and read stories from those who have already purchased a home while single and see what worked for them. Reach out to acquaintances who are also going through the process as a single person. Ask home-owning family members for their advice, or invite a knowledgeable friend to come along with you on house showings to provide their input.
Just because you're going it alone doesn't mean you have to, well, go it alone.
What Kind Of Home Is Best For A Single Person?
When you buy a house by yourself, you don't have to make any compromises – you get to pick exactly the house that you want.
What should that house look like, exactly? Everyone is different, so it really depends. Think about your lifestyle, what you want out of your home and your needs.
Is being close to work important? Do you need a lot of yard space? Do you want an extra bedroom that you can transform into a home office? Condo or detached home? Lots of space for entertaining? It's all up to you (and your budget).
Key Takeaways
Buying a home as a single person can be challenging in a lot of ways, but it can also be incredibly rewarding.
Our best advice: save as much as you can, know what you want and don't be afraid to lean on your support system.
Oh, and be sure to check out our Learning Center and read up on all the stuff every future homeowner needs to know. When you're ready, you can get started online with Rocket Mortgage®.
Find A Mortgage Today and Lock In Your Rate!
Get matched with a lender that will work for your financial situation.
Get Started