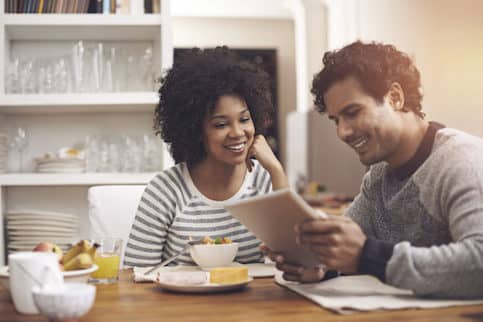 6 Questions to Ask When Considering Home Automation: A Beginner's Guide
Home automation is not a Jetsons-era future. It's here now, and the possibilities are endless. From an ever-expanding list of compatible home tech products to DIY hacks, the industry is growing by leaps and bounds.
Here's home automation 101 to cover your biggest questions and the must-have devices for smart home beginners.
What Is Home Automation?
Also called smart home technology, home automation is the electronic control of household activities. More advanced automation connects home features to a network in order to control, program and monitor their use. This device network is referred to as the Internet of Things.
Automated homes utilize a centralized system for simple and more complex home features and appliances, like controlling lights, locks, heating and cooling systems, indoor and outdoor cameras, security systems, blinds, sound systems and even coffee pots.
Most products use software that remotely controls home features through a device connected to the internet; for example, a homeowner can lock their front door from the office using their smartphone. Home automation also refers to the use of sensors, like an HVAC system automatically turning on and off based on home occupancy.
What Is Home Automation Good For?
It's not an expensive luxury reserved for the wealthy or even a home feature only accessible to techies. Technology today is almost limitless, featuring devices for every room of your house. Plus, homeowners aren't just buying these devices for the tech aspects; smart technology has some obvious benefits.
Energy Efficiency– Home automation allows energy-consuming tech to run at your usage level, so the lights aren't left on all day when no one's home, and the sprinkler system won't turn on during rain. Features like lights and thermostats use sensors to make sure they don't turn on when they aren't needed.
Money Savings– A smart home's cost savings go hand-in-hand with its energy efficiency. By automating some of the biggest energy-drainers in your home, you can save hundreds of dollars a year. According to the U.S. Department of Energy, heating and cooling accounts for almost half of your home's energy use. The Nest Thermostat c the first smart thermostat of its kind and the most popular – found customers save 10% – 12% on heating and 15% on cooling, averaging $131 to $145 a year.
Home Safety– From a home safety point of view, it provides some major security advantages, like activating security systems remotely, viewing security camera footage through your device and receiving text alerts any time the system is tripped.
What Features Do I Need?
Start by analyzing your needs. What's your end goal? Maybe you crave more personalization or convenience or security. Home features that have the power to be automated today are fairly endless, so homeowners have lots of options.
Don't forget to also determine your budget going forward, the method that works for you to incorporate smart technology into your home and the time you want to invest. You don't want to get the wrong technology for your home – or your bank account.
What Devices Should I Start With?
One of the easiest ways to begin automating your home is to buy a smart plug. These plugs allow you to control any electrical home device, from a lamp to an electronic pet feeder. From there, you can continue adding products based on what you need and want.
Though transforming an entire home into a smart home can feel daunting, one solution is beginning with a single room. If you spend the most time in your kitchen, automate kitchen appliances first with a smart crock pot or smart toaster oven. If the living room is your favorite place to relax, you can use a Roku device to control your TV with your phone and Philips Hue lights to adjust the mood lighting depending on the program you're watching.
What Are the Must-Have Home Automation Products?
Top sellers on Amazon include smart light switches, smart LED lightbulbs and the Amazon Echo speaker (a voice-activated smart hub). Based on versatility and ease of use, The Wirecutter ranks voice-controlled speaker Google Home, Chamberlain MyQ Garage door controller, SkyBell doorbell camera and the NETGEAR Arlo Pro security camera as a few of their must-have products.
Can a Renter Automate Their Home?
Even if you're temporarily leasing an apartment or home, you can still automate your rental unit and take the automated devices with you to your next living space. Many smart devices don't need full installation into a home's electrical wiring, and most features that need to be hardwired, like light switches, can still be uninstalled.
Home automation is so simple and accessible that it's easy to turn a traditional home into a home tech wonder. We're at the cusp of a growing and increasingly more affordable field of automated products. To start from square one, begin small with a capability or two, and then build in more to grow your automation network.
Have you considered implementing home automation products? What do you look forward to enjoying most about the technology? Let us know in the comments below!