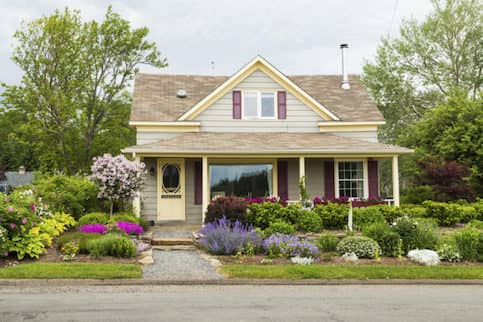 How to Turn Your Front Yard into a Garden
Published on May 10, 2017
Ah, gardening. Some say it's not for everyone, but with gardening, you can do a lot with a little. Whether or not you happen to have a green thumb, you can easily turn your front yard into a beautiful piece of horticultural art.
Why Garden in the First Place?
Gardening can be a relaxing activity. It gets you outdoors and can boost your mood, and the results can be very satisfying. But according to Realty Today, a well-thought-out and well-executed garden can also increase your property's value. Appraisal Institute President Richard L. Borges II says, "If a landscaping change is positive, it can often enhance price and reduce a home's time on the market." It does this by:
Increasing curb appeal
Creating energy efficiency
Saving on utility costs
Even if you're not planning on selling anytime soon, increasing your property's value is always a great idea.
What Kind of Garden Can You Grow?
When someone says "garden," what's the first thing that comes to mind? Rows of cornstalks or tomato plants? Vegetable gardens are one option, but many other types of gardens exist that can beautify residential landscapes. Some types of gardens to consider include:
Flower:combinations of flower beds and bushes chosen for aesthetics and aroma
Container:using planters and ornamental containers to separate and organize plants
Rain:beautiful landscapes that allow rainwater runoff to be better absorbed by the soil to prevent erosion
Sculpture:landscaping with shrubbery clipped into shapes and figures
Shade:an ornamental garden taking advantage of tree cover by using plants that grow well in less sunlight
Rock:easy-to-maintain gardens using rocks, stones and ornamental plants arranged in outcrops that don't require much water
Water:gardens featuring fountains, ponds or small streams with aquatic plants, rocks and fish
How to Choose a Garden and Get Started
You might not have realized there were so many types of gardens, but choosing one doesn't have to be difficult. If one of those listed doesn't pop out as a favorite, research types and styles with a Web search. Garden Design Magazine offers a library of garden styles to help you choose one that will complement your home.
After settling on a style, get to know your land by taking a soil sample. Most states have an agriculture department that will test your soil sample and give you advice on what will grow well or how to supplement the soil if you've already selected plants.
Next, map out your space with a potential plan. Before you start any digging, call 811 to identify and avoid utility lines and plumbing under the surface. After making any necessary adjustments, prepare the soil by removing sod and arranging landscaping details, like rocks, dividers and containers.
Finally, select plants or seeds and plant them as directed. Make sure to fertilize, feed and water plants according to their individual needs. With a little time and patience, your garden will grow into a beautiful space.
Can You Grow Food in the Front Yard?
The short answer is yes. There's even an international organization called Food Not Lawns that advocates it. But there's a longer answer to consider before plowing up your yard and planting a full-blown vegetable crop.
Start by researching the local laws. Townships, counties and cities each may have rules about municipal gardening. These can include limits on:
Types of farming activities
Percentages of land that can be used for farming
Types of crops that can be grown
If you belong to a homeowners association (HOA), check the rules to see if front-yard vegetable gardens are allowed. Many HOAs enact rules that prohibit vegetable gardens in the front yard because they want to set a standard for beautiful landscaping that keeps property values up. Other HOAs may have restrictions on the types of plants you can grow.
Regardless of what the rules are, you should abide by them to prevent decreasing the value of your home. If you just can't resist the rebel call and want to give front-yard veggie gardening a try anyway, you can use a little creativity and probably get away with it without devaluing your home.
Cristina Santiestevan, aka "The Outlaw Gardener," reminds us that when you garden in the front yard, "you aren't the only one who will be seeing your tomatoes and peppers." Cristina gives these tips for dealing with HOAs if you want to pursue a front-yard vegetable garden, even when it breaks Santiestevan the rules:
Aesthetics Count: Make your garden space as beautiful as possible so neighbors will be less likely to complain.
Share Your Bounty: When neighbors taste how good your veggies are, they'll probably want you to keep growing them.
Keep Plants Healthy: When a plant goes south, get rid of it. It will keep your garden healthy and beautiful.
Use Containers: If the HOA says you can't remove grass, try growing your vegetables in pretty containers.
Consider Every Growing Season: When a plant's growing seasonis over, replace it with something else instead of leaving an ugly dead space.
Just Add Flowers:If all else fails and the HOA won't allow vegetables in the front yard, try a few flower beds. There's a variety of edible flowers that will give you the satisfaction of growing food while still abiding by the HOA rules.
Whether you choose to grow ornamental plants or food, a beautifully landscaped garden can bring you lots of pleasure. If you want to learn more about gardening, check out this Zing interview with master gardener Carl Redmon.
Apply for a Mortgage with Quicken Loans®
Apply online for expert recommendations with real interest rates and payments.
Start Your Application