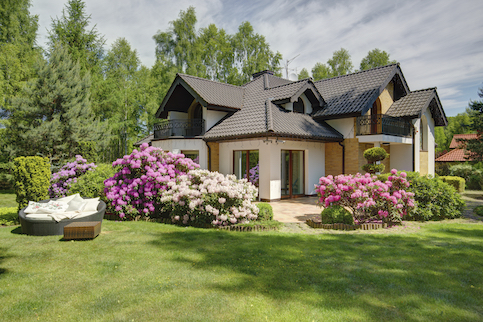 Evaluating Rental Returns On Investment Properties
Published on November 26, 2019
Maybe you're looking at the first building block of your real estate empire. Or perhaps you're in good financial shape and just want to purchase a home that can earn you a little passive income. Whatever the case, you've found yourself in the market for your first investment property.
When you buy an investment property, you may want to use the rental income to help you qualify for the monthly mortgage. If that's the case, in addition to regular forms that evaluate the fair market value of the property itself, an appraiser will also help determine how much a property could be rented for on the open market.
To understand this requirement better, we'll go over some basic factors affecting a regular appraisal. Once you have this foundation, we'll get into how fair market rental is calculated, along with how to judge your potential return on investment.
Appraisal Basics
The first part of an appraisal on a rental property covers the same territory as any other appraisal: putting a value on the house. The specific guidelines the appraiser must follow depend on the type of home you're getting. But that said, the framework remains pretty much the same, so let's cover the major property value guidelines.
Let's say you're looking at a property that has three two-bedroom units. Your appraiser will look for sales of similar three-unit properties in your area to help determine the fair market value of the home you're considering. These are called comparables. They help the appraiser determine a reasonable sales price in the current market conditions.
Once this basic appraisal is in place, the appraiser can turn their attention to what a fair monthly rental payment would look like based on the market. Let's take a look at how that process works.
Determining Rental Value
Determining rental value starts much the same way as the traditional appraisal. The forms that the appraiser fills out for single-family and multifamily properties are different, but as with a regular appraisal, the building blocks are the same. The appraiser has to find comparable properties in your area and include information about the lease as well as the monthly rental price of each comparable property, minus the cost of any utilities and furniture. This gives the appraiser an adjusted monthly rent. Once this baseline is established, it's adjusted up or down to account for factors that make your property different, such as:
Location/view considerations
Design and appeal of the property
Age and condition
Room count and square footage
Special features, like a basement
For multiunit properties, there's a form that, although not identical, takes into account many of the same factors.
If you happen to be buying your investment property through a conventional mortgage from Freddie Mac, the appraiser will fill out an operating income statement with you. In addition to discussing the rental income you'll make every month, this includes a projection of your annual expenses for things like utilities and upkeep. Upkeep includes the cost for repairs, replacing any appliances, etc.
Jessica Romero is an Associate Vice President of Appraisal Operations at Amrock. She says appraisers are mainly concerned with how much money you'll see coming in.
"The most important factor on multifamily investment properties is cash flow," Romero says. "Any investor is interested in what the cash flow looks like on a potential investment property. The appraiser is often charged with performing a cash flow analysis which breaks down how strong of an investment that property would be for the investor."
Apply for a Mortgage with Quicken Loans®
Call our Home Loans Experts at (800) 251-9080 to begin your mortgage application, or apply online to review your loan options.
Start Your Application
Calculating Investment Returns On A Rental Property
Although we've looked at how mortgage companies evaluate potential returns for the purposes of an appraisal, how can you as an investor do some quick math to judge the value of a potential real estate investment? This is where something like cap rate comes in.
Cap rate (or capitalization rate) is a formula you can use to help calculate how much of a property's value will be recouped each year you rent it out. Once the property is paid off, the result shows you your profit percentage for the year.
In order to calculate capitalization rate, you need to know two things. The first thing to pay attention to is the theoretical purchase price. If you're converting a property you already own into a rental, substitute this for a reasonable estimate of current market value. If you're exploring this, it may even be worth paying to have an appraisal done.
The second piece of this is net operating income. You take the amount you can get for rent on a yearly basis and subtract your expenses. At the very least, you'll have maintenance to pay for, along with property taxes. You'll likely also have a mortgage payment. If you buy the property with a mortgage, you'll also be required to have homeowners insurance. Even if you don't have one, having a homeowners policy is a good idea to protect your investment.
The exact amount to subtract will never be constant due to changes in property taxes and homeowners insurance, along with the fact that maintenance costs tend to fluctuate from year to year. However, property owners can anticipate losing around 5% – 10% of their net operating income every year to expenses. You may be able to judge whether you're likely to be on the low or high side of that range based on the area in which you live and the age of your home.
Once you have your inputs, cap rate is calculated using the following formula:
(Net operating income/Purchase price or current home value)x100
The result gets you your return percentage that you can expect every year for the property. The higher the cap rate the better.
Using Rent For Your Mortgage Payment
In addition to the rental appraisal, there are a couple more documents you need to have ready for your lender:
Two years of tax returns including Schedule E, if applicable
The 12-month lease agreement
Whatever you charge for rent, you can only use 75% of that money to qualify for your new mortgage payment. The rest is a vacancy factor, which accounts for the time it takes to find new renters if your current renters move.
If you think you're ready to go ahead and make a move on your investment property, you can get started today with Rocket Mortgage®by Quicken Loans® or calling (800) 785-4788.
Apply for a Mortgage with Quicken Loans®
Call our Home Loans Experts at (800) 251-9080 to begin your mortgage application, or apply online to review your loan options.
Start Your Application