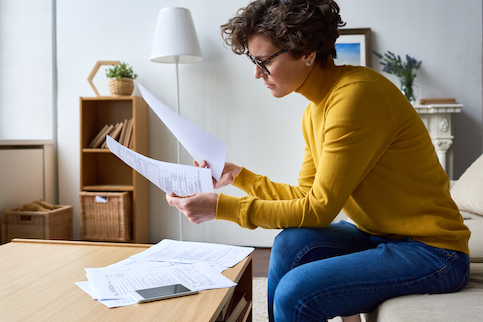 Paying Your Taxes And Insurance Through Escrow
Published on March 1, 2021
When you pay your mortgage, do you know everything that's included in your payment? Often, it can be more than just the standard monthly principal and interest. When you own a home, you're also required to pay for your annual property taxes and home insurance. Lenders often require you to deposit money into an escrow account to make sure your taxes and insurance will be paid.
We'll go over what an escrow account is and when you need one. Then, we'll touch on the implications for your property taxes and homeowners insurance.
What's An Escrow Account?
An escrow account is a sort of savings account set up to protect the lender from borrowers who miss payments toward their real estate taxes and insurance premiums. If these are not paid, local tax authorities may place a lien on the property. So, if the property is being sold and taxes are owed, it may cause problems until the party who is owed is paid.
Escrow Waiver Requirements
It's possible to avoid escrow and pay your own taxes and insurance under certain circumstances. This will make your monthly mortgage payment lower, but you'll have to make separate payments for property taxes and homeowners insurance.
If you're buying or refinancing a home, you may be able to opt out of having an escrow account, but in certain instances, your mortgage lender or the rules of the state you're in may require you to have a certain amount of equity or a minimum down payment. In some cases, how you occupy the property may matter as well. One of our can walk you through the requirements in your area.
If you're looking to have your escrow account removed after you've been making payments for a while, Rocket Mortgage® has a few requirements:
You need a minimum equity amount of 10% for removal from a VA loan.

Conventional loan escrow removal requires 20% equity.

If your mortgage is backed by Fannie Mae, Freddie Mac or the VA, the loan must be at least a year old.

You must be current on your mortgage. This means you must have no 30-day late payments in the last year. Fannie Mae requires no 60-day late payments in the last 2 years.

You have to have a positive escrow balance.

You can't have any payments scheduled to come out of your escrow within the next 45 days

.

You'll be required to let Rocket Mortgage® reserve escrow collection if you don't pay any items that were previously in an escrow account.
FHA and USDA loans always require an escrow account.
You don't always have to have one, but there are certain advantages to having an escrow account.
Apply for a Mortgage with Quicken Loans®
Call our Home Loans Experts at (800) 251-9080 to begin your mortgage application, or apply online to review your loan options.
Start Your Application
What Is An Escrow Waiver?
If you are working with Rocket Mortgage® and you meet the requirements listed above, or if you meet another lender's requirements, you'll be issued what is called an escrow waiver. This will allow you to take care of your own property taxes and insurance payments.
How Do I Remove Escrow From My Mortgage?
A refinance will provide the opportunity to revise your mortgage terms, including whether you retain an escrow account. However, without a refinance, the process is less straightforward. In some cases, maintaining your account will actually be a requirement, and you will not be able to do this once you have agreed to paying through escrow. In cases where it is possible, you will need to write a formal letter to your lender requesting that they remove escrow from your mortgage. Your Home Loan Expert can also walk you through the process.
Why Should I Have An Escrow Account?
Paying taxes and insurance through escrow can be a great convenience. Mortgages can be complicated enough, and this is one less thing homeowners have to worry about. With an escrow account, your property tax and homeowners insurance payments are split into more manageable monthly chunks paid throughout the year. Some people find this easier than having to write a large check in the summer and a larger check in the winter for their property taxes, as well as other checks to cover insurance premiums.
Are Escrow Payments Tax-Deductible?
Your property taxes are generally tax-deductible on your state and federal taxes. If you have any doubts regarding deductibility, please consult a tax professional.
Assuming your property taxes are deductible, they're still deductible if you're paying them into an escrow account. You'll get a 1098 from your lender or servicer at the beginning of each new year, which will help you report the previous year's deductible tax payments to the IRS as well as state authorities.
Switching Homeowners Insurance Policies On Escrow
If you switch homeowners insurance policies before your policy expires, you may receive a refund from your former carrier that's prorated for the portion of the insurance that went unused for the year. While it may be tempting to spend this refund check, don't do it if your policy is paid through escrow.
Rocket Mortgage® pays for your homeowners insurance policy upfront and spreads the payments out for you over the course of the year. If you switch insurance providers and don't send the refund check to us, we'll end up paying both policies, which will result in a shortage in your escrow account. When that happens, you'll have to make up the difference the next year. You can avoid this by sending us the fully endorsed refund check. We have a previous blog post on switching homeowners policies if you're interested in learning more.
Be Prepared For Escrow Payment Variations
Be aware that even if you have a long-term fixed-rate loan, your mortgage payment can vary. The principal and interest portion of your payment is fixed, but tax assessments may change and insurance premiums may fluctuate. This makes your entire payment vary.
To be able to cover possible shortages in payments, lenders require an extra 2 months' worth of payments be kept in the account as a reserve cushion. Tax assessments and premium adjustments can happen any time during a 12-month period, and lenders will have to cover those shortages either using your escrow account or their own money. If they use their own money, they will recover the shortage by requiring an increase in the amount you deposit monthly into escrow.
Also, when building a new home, understand that your escrow payments may spike once construction has been completed because when lenders calculate escrow, the amount is based on the last disbursement. The last disbursement may only reflect the taxes on the land (if there was no previous house on that land). When construction is complete, the land is now worth more because of the existence of the home; therefore, escrow will be higher.
Keep An Eye Out For Mistakes
Lastly, keep an eye on your escrow account since it's always possible for mistakes to occur. It may be a case where the loan is transferring possession from one lender to another and, in the interim, wires are crossed and the tax bill gets paid by both lenders or by neither. As long as you have made your payments, the onus is on the lender to straighten things out. The best way to tackle this is to keep a close eye on how your money is being managed.
The Bottom Line
An escrow account can be a convenient way to handle payment of your property taxes and insurance. You will still be eligible for any tax deductions that would otherwise apply, and you can save yourself the hassle of writing your own checks and avoid having to make a large payment. If you're unsure whether you should get an escrow account, talk to an experienced Home Loan Expert who can answer all your questions. You can also give us a call at (833) 230-4553.
Apply for a Mortgage with Quicken Loans®
Call our Home Loans Experts at (800) 251-9080 to begin your mortgage application, or apply online to review your loan options.
Start Your Application