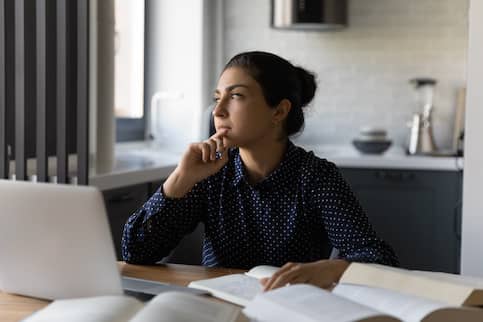 Should I Buy A House When Inflation Is Rising?
Published on September 14, 2022
As long as inflation continues to rise, your savings will afford you more purchasing power now than they will in the future. Even if inflation and home prices seem high now, as long as inflation continues to increase house prices, you will be better off buying a house today than you will be tomorrow.
But does that mean a period of rising inflation is always a bad time to buy a home and take on a monthly mortgage payment?
Not necessarily.
No one knows when inflation will start to ease. If you wait to buy, inflation might continue to rise even higher, dragging home prices and mortgage interest rates with it. You might find that your hesitancy to enter the housing market only means that your dream home is now even more expensive.
At the same time, your decision to buy a home shouldn't rely solely on economic conditions such as inflation. You want to buy when the time is right for you, no matter what is happening with the economy.
Maybe your family is growing and you need a bigger home. You might have landed a job in a new city. Or maybe your older children have moved out, leaving you with a home that's too big. These life changes are more important factors when determining the right time to buy a home.
Apply for a mortgage today!
Apply online for expert recommendations with real interest rates and payments.
Start Your Application
What Happens To The Housing Market During Inflation?
Rising inflation doesn't have to cause housing prices to rise. But it often does. And the steps that the Federal Reserve Board often takes to fight inflation typically make borrowing mortgage dollars more expensive.
When inflation gets too high, the Federal Reserve Board often raises its benchmark interest rate to slow it. Mortgage interest rates aren't tied directly to the Fed's rate. But when the Fed raises its rate, mortgage interest rates tend to follow.
When mortgage rates rise, it makes mortgages more expensive. Say you are taking out a 30-year, fixed-rate loan for $325,000. If your interest rate is 4.5%, your monthly mortgage payment, not counting taxes or insurance, would come in at $1,646.73. But if you took out that same loan at an interest rate of 5.5%, your monthly payment, again without insurance or taxes, would come out to $1,845.31.
At the same time, housing prices tend to rise as inflation rises. The National Association of REALTORS® reported that in July of 2022, the median price for existing homes was $403,800, up 10.8% when compared to July of 2021.
Home buyers, then, face a two-pronged challenge when inflation rises: Both the sales prices of homes and the interest rates attached to mortgages tend to increase, making buying a home more expensive.
How Will Inflation Impact Buying A Home?
If you are buying a home during a period of rising inflation, be ready to spend more. Inflation typically causes everything about the home buying process to become more expensive.
First, there are the prices of homes. They will usually increase during a period of rising inflation. But this also means that you'll have to piece together more dollars for a down payment. Say you want to put 10% down on your home. If your home costs $300,000, that's $30,000. But if inflation causes the price of this same home to rise to $320,000, you'll have to come up with $32,000 for that same 10% down payment.
Then there are closing costs, the fees that your lender and third-party vendors charge to close your mortgage loan. These vary, but you can expect to spend around 2% – 6% on closing costs.
Do House Prices During Inflation Increase?
House prices tend to rise as inflation increases. This isn't surprising: The price of most everything tends to rise when inflation is higher, and housing is no exception.
The Federal Reserve Board will often try to slow inflation by increasing its benchmark interest rate. If this strategy works, it can provide relief to house hunters worried about housing prices rising too rapidly. Housing prices might not fall after the Fed raises its rates. But they might stabilize, with price increases slowing.
Should I Try To Buy A House Before Inflation Rises Further?
If inflation is rising, should you act quickly to buy a home before prices rise even further? Or should you wait and hope that inflation eases and prices fall? There are pros and cons to each approach.
Pros
If inflation does continue to rise, buying a home today could mean you'll spend less than you would have had you waited.
If you need to buy a home today – your family is growing, you've been transferred to a new job in a new city – know that even though interest rates have risen, they are still low compared to other years.
If you are renting, you can't build equity. When you buy a home, you can. Equity is the difference between what you owe on your mortgage and what your home is worth. If you owe $150,000 on your mortgage and your home is worth $250,000, you have $100,000 in equity. You can borrow against this equity in the form of home equity loans or lines of credit.
Cons
There's no way to predict exactly what will happen with inflation. If you buy now, inflation could ease in the coming months, meaning that interest rates and home prices might fall.
If other buyers are attempting to buy before prices rise further, you might face competition for the homes you like. You could end up in a bidding war with other buyers. To win your dream home, then, you might have to pay more.
Take the first step toward buying a house.
Get approved to see what you qualify for.
Start My Approval
How To Buy A House During Rising Inflation: Tips For Success
If you're ready to jump into the housing market even while inflation is rising, there are several strategies you can follow to boost your odds of buying the best home at the right price.
Analyze The Market
Before looking at homes, study the housing market in the communities in which you want to buy. Determine what the average selling prices are today. This will give you an idea of where you can afford to move. It helps to work with a real estate agent who knows these markets well. These professionals can give you a list of recently sold homes so that you can see how much buyers are paying.
Determine Your Financial Situation
It's important, too, to create a household budget listing your monthly income and expenses, including those expenses that fluctuate each month, such as groceries, dining out, entertainment and clothing costs. Once you create this budget, you'll know how much money you can spend on a monthly mortgage payment, which will help you determine how much home you can afford. Make sure, too, that you have enough money saved for a down payment and closing costs. Know that most lenders prefer that buyers have enough dollars in savings to cover two monthly mortgage payments in addition to the costs of a down payment and closing costs.
Improve Your Credit Score
Your three-digit credit score is an important number when buying a home. Lenders study it to determine how well you've paid your debts in the past. A lower credit score typically means a higher interest rate, which equals a higher monthly mortgage payment. Most lenders consider a FICO® credit score of 740 or higher to be a very good score that will give you lower interest rates.
If your score is below this, you can steadily improve it by paying your bills on time each month and paying down your credit card debt. Do this, and your score will steadily improve. If you want the lowest interest rates, it might make sense to wait to buy until you can improve your score.
Choose Your Loan Type Carefully
You have several loan types from which to choose when looking for a mortgage. If your credit score is low, you might consider an FHA loan, which requires a down payment of just 3.5% of your home's purchase price if your FICO® Score is at least 580.
If you've served or are serving in the military, a VA loan comes with no required down payment at all. You can also qualify for conventional loans – those not insured by a government agency – with required down payments of as low as 3% of your home's purchase price, depending on your credit.
Speak with your mortgage loan officer or real estate agent about the different types of loans available to you.
Try To Buy A House Quickly
If you're looking for a home during a period of rising inflation, be prepared to act quickly. You want to buy before housing prices rise even higher. To increase your odds of doing this, get preapproved for a mortgage with a lender.
During the pre-approval process, a lender will check your credit and verify your income and debts. The lender will then send you a preapproval letter stating how large of a loan it is willing to approve for you. Once you have this letter, you know exactly how much home you can afford.
You're also considered a more attractive borrower from sellers who want to make sure that home sales don't fall apart when buyers can't get financing. Armed with a preapproval letter, you can make offers quickly and close your loan in a shorter period.
Should I Buy A House During Rising Inflation?
You should buy a house when it's the right time for you, even if inflation is rising. Trying to wait out the economy is a challenge because no one really knows what's going to happen next with inflation. You could wait for prices to fall, only to see them rise.
The Bottom Line
Instead of waiting for the perfect interest rate or ideal housing market, make the move to homeownership when you are ready. If you've saved enough money and built a solid credit score, you're ready to buy a house, even if housing prices in your area are rising.
You can work with us to apply for a loan today.
Apply for a mortgage today!
Apply online for expert recommendations with real interest rates and payments.
Start Your Application