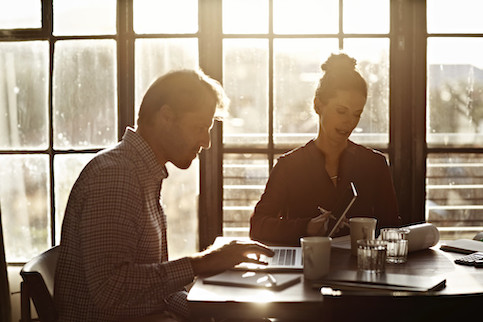 10 Ways to Save Time During Your House Hunt
Published on January 22, 2016
As of June 25, 2018, we've made some changes to the way our mortgage approvals work. You can read more about our Power Buyer ProcessTM.
Whether you're buying your first home or you've previously owned one, the prospect of buying a new house can be somewhat exciting. You look online and maybe tour a few open houses, trying to imagine yourself living in the new space. It's like a blank canvas just waiting for your imprint.
Then things get hard. How do you narrow this down? What's important? Will a particular house be able to meet all of your needs? The mental gymnastics can become exhausting.
In order to keep you from an endless search and get you into the right home for you faster, we've compiled a list of the top 10 ways to save time during your house hunt.
Budget
One of the best things you can do right off the bat is to determine your budget during this process. This helps you eliminate homes out of your price range before you ever leave the comfort of your living room.
To get started, make a list of all of your expenses and compare it to your income. Don't forget to build in some room every month for unplanned expenses that may arise.
Once you've added up all of your other expenses, you can determine how much room is left over in the budget for a house. You can use our mortgage calculator to put in how much you want to spend and find a monthly payment that fits your budget.
Take the first step toward buying a house.
Get approved to see what you qualify for.
Start My Approval
Get Approved with Rocket Mortgage
Now that you've determined your budget, it's time to get approved for a mortgage.
Rocket Mortgage from Quicken Loans is a fast, powerful and completely online way to get a mortgage.
You put in some basic contact information, how much you're looking to spend, share your income and asset information through one of our trusted partners and have your credit pulled.
You can receive a preapproval letter whether you're at home on your computer or in the real estate office on your phone.
House Attributes
Now that you know exactly how much you can afford, how do you go about starting to look for houses?
Sit down with your entire family and make a list of everything they would want in their ideal house. In their dream of dreams, does the house include four bedrooms, two baths and a deck? Maybe there's space for a den.
Rank Your Priorities
Next, it's important to realize that you may not find everything on your list in any homes within your price range. After searching for a few months, finding the perfect home can feel like trying to find a needle in a haystack.
It's at this point that you need to take that list we just created and prioritize it, ranking items one through 100 if necessary. This will tell you what you need and what you can live without for now.
The beautiful thing about the house being yours is that you can always make additions later if you want. Not only does this improve your living space, it also could add to your property value.
Scout the Area
Location is just as important as what you want in a house. When looking at homes, don't forget to take into account the area they're in. What should you look for? Here's a short list:
Do you like the feel of the neighborhood? Are homes maintained?
If you have kids, do you like the school system? Are there nearby parks and playgrounds?
Is it near various entertainment options and shopping areas? If, on the other hand, you prefer a simpler life, is it secluded enough?
What are property values like in the area? Are they going up or down? Knowing the property values and the trends can give you an edge in the negotiation process.
Shop Online
Shopping online certainly has its advantages. For starters, I'm a huge proponent of anything I can do in my pajamas from my bed. While we would never recommend buying a house without walking through it, you can use the Internet to narrow the list.
Websites like My Perfect Home allow users to search real estate listings, specifying the area in which they'd like to search. You can specify whether you're looking for a single-family or multi-unit property and your price range along with the number of bedrooms and bathrooms you'd like.
Having an idea ahead of time makes things less chaotic when it's actually time to hit the pavement and check out houses in person.
Get a Real Estate Agent
I can confidently say that I have no idea what the housing market has to offer in my area. All real estate is local and values can vary from neighborhood to neighborhood. Most of us don't even think about these things until it comes time to buy.
With that in mind, wouldn't we feel more comfortable with someone that deals with our local housing market every day? This is where it can be helpful to have a really good real estate agent.
A good real estate agent cannot only find you houses that meet your goals in your price range, but they can also tell you about the area. How good is the school system and what are the local hangouts? Finally, they'll have their finger on the trends in pricing. They can be your secret weapon in negotiations.
Do you want to get a real estate agent, but you don't know where to start? No problem. Check out our friends over at Rocket Homes.
Have a List of Questions
After touring a house in which you're particularly interested, it's only natural to have questions for the listing agent or owners. No one is going to know the house better.
It's important to put these in an organized list and make sure you get your questions answered before moving to the negotiating table.
Set Aside an Earnest Money Deposit
Another thing to keep in mind is that an earnest money deposit accompanies the purchase agreement you make with a seller. This is the seller's assurance that you're negotiating in good faith. It's a percentage of the sales price that's eventually applied to the purchase.
Have a Backup Plan
We tend to have the utmost faith in the fact that our negotiations are going to go well, but occasionally things go off the rails. When that happens, it's important to have a backup plan in case your preferred house falls through.
You should be looking at a couple of houses in order to seamlessly switch to Plan B. Don't get your heart too set on one house.
See any tips we missed? Share them with our readers in the comments.
Take the first step toward buying a house.
Get approved to see what you qualify for.
Start My Approval