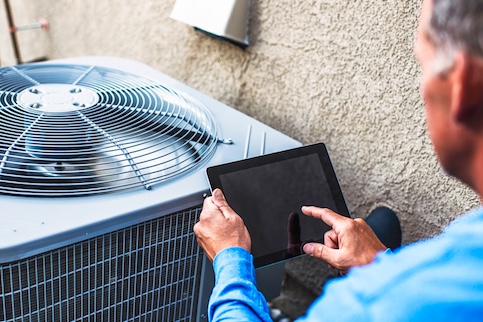 What To Expect From A Home Inspection
Published on June 17, 2019
A home is the most expensive physical asset most of us will ever buy. It makes sense that you would want to go over every one of its many details with a fine-tooth comb before making this major commitment. Home inspection affords you this opportunity.
Over the following paragraphs, we'll go over what a home inspection is, what it isn't and why they can be incredibly important during your home buying process.
What Is A Home Inspection?
A home inspection is the opportunity for a home buyer to walk through a property with a home inspector. The home inspector will look at major systems within the home and note any potential problems. No house is ever going to be perfect, but this does give the buyer the opportunity to know if there are major issues before spending hundreds of thousands of dollars on a home.
Whether you choose to do anything with the home inspection report, at least you're aware of the potential things that could happen down the line before making a purchase.
What's Included In A Home Inspection?
The home inspection typically covers the major components of the home you're looking to purchase. It includes the following systems:
Basic structure: The inspector will go over the basic structure of the home looking for things like cracks in the foundation, floors or ceiling. They'll also look at the walls. This gives you an idea of the hardiness of the build itself.
Roof and attic: The inspector is looking to find evidence of missing or loose shingles that might indicate roof damage. They'll inspect ventilation and gutters to make sure everything is going to flow properly over the roof. Insulation is also checked to help avoid airflow problems that could cause things like snow to build up on the roof and cause damage over time. If you have a fireplace, a chimney inspection may be a good idea, although that's a special inspection.
Basement: In addition to checking out support beams and posts that actually keep your basement from caving in, the inspector will pay particular attention to any signs of water. Given that basements are below ground, they have to have very good drainage systems to minimize the future possibility of flood damage.
Electrical: Any defects in wiring or plugs are checked. They'll look to see that everything is grounded. Your system will be looked at to determine its capacity, along with things like ceiling fans and light fixtures.
Plumbing: Water damage is one of the worst things that can happen in any home. Therefore, the fixtures that hold and control the water really need to be checked, starting with the water shut off, pipes, showers, sinks, tubs and toilets. Your hot water heater should also be checked.
Exterior: They'll check the exterior of the home for any potential safety hazards like rails that could fall or cracks in the driveway, and missing deck boards, etc. There are also checks on window insulation and drainage.
Appliances: Any appliances coming with the house can and should be inspected to make sure they're in proper working order. Even if you're not keeping something like a stove, make sure the electrical and gas connections are inspected. Smoke detectors are often tied in with electrical connections to smoke detectors in the rest of the home and have battery backup. Make sure that everything is working as anticipated.
Garage: Garages are inspected to make sure their structure is up to par and any electrical connections are safe.
Miscellaneous systems: In terms of your HVAC system, you'll definitely want your heat checked. Your air conditioning can also be checked if the weather permits. In some cold weather climates, turning on the AC in the winter could lead to bad outcomes like frozen pipes. They'll also be able to check ventilation to make sure the air is flowing correctly throughout the home. If you have a fireplace, that will be checked as well.
What's Not Included In A Standard Home Inspection?
There are certain things you can get inspected that cost something extra and require a different set of equipment than the standard inspection, but that doesn't mean there's not a case for inspection. Here are a few items that deserve a special look.
Well and septic system: If you're not on a public water connection, you may want or need to have your well and septic system inspected before buying the home to check the water quality as well as the function of the system itself.
Lead paint: In homes built before January 1, 1979, lead-based paint was used in a lot of construction. If there's chipping or peeling lead paint, that's a serious concern that needs special mitigation because this paint is associated with developmental delays and neurological disorders, particularly in children.
Pest: A pest inspection may be required if there is the presence of termites or other wood destroying insects, but an appraiser can require an inspection for any infestation they could see causing a health, safety or structural issue. A VA loan takes things one step further by requiring pest inspections in certain states or county areas.
Chimney: Putting a couple of logs on the fire on a cold winter's night can be extremely satisfying, but you also want to make sure you don't smoke yourself out of the house and everything is going up and out properly. A professional chimney sweep can inspect your chimney as well as its flue, joints and interior walls. There are different levels of chimney inspection and getting at the interior requires the chimney sweep's best impersonation of St. Nick, so costs can vary.
Asbestos: Older houses may need an inspection for asbestos. It was once used in a lot of building materials, but it can cause lung problems including mesothelioma.
Mold: If there's evidence that there may be mold, you should get it inspected and taken care of because the growth can cause several health problems.
Lot size survey: If you need to know the size of your lot, that requires a survey and is a separate cost.
Radon test: Radon is a naturally occurring, radioactive gas that can cause cancer. In addition to site testing, a radon inspector should be able to verify whether any electronic detectors you may have are working.
The Difference Between An Appraisal And A Home Inspection
Appraisals and home inspections are commonly confused for each other. Before we go any further, it's important to understand the difference.
An appraisal has two basic goals: an appraiser must verify the home is safe to move into and assign the property a value. Both tasks are completed by a trained and licensed appraiser.
When looking at whether the home can be occupied, the appraiser is looking for anything that may be a health or safety issue such as lead paint.
They also look for structural defects like missing handrails or holes in the roof. Basically, any construction that's been done has to actually be finished before they'll sign off on it.
Finally, the appraiser has broad powers to more thoroughly investigate inspections on things that may limit a homeowner's use of the property if they aren't fixed. For example, if there are signs that a roof may have a limited lifespan, there may be an inspection ordered.
When it comes to move-in readiness, the appraisal is a pass/fail test. If for any reason the appraiser feels the house can't be occupied, the mortgage transaction can't be completed.
The other thing an appraiser does is assign a value to your home. They do this by finding comparable properties that have recently sold, usually within a one or two-mile radius of the home you're looking to buy, although this may be extended in more rural areas. Comparable properties are ones that have a similar square footage and layout to your own, so three-bedroom ranches are compared with other three-bedroom ranches.
An appraisal is required because your home serves as collateral for your mortgage, so a value must be assigned and the property has to be livable. A lender can't loan you more than what the property is worth.
An appraiser doesn't do a thorough inspection of every system within the home. That's where the home inspector comes in. Unlike an appraisal, a home inspection generally isn't required – with certain exceptions, although it's highly recommended. You can get a report on all the potential issues with the home so you know what you're getting into before making a down payment and taking out a loan.
Another big difference between home inspectors and appraisers themselves is that appraisers are always licensed and have a certain amount of training. By contrast, home inspector certifications and their required training often vary from state to state, if any is required at all. We'll delve more into this a little later.
When Might A Home Inspection Be Required?
As mentioned above, an appraiser may order an inspection if they have any concerns that a particular condition of the home affects its livability. In this case, an inspection is required and any problems discovered may need to be fixed before you're allowed to close your loan.
A pest inspection is also very often required if you're applying for a VA loan.
How Much Does A Home Inspection Cost?
The cost of a home inspection is going to depend heavily on what exactly is being inspected and the going rate in the area you're looking to buy, as well as the square footage. You should certainly get a written statement of everything that your home inspection is going to cover.
According to HomeAdvisor, a website marketplace that connects homeowners with service professionals, a typical home inspection costs anywhere between $278 – $390.
If you need radon testing, that's going to cost you between $100 – $200. Meanwhile, asbestos testing will cost anywhere between $400 – $800. Mold inspection will cost you just over $800 roughly.
If the home was built prior to 1979, you'll want to do a lead inspection and that will cost you about $300. Depending on the loan you're getting, this may be a requirement of the appraisal itself.
The cost of a sewer scope to look for trees that might be growing in your sewer lines can be anywhere between $85 – $300. This might be a good idea if the house has been around for 20 years or more and has big trees that could have deep root systems. If you're on septic instead of a municipal water system, you should get that inspected as well. It'll cost anywhere between $260 – $420 depending on the area you're in.
Finally, a chimney inspection ranges from $150 – $350. The exact cost depends on the thoroughness of the inspection and what might be necessary given the age and condition of the chimney.
What's An Inspection Contingency?
Once you sign a purchase agreement, you're on the clock to get an appraisal and get your financing secured by an agreed-upon closing date. With that in mind, you might consider putting an inspection contingency in your purchase agreement.
Your inspection contingency gives you a timeframe to get your inspection done. It might be anywhere from a few days to a week or more, depending upon whether it's a particularly hot market in your area. It's important to remember that there is no failing a home inspection in the way a home can fail an appraisal. Many homes are also going to have some number of issues, but if there are things that are going to cost a lot of money to fix, you'll know that going in.
The seller might fix them or you might ask them to lower the price by the amount of work that needs to be done. If you can't come to an agreement, you can choose to walk away, although you might have to talk to a lawyer to get your deposit back.
Who Pays For An Inspection?
Since inspections are for the protection of the buyer, they're typically paid for by the buyer. A seller trying to get their house ready for sale may tell you they've already had an inspection done and even provide you with the results and any fixes that were done.
However, there's no substitute for having someone go through the house on your behalf as an independent party to point out issues that may come up now or in the future. As you've seen above, getting an inspection may not be cheap, but if the house is a total lemon, it'll save you a big headache and a lot more damage to your wallet in the future.
The one exception to this general rule that the buyer pays might be in the case of a VA loan with a required pest inspection. In certain states, the VA clients buying the house isn't allowed to pay for this inspection, and it's typically paid by the seller or another party to the transaction.
Can The Buyer Go To The Home Inspection?
As a buyer, you can and should go to your home inspection. This will be your chance to walk through the home with an inspector and learn about any issues currently affecting the home and things that might come up in the future with that type of home.
If a scheduling conflict prevents you from attending the inspection, you should arrange to sit down with the inspector and another mutually convenient time and go over the report in detail so you know what you're getting into.
If you do attend the inspection, follow the inspector, but don't get in the way. You also shouldn't attempt testing yourself. Turning on a faucet in one room while the inspector is testing the water in another area could lead to false results.
Finding The Right Home Inspector
If you're getting a home inspection, how do you find the right inspector? That's the right question to ask, because you don't want to settle for the first name you see on Google.
It may be easier to find an inspector with qualifications in a state where they are required to have certain certifications. The trouble here is that not every state has standards.
If there are no relevant regulations where you live, you should try to hire someone who's a member of an organization that standardizes training and certifications like the American Society of Home Inspectors, or the International Association of Certified Home Inspectors.
Questions To Ask Potential Home Inspectors
When interviewing potential inspectors for the job here are some questions to ask.
What certifications or licenses do you have, if any? These are items that can easily be checked and it can give you confidence in their qualifications.
Do you have bonding and insurance? If there's a mistake in the report and you decide to take legal action as a new homeowner, the insurance covers the mistakes. Otherwise, the buyer could wind up footing the bill.
Will I get a copy of your report and how soon? Home inspectors should generally feel comfortable providing at least a preliminary report on the condition of the home within 24 hours, although some tests may take longer to complete. Ask to see a sample of the report so that you can judge what's in it and whether they are clear enough for you.
What's included in a standard inspection and do you perform any specialized inspections? This will give you an idea of what you can typically expect as well as the full breadth of their skill set should you need something else done.
How long will your inspection take? If it's less than two hours, the inspection may not have any real depth? You're picking a home that you'll be taking up to a 30-year loan out on, so it might as well be thorough.
What Comes Next?
After the inspection, there are really three possible outcomes. Let's go over them now.
In the most optimistic scenario, there is minimal work that the house would need and you feel comfortable going directly to the closing table. Get the keys and enjoy!
In the middle, there's maybe one or two things that really need fixing in the short term. In this case, ideally your seller either fixes them or takes money off the price so you can invest your savings into the fix.
Finally, the issues are major enough that you just want to walk away. If that's the case, you can do it, but as mentioned above, you may have to fight to get your earnest money deposit back. In this situation, it wouldn't hurt to hire an attorney.
Are you out looking at homes? You can apply for financing online through Rocket Mortgage® by Quicken Loans® or by giving us a call at (800) 251-9080.