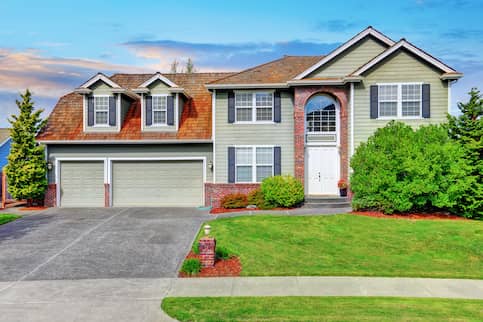 What Are Reserve Funds And How Are They Used In Real Estate?
Published on February 16, 2021
You know that you should always build an emergency fund so that you can pay for unexpected expenses without resorting to running up your credit card balances or draining your savings account. But did you know that these funds are important in real estate, too?
It's true, but instead of being known as emergency funds, they're called reserve funds.
If you live in a condominium or any type of community that's governed by a homeowners association, you'll pay a monthly fee that goes toward maintaining your building's reserve and operating funds.
And if you're a real estate investor, having a reserve fund is just as important to reduce the chance that unexpected repair or maintenance issues will scuttle your financial health.
Apply for a Mortgage with Quicken Loans®
Apply online for expert recommendations with real interest rates and payments.
Start Your Application
What Is A Reserve Fund?
Reserve funds are similar to the emergency fund you should be maintaining as an individual. Usually, these funds are held in a savings account or other highly liquid asset. No one touches the fund unless the members of the condominium or homeowners association board authorize it.
Board members will vote to tap these funds if their condo building or housing subdivision needs emergency repairs or maintenance. Maybe a roof has sprung a leak or an entrance gate has been damaged. Board members will use the money in the reserve fund to pay for these repairs.
Reserve funds can also be used to pay for scheduled projects that come with significant price tags. Maybe a condo building needs a new roof or a housing subdivision's outdoor pool needs to be replaced. Reserve funds are used for the common areas of a subdivision or condo building.
Real estate investors should set up their own reserve funds, too. They can tap these funds if the hot water heater in one of their properties springs a leak or a furnace conks out. This way, investors won't have to rely on more expensive ways – such as credit cards – to pay for these unexpected expenses.
Reserve funds contain dollars set aside by real estate investors and the homeowners associations covering condo buildings and housing subdivisions to pay for emergencies and scheduled major projects. How much money should be in a reserve fund? The best way to determine this is by having board members commission a study that estimates when major systems or structural elements should be replaced.
Does My Condo/HOA Need A Reserve Fund?
If you live in a condo or housing subdivision, it might be governed by a condo or homeowners association. These bodies are like miniature governments, only instead of governing a city or country, they govern the operation of your condo or subdivision.
These associations will have their own officers, often a president, vice president, secretary and treasurer. The members of these groups are responsible for scheduling the maintenance and upkeep of your condo building's or subdivision's common areas. They're also responsible for setting the rules that guide these homes, such as how many pets people can own, when quiet hours for the property go into effect, how many parking spaces each resident gets and other such procedural rules. They are also responsible for hiring such services as snow removal, landscapers and cleaners for their properties.
To do all this, these boards need to develop a reserve fund to pay for unexpected emergencies and to help cover the costs of major scheduled renovations.
In addition to the reserve fund, your property will also need an operating fund. This fund covers the routine services needed to keep common areas clean and safe, everything from hiring a cleaning crew for a condo building's front lobby to hiring landscapers to trim the trees and cut the lawns throughout your subdivision.
The dollars for both funds typically come from the monthly assessment fees residents pay. If you move into a condo or subdivision with a homeowners association, you'll have to pay an association fee each month, one set by the group governing the property. This money will be used to fund both the reserve and operating funds of your condo or subdivision.
When a major project arises – such as the need for a new roof or a significant tuckpointing job – your board might have to levy a special assessment. You'll pay this assessment in addition to your usual monthly fees – often on a monthly basis, too – to help pay for the big project coming up. These payments end when the subdivision or building generates enough money to cover the cost of the project.
Maybe your condo building needs a new furnace. Residents might have to pay an extra $300 a month until the homeowners association raises enough money to pay for this addition. The association might propose to raise all the money from the special assessment or to use funds from both the assessment and reserve fund to cover the project. The owners in a condo building or subdivision typically must vote on a special assessment, with the homeowners association often needing at least two-thirds of owners to vote in favor.
Isn't That What My Monthly Association Fees Are For?
You might think your monthly homeowners association fees should cover the entire cost of maintaining your subdivision or condominium building. Unfortunately, that's not always the case.
Your monthly fees should cover your property's routine maintenance, everything from its lawn and snow-removal services to the janitorial staff that cleans common areas, replaces broken lightbulbs and washes the windows.
But bigger projects, such as a new roof, boiler or furnace, usually require extra funds. The same can be said if your property is adding a new swimming pool, garage or clubhouse. The funds to pay for these typically come from the reserve fund. And if that reserve fund doesn't have enough dollars, the homeowners association will propose a special assessment.
How Much Should My Condo/HOAs Hold In Reserve Funds?
There is no one magic number that homeowners associations can target when determining how much money their reserve funds should hold. Each subdivision or condo building is different and has different maintenance and repair needs.
There are several factors associations should consider, though. These include the age of the building or subdivision, the age of the property's major appliances, the size of the property and the last time major features – such as roofs, foundations, driveways, furnaces, hot water heaters and pools – were serviced or replaced.
The goal is to have enough in a reserve fund so that the association can limit the number of special assessments it needs to charge. Residents don't like paying more each month. A healthy reserve fund can help reduce the likelihood of special assessments.
A reserve fund study, conducted by a reserve specialist, can help homeowners associations tackle this challenge.
Apply for a Mortgage with Quicken Loans®
Apply online for expert recommendations with real interest rates and payments.
Start Your Application
What Are Reserve Specialists?
Reserve specialists are experts in building construction and maintenance. Homeowners' associations can hire these professionals to study their properties. Reserve specialists will look at maintenance records, tour condo buildings and subdivisions and assess the age of key features such as roofs and major appliances. They'll then come up with an amount of reserve fund dollars for which associations should aim.
If your association is ready to hire a reserve specialist, make sure to select one who has earned the Reserve Specialist (RS™) credential awarded by the Community Associations Institute.
What Happens If My Association Does Not Have An Adequate Reserve Fund?
Skimping on a reserve fund can come back to haunt the residents of a subdivision or condominium. The homeowners association might have to skimp on general maintenance, which could result in dirty lobbies, untrimmed weeds, patchy lawns and limited snow removal.
A low reserve fund might also keep associations from scheduling important maintenance. Association members might put off repairing that old roof, which could lead to leaks and more expensive problems in the future. Maybe they'll wait to purchase new furnaces. And then, on that freezing day, the old appliances suddenly stop working.
A low reserve fund might also cause homeowners associations to skimp on security measures such as proper lighting.
This could make it more difficult for homeowners to sell their condo units, single-family homes or townhouses. Fewer buyers will want to invest in a building or subdivision that hasn't been maintained properly.
What Are Operating Reserve Funds For Real Estate Investors?
Those living in condos or subdivisions run by homeowners associations aren't the only people who worry about reserve funds. Real estate investors must maintain their own operating reserve funds, too.
Real estate investors might own several homes at once, all with the goal of eventually selling them for more money than they spent. To do this, though, they must maintain these properties. That's where an operating reserve fund comes into play. Investors set aside money so that they can maintain their properties, make repairs when needed and handle unexpected emergencies, all without having to dip into their own savings or rely on credit cards.
Reserve Funds Help Associations Save For A Rainy Day
Reserve funds, then, are much like the emergency funds everyone should build. The money set aside in these funds can help homeowners' associations and real estate investors cover the cost of both big projects and smaller repairs. Interested in learning more about living with a homeowners association or investing in real estate? You can learn about different types of homeownership in our Learning Center.
Great news! Rates are still low to start 2022.
Missed your chance for historically low mortgage rates in 2021? Act now!
Start My Application