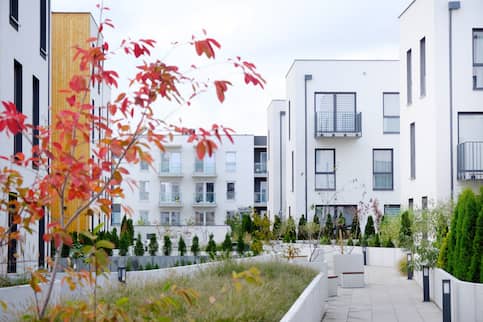 Condo vs. Apartment: Which Is Right For You?
Published on September 22, 2020
Time to move? You've got options beyond living in a traditional house. At the top of the list: condos and apartments. Depending on your situation, either one could be a great place to call your next home.
Let's look at the difference between a condo and an apartment so you can determine which is right for you.
Main Differences Between Condos And Apartments
On the surface, condos and apartments look very much alike. They're both in multi-unit buildings. They both offer community spaces and amenities. And, depending on your leasing agreement, they could cost you roughly the same in rent. But, while there are many similarities between a condo and an apartment, there is one significant distinction: who owns the property.
Ownership Rights
A condo (short for condominium) is privately owned and typically managed by the owner. That means the owner is your landlord. On the other hand, an apartment is generally owned by a real estate firm and managed by a property management company. So, when you have a question or concern, a representative from that company acts as your landlord.
In addition, apartments are never sold as individual units. So, unless you purchase the entire building or complex, you can't take ownership of the property. However, that's not the case with a condo. You can buy the unit if the current owner wants to sell. In fact, it's more common to own a condo than it is to rent one.
Costs
While you'll need to pay monthly rent for either type of unit, what that rent payment covers can differ. With a condo, your monthly payment will likely also take care of your utilities (think water, gas, electricity, etc.). That could be a great deal considering many apartments require you to pay for those things separately.
However, unlike apartments, condos come with homeowner's association (HOA) fees. HOA fees cover the upkeep of common areas and the exterior of the building. Your landlord may include these fees in your rent, ask you to pay them on your own, or cover the expense for you. Bottom line? No matter which option you choose – condo vs. apartment – make sure your financial responsibilities are clearly spelled out in your lease.
Tenant Rules
You'll have to follow largely similar rules, whether you live in a condo building or an apartment complex. For example, both places will expect you to keep your unit reasonably tidy, keep the noise level down to a respectable level, and pick up after yourself (and your pets) in common areas. However, who determines and enforces those rules differs based on unit type.
With a condo, the HOA will ensure compliance with rules that apply to common areas. However, inside each unit, the condo owner has complete authority to create the rules. That means your living experience could be radically different in a neighboring condo. With an apartment building, the rules are set by the owner, enforced by the property management company, and applied equally to all tenants.
Upkeep
Typically, when you rent, the owner of either type of unit is financially responsible for making repairs to the property. That means if the air conditioner dies or your plumbing springs a leak, they have to open their wallet to take care of it. However, with a condo, your landlord could require you to cover the expense and arrange the needed service. So, be sure to check your lease carefully before signing!
You won't encounter that requirement in an apartment rental agreement. Sure, you may be responsible for small things like replacing light bulbs, but that's the extent of it. And, as an apartment dweller, when you do need service, your property manager will usually take care of it fast, dispatching a repair company they have on speed dial. Your condo's landlord may not be as responsive to your request - especially if they need to source a service provider.
Available Amenities
Condo and apartment amenities are actually pretty similar. Both types of housing typically offer onsite perks like the following:
Parking

Laundry

Gym

Pool

Community center
However, depending on how high-end the community is or when it was last updated, a condo generally delivers a touch more luxury. For example, an upscale condo may offer concierge services. And, your condo building might even have a rooftop terrace!
In addition to community amenities, a condo often offers several bonuses inside of the unit. Chances are, your landlord has done some upgrades that you probably wouldn't see in a cookie-cutter apartment. These features could include modern design elements, completely renovated kitchens and baths, or hardwood floors. Plus, condo owners are generally more willing to let you make aesthetic changes to suit your tastes.
Apply for a Mortgage with Quicken Loans®
Call our Home Loans Experts at (800) 251-9080 to begin your mortgage application, or apply online to review your loan options.
Start Your Application
Which Are More Expensive: Condos Or Apartments?
Usually, if the location and quality of the unit are equal, the cost of renting a condo vs. an apartment will be roughly the same. That's because landlords must remain competitive to attract renters. However, in some cases, getting into a condo could be more expensive.
Renting a condo can cost more if you're responsible for HOA fees or maintenance and repairs. If you decide to purchase the unit, you'll need to fork over a pretty penny for your down payment and closing costs.
But there are two main financial upsides to buying a condo: First, you build equity. Second, if you have a fixed mortgage, your monthly housing payment will be stable. With an apartment, you may experience a rent increase year over year.
Does A Condo Or An Apartment Better Suit Your Needs?
So, which one wins the condo vs. apartment battle? That depends on your preferences and needs. There are pros and cons to both types of units. Take a moment and think about what you need from your next home. Based on your answers, and what you've learned here, a clear victor should emerge.
You're A Destined Condo Owner If ...
A condo might be the answer if you:
want more custom high-end finishes and amenities.

like the idea of potentially being able to personalize your home.

prefer to deal directly with the property owner.

think you may want to buy the unit someday.

are OK with possibly paying HOA fees.

don't mind maintenance delays or potentially footing repair bills.
You're A Destined Apartment Owner If ...
On the other hand, an apartment may be a better fit if you:
aren't all that concerned with the unit's design or community's amenities.

don't care about putting your own touches on the place.

are OK dealing with a company as your landlord.

see yourself being a renter for the foreseeable future.

don't want to deal with HOA fees or unit repair costs.

value extremely responsive and prompt maintenance.
The Bottom Line
When it's time to find a new place to live, you've got options. Now you know the difference between a condo and an apartment and can choose which one is right for you. You're ready to start packing!
For more great articles that can help you move worry-free, check out the Quicken Loans® Learning Center.
Apply for a Mortgage with Quicken Loans®
Call our Home Loans Experts at (800) 251-9080 to begin your mortgage application, or apply online to review your loan options.
Start Your Application