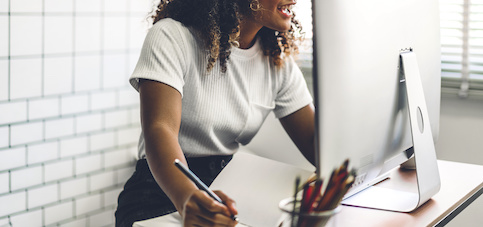 A Guide To VA Loan Credit Score Requirements
Published on August 2, 2022
Buying a house can be costly – but it's one of the most important investments a person can make. A VA loan gives benefits to eligible veterans, service members and surviving spouses by helping them afford a home. Before applying for this loan, knowing the eligibility requirements and other factors that may impact your approval is essential.
First, you should know that just because you're eligible for a VA loan doesn't mean the lender will approve you. To be approved, you must also meet some specific financial standards, which is why having good credit can be crucial. In this article, we'll dive into the minimum credit score requirements you should meet for a VA loan approval.
What Is The Minimum Credit Score For A VA Loan?
The U.S. Department of Veteran Affairs (a government agency that administers benefit programs for veterans) created the VA loan to help veterans and service members qualify for affordable housing by offering better terms, such as lower interest rates and, in most cases, zero down payment. The VA guarantees they will cover a portion of your mortgage if you default or can't make payments.
It's important to understand that even though the VA backs this loan, they don't issue it, which means they also won't set specific credit scores; instead, private lenders do that. These lenders use particular criteria to help determine whether a person qualifies for the loan.
You likely won't be approved if your score is lower than the benchmark. The credit score for a VA loan can vary depending on the type of VA loan, loan amount, the lender and other factors, but in most cases, the lowest accepted credit score is 580. However, you should note that when lenders are trying to determine whether they'll approve you for the loan, they'll look at the whole picture by analyzing your financial situation rather than just looking for a specific number.
See What You Qualify For
Congratulations! Based on the information you have provided, you are eligible to continue your home loan process online with Rocket Mortgage.
If a sign-in page does not automatically pop up in a new tab, click here
Who Sets VA Loan Credit Score Requirements?
The VA pledges to back the mortgage, which provides insurance to lenders and allows veterans to secure much more favorable loan terms. Private mortgage lenders still take on risk, however, and they're allowed to set their own credit requirements.
If a lender rejects your loan because your score is too low according to their standards, you can try another lender. They may approve it if they accept lower scores. For this reason, you should know your credit score and research lenders before applying to buy a home.
How Do Credit Scores Affect VA Loan Approval?
Credit scores have an impact on determining whether you'll qualify for a mortgage because they can show your history of paying back debt. With that in mind, it's necessary to understand that while a low credit score won't always prevent you from getting a VA loan, if you have a higher score, you can get better interest rates and loan terms.
You should also be aware that, when borrowing money, your score can change. A lender may deny you a loan if your score drops during the application process. To prevent this, we recommend you avoid taking on new debt (like car loans, credit card purchases, etc.) until the application process is finalized. This will help to avoid any drops in your credit score.
VA Loan Credit Score Requirements
When it comes to VA loan requirements, meeting the required credit score is one of many components that are essential for loan approval. Lenders want to see that you can manage your credit and debt, which is why they look at the following factors:
Credit history: Private mortgage lenders will analyze your credit history to see how reliable you are and whether you've paid your bills on time over the last 2 years. For this reason, it's important that you consistently pay your bills on time or don't accrue any unpaid balances.
Employment and income: For most home loans, lenders want to confirm your employment and income to determine whether you can afford a mortgage, and VA loans aren't too different. Lenders will request a verification of employment to see that you have a reliable source of income to make your loan payments. However, when discharged veterans have less than 2 years on a job, they must also provide details about their military service and deployments.

Debts:

Lenders have to verify that you don't have any federal debts before approving you for the loan. Some debts may include student loans or even other VA loans you may have taken out previously.
Credit utilization: Credit utilization is the amount of available credit currently being used. This percentage indicates to the lender whether you're a lending risk. For example, using 100% of your credit will lower your score; instead, you should maintain 30% utilization. In other words, a low utilization ratio shows that you're unlikely to overextend your debts.
Can You Get A VA Loan With Poor Credit?
VA loans are less stringent than conventional loans, and because of that, it's possible to get one with lower credit. It's important that you understand what constitutes "bad or poor credit." There isn't one score that defines good or poor credit; instead, it depends on the specified guidelines that mortgage lenders set and your payment history.
As we've noted, every lender has its qualifications for loan approvals. One lender may reject a credit score below 620, while another may approve it. Keep in mind that, according to FICOⓇ, a score below 580 is usually considered poor. However, there are still other ways to qualify for a VA loan, which include the following:
Get a co-signer
Put (more) money down
Rebuild your credit before applying
How To Improve Your Credit Score For A VA Loan
Credit scores don't improve immediately. Fixing your credit takes effort and time, but a good score is vital to loan approvals. Let's discuss a few strategies you can use to improve your credit score and get approved for a VA loan.
Manage your credit responsibly.

The way borrowers use credit can impact their finances and ability to get a loan for a house. When you handle your credit responsibly – by paying your bills on time or not exceeding your card limit – you show lenders that you're a reliable borrower.

Make sure your credit card balance is low.

A high balance on your credit card can bring down your score, which is why it's important to keep your balance reasonably low. We recommend you have a balance that's 30% or less of your card's limit.

Pay outstanding debt and balances.

When applying for a mortgage, lenders typically want to see your payment history and whether you have any outstanding debts. Because of this, you need to pay off your balances, and sometimes you can't move forward with the loan process until you do.

Fix mistakes on your credit report.

Credit reports can sometimes include errors, leading lenders to reject your loan request. We recommend thoroughly reviewing your credit report and fixing any errors you may come across.
The Bottom Line
A VA loan is helpful because it allows eligible borrowers to get a mortgage when they may not have a perfect credit history. With this loan, there isn't a minimum credit score that the VA requires; instead, private mortgage lenders determine the requirements you must meet, so you'll need to research lenders before applying.
If you're interested in getting a VA home loan but aren't sure whether your credit score is high enough to qualify, contact a Home Loan Expert to help you apply for a VA loan today.
Let Our Experts Do the Work
Quicken Loans is a VA-approved lender. Our Home Loan Experts do most of the work so you don't have to when it comes to getting your Certificate of Eligibility.
Speak with a Home Loan Expert